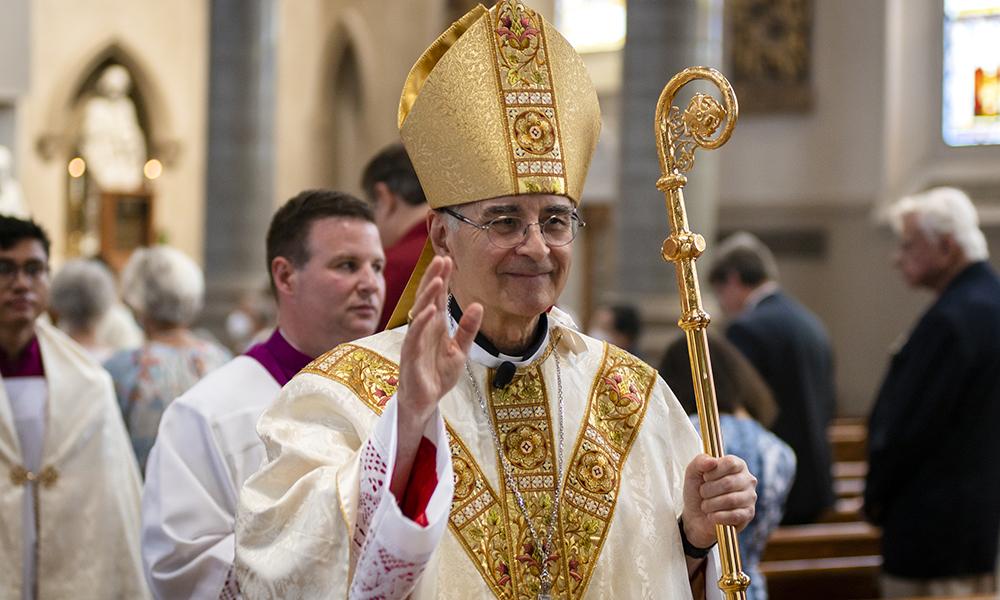 ---
"Yes, Lord, You know that I love You!"
The morning of Saturday, Aug. 28, blossomed into a picturesque day for the diocesan celebration of Bishop Steven J. Raica's seventh anniversary of episcopal ordination. In addition to Bishop Emeritus Robert Baker and Abbot Marcus Voss, O.S.B. of St. Bernard Abbey in Cullman, priests serving in the Diocese of Birmingham concelebrated the Mass of Thanksgiving at the Cathedral of St. Paul.
The bishop began his homily expressing his gratitude to those gathered: "From the bottom of my heart, I thank you for your prayers and your support. None of this would be possible without the prayerful support of so many… In addition to my mother, father and brother who have enthusiastically supported this mission, I also thank many parishioners from my hometown in Munising, people I came to know in the parishes and dioceses I served, and many others I have met along the journey of life for their prayerful support.  It has been an extraordinary, beautiful adventure – exceeding my expectations in every aspect of life. For that, I give praise and thanks to God for this extraordinary gift in my life. I believe there are blessings and gifts in everyone's life – some very clear, and some that are tucked away, hidden in different corners – but there, nonetheless. Overall, our lives are based on the fact that we have met Christ at some point, just as we have 'put on Christ' in our baptism, and that, in spite of our many weaknesses and sins, Christ – the eternal Mystery – continues to be a present factor offering mercy and hope."
Turning to the Gospel, Bishop Raica noted: "It is an extraordinary passage that occurred after the resurrection. The apostles had been fishing all night on the sea of Galilee and had caught nothing.…They don't recognize Him on the shore until this man, this 'stranger,' tells them to put their nets down on the starboard side, where they pull up a magnificent, miraculous catch at dawn. Peter recognizes that it's the Lord and oddly jumps into the water to swim to the shore….Jesus invites them to breakfast – bread and fish – another fish sandwich. They knew – it was Him – again. There was no doubt!"
The bishop continued: "During that encounter, Peter must have been pondering the events of the last few days and how he had betrayed Christ before His death. Remember, he betrayed Him and then Jesus glanced at him from afar. Peter knew that look that pierced the depths of his heart. He broke down in tears, the Gospel reports. How could he forget that singular moment in his life? Then Jesus sidles up to him and Peter wonders what He's going to say. "Simon, Son of John, do you love Me more than these?" Imagine the terror in his own heart beating hard thinking that our Lord was going to scold him for betraying Him – like a 'why did you do it?' moment. With Simon Peter, our own inadequacies and sins are met with a different question: 'Do you love me?' He repeats this two times more. Simon Peter, in all of his own bumbling in Scripture, is marked out to 'feed "My" sheep.' It is one of the beginnings of a moral relationship that is founded not on sin, but on love. Peter had a chance to leave so many times. But he didn't. This presence was such an overwhelming one, that for the one you love, you would do everything possible – even if you stumble along the way."
"I suspect," Bishop Raica purported, "that the role of a bishop is something like that." He went on to explain that if our lives are based on the "love of Christ," then it is only through Him that we can attain a "fullness of life." The "love of Christ" takes on another dimension in confession, the bishop said. "Whenever I hear confessions, this passage comes to mind.…The subtext of going to confession is Jesus asking this same question of you and me. 'Do you love me?' Our faith is based on the answer we give to this question: 'Do you love me?'"
Making the connection between the love of Christ and the words "feed my sheep," the bishop remarked: "We feed one another with the graces God has given us. As a bishop, 'feed my sheep' is to find ways to introduce the amazing presence and the extraordinary love of Christ into our lives and into our communities."
"I recognize my own shortcomings trying to hear the voice of Jesus speaking out over and over again every day with the antiphon: 'Do you love me?' Through your prayers and your support of the mission here in the Diocese of Birmingham, I hear those words 'Do you love me?' come through you because you are the Body of Christ present today – as much as Jesus was before Peter. Ever so clearly such that, like Peter, I can readily respond: 'Yes, Lord, You know that I love You.'"
Concluding his homily the bishop quoted St. Augustine, "To fall in love with God is the greatest romance; to seek Him the greatest adventure; to find Him, the greatest human achievement."
---
Bishop Raica was ordained to the priesthood on Oct. 14, 1978 for the Diocese of Lansing. On the feast of St. Augustine, Aug. 28, in 2014, he was ordained to the episcopacy and installed as the fifth Bishop of Gaylord in Michigan at St. Mary, Our Lady of Mount Carmel Cathedral. Last year on June 23, the bishop was installed as the fifth Bishop of Birmingham.