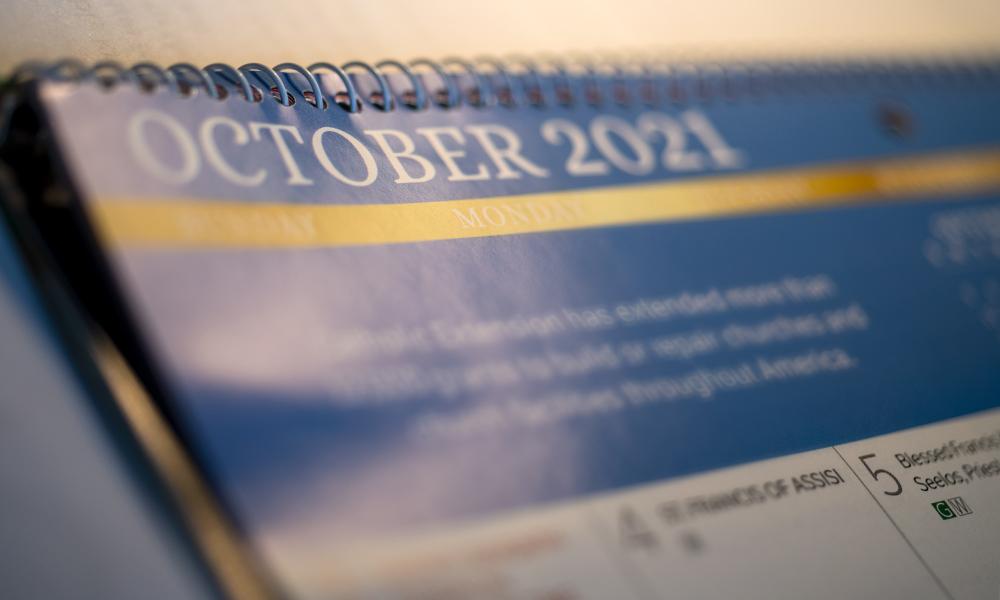 ---
Upcoming Events Around the Diocese - October 2021
October 2
Blessing of the Animals
Blessing of the Animals will be held on Saturday, Oct., at 10 a.m. at Our Lady of the Valley Catholic Church in front of the church. All pets should be on a leash or in a crate. No exotic animals. The church is located at 5514 Double Oak Lane in Birmingham.
Church raising money for adoration chapel
Annunciation of the Lord Catholic Church in Decatur will host a Gran Kermes on Oct. 2 from 8 a.m.-8 p.m. to raise money for the church's adoration chapel. In addition to authentic Mexican foods, games for all children will be available, a raffle will be held, and a basketball tournament for adults will take place. Teams must register at a cost of $300 per team. First place and second place team winners will win $800 and $500, respectively. For more information, contact Mario Alonzo at 714-471-6037.
October 11 & 12
Diocesan Blue Masses
The Office of Black Catholic Ministry is sponsoring two Blue Masses in thanksgiving for first responders and to remember those who have fallen in the line of duty. The Blue Masses will be celebrated by Bishop Raica. On Oct. 11, the Mass will be held at the Cathedral of St. Paul at 6:30 p.m. The Oct. 12 Mass, will be held at St. Joseph Catholic Church in Huntsville at 11 a.m. St. Joseph Church is located at 2300 Beasley Ave., N.W., in Huntsville.
October 16
Eucharistic Youth Conference
The diocesan offices of Hispanic Ministry, Discipleship and Mission, and Religious Education are sponsoring the annual Eucharistic Youth Conference on Oct. 16 at the Shrine of the Most Blessed Sacrament in Hanceville. To learn more about the event for youth in grades 8-12, please visit bhmdiocese.org.
October 18
Diocesan White Mass
Bishop Raica will celebrate the annual White Mass in recognition of all health care workers on Oct. 18. The Mass will take place at the Cathedral of St. Paul at 6 p.m.
October 21
Diocesan Red Mass
The diocese and the Catholic Lawyers of the St. Thomas More Society are hosting the annual Red Mass on Oct. 21 at the Cathedral of St. Paul. The Red Mass, which will take place at 6 p.m., is a Mass of the Holy Spirit which is celebrated annually at the beginning of the judicial year to invoke divine guidance for all who seek and administer justice.
October 23
JPII Family Festival
On Saturday, Oct. 23, St. John Paul II Catholic High School will hold a family festival on the campus as part of their 25th anniversary celebration. The day will begin at 8:30 a.m. and conclude at 4 p.m. The festival will feature a classic car display, interactive kids games, school tours, face painting and other hands-on activities for children, performances by JPII students, and food trucks. The school is located at 7301 Old Madison Pike N.W., in Huntsville.
October 24
St. Elizabeth Ann Seton Ladies Altar Sodality to Host a Spaghetti Dinner
The Ladies Altar Sodality of St. Elizabeth Ann Seton parish in Gardendale will host a Spaghetti Dinner on Sunday, Oct. 24 from 10 a.m.- 2 p.m. Eat in or take out. All proceeds of the fundraiser will support the needs of the altar throughout the year. The ladies cook the special sauce from scratch, a meatless sauce will be available as well. Homemade desserts, salad, and a beverage will be served to those who eat-in. There will also be a 50/50 raffle, $1 each or 6 for $5. The Crafty Ladies Group will also be selling their knitting/crochet items to benefit local women support groups. The church is located at 334 Main St. in Gardendale.
October 29
Falcon Homecoming Tailgate
As St. John Paul II Catholic High School celebrates 25 years of Catholic education, the school will hold a Falcon Homecoming Tailgate on Friday, Oct. 29, beginning at 6:15 p.m. and continuing until the end of the game. Come dressed in some green to show school spirit. Kickoff will take place at 7 p.m. at Discovery Middle School, 1304 Hughes Rd. in Madison.
October 29
Silent Auction
St. Ann Catholic School in Decatur is holding its Holiday Silent Auction and Dinner at the Burningtree Country Club. Doors open at 6 p.m. with dinner being served at 7:30 p.m. Auction winners will be announced at 8:45 p.m. The cost to attend is $75 per person. A table for eight can be sponsored for $1,000. Black and white attire can be either casual or formal. The event will also feature a full cash bar. Please RSVP by Oct. 22. For more information, contact Lovely Sauers, silent auction coordinator, at 815-701-7861.
October 30-31
The 5th Annual Bernard Blues and BBQ
The 5th Annual Bernard Blues and BBQ is set for Oct. 30 and Oct. 31on the grounds of St. Bernard Abbey and Prep School. The event will feature some of the best artisans in the Southeast. While shopping, enjoy live music and the best pulled pork in the Southeast as well as ribs, hamburgers, brats, and chicken wings. On Saturday, children 12 and under are invited to wear costumes, and plan to trick or treat. On Sunday at 4 p.m. St. Bernard will give away cash prizes totaling over $12,000. Bring the entire family for a weekend of fun, socially distanced, on our 800+ acre campus. Hours for the event are 9 a.m. to 5 p.m. on Saturday and 9 a.m. to 4 p.m. on Sunday. Admission is a $5 requested donation. No pets, please. Festival guests can also tour our world-famous Ave Maria Grotto at a reduced admission of $4 all weekend. For more information, contact Festival Director Joyce Nix at 256-255-5860 jnix@stbernardprep.com. All proceeds benefit St. Bernard Preparatory School.