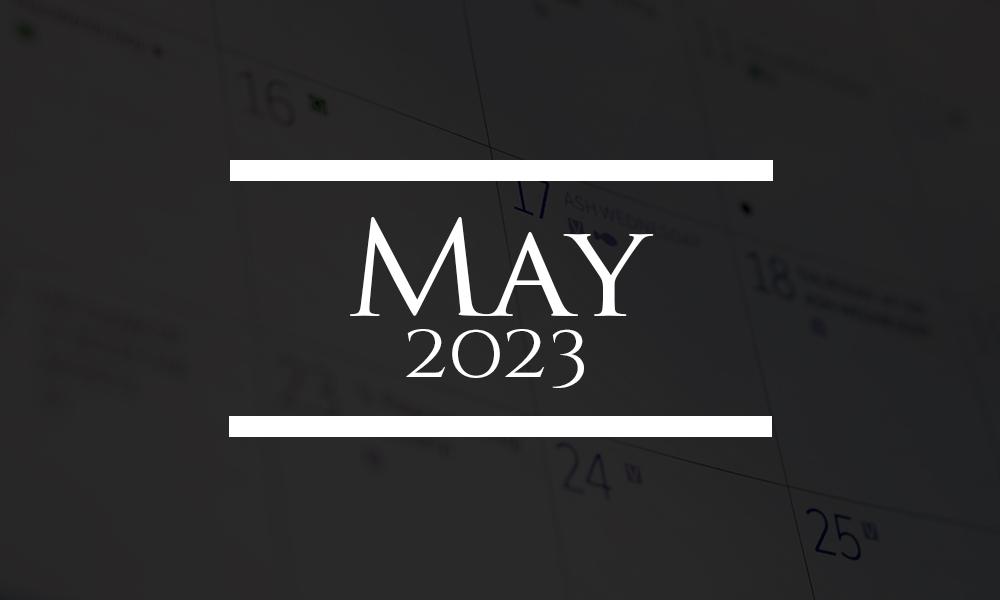 ---
Upcoming Events Around the Diocese - May 2023
---
Saturday, May 13
Happy, Holy, Healthy
St. Mark the Evangelist Our Lady of Fatima Guild will present a day for mothers, daughters, sisters, and friends from 9 a.m.-3 p.m. at St. Mark the Evangelist Catholic Church in Birmingham. Speakers include Johnette Williams of EWTN, Tammy Bond of Wellspring Clinic, Laura Ducote of Reproductive Health Medicine and Gynecology, and Charlotte Sederstrand of St. Mark's. Registration for the day is $15 and includes a boxed lunch from Café IZ. To register, visit stmarkrc.org. The church is located at 7340 Cahaba Valley Road.
---
Thursday, May 18
Healing Service
All are invited to an ARISE Night of Healing at 6:30 p.m. at Our Lady of Sorrows Catholic Church's Family Life Center. There will be eucharistic exposition and adoration, music ministry, multiple priests available to hear confessions, and teams of trained intercessors available for those wanting personal prayer. The speaker this month is Patricia Sandoval, an international pro-life and chastity speaker who shares her testimony around the world of her three abortions, work behind the hidden doors of Planned Parenthood, and nearly three years living as a homeless drug addict. Her story testifies to the saving love and mercy of Jesus Christ and His desire to bring the darkness of the world into the light for healing. Sandoval currently hosts a weekly television program on EWTN Español. Her biography, Transfigured, has been translated into several languages. Sandoval was also featured in the pro-life film, The Matter of Life. For more information text or call Laney Gagnon 205-994-0700.
---
Tuesday, May 23
Mariological Society of America Annual Conference
The 2023 annual conference of the Mariological Society of America (MSA) will take place at the Benedictine Sister Retreat Center on the grounds of Sacred Heart Monastery in Cullman, beginning at 6:30 p.m. The conference will continue Wednesday, May 24, from 9 a.m. to 9 p.m.; Thursday, May 24, from 9 a.m. to 9 p.m.; and Friday, May 26, from 9 a.m. to 10 a.m. During the conference, presentations will be given concerning themes related to the 1992 Collection of Marian Masses: Ordinary Time. The MSA meets in different parts of the country every year to give as many Catholics as possible a chance to learn about some of the latest academic work being done in the discipline of Mariology. One need not be a scholar or an MSA member to attend. The retreat center is located at 916 Convent Road, Northeast. Registration is required by May 1. To register online, visit https://forms.gle/jYHgh5KLK87B3tBZ7. For more information, visit mariologicalsociety.com.
---
Monday, May 29
Boston Butt Sale
Knights of Columbus Council 3989 of St. Florian are holding a Memorial Day Boston Butt sale. Whole butts are $40 and pulled pork is $9 per pound. To place an order, call Gabriel Wieland at 256-443-6513. Make checks payable to K of C 3989. Pick up will be May 29 from 6-9 a.m. at Langer Hall, 4051 County Road 30.