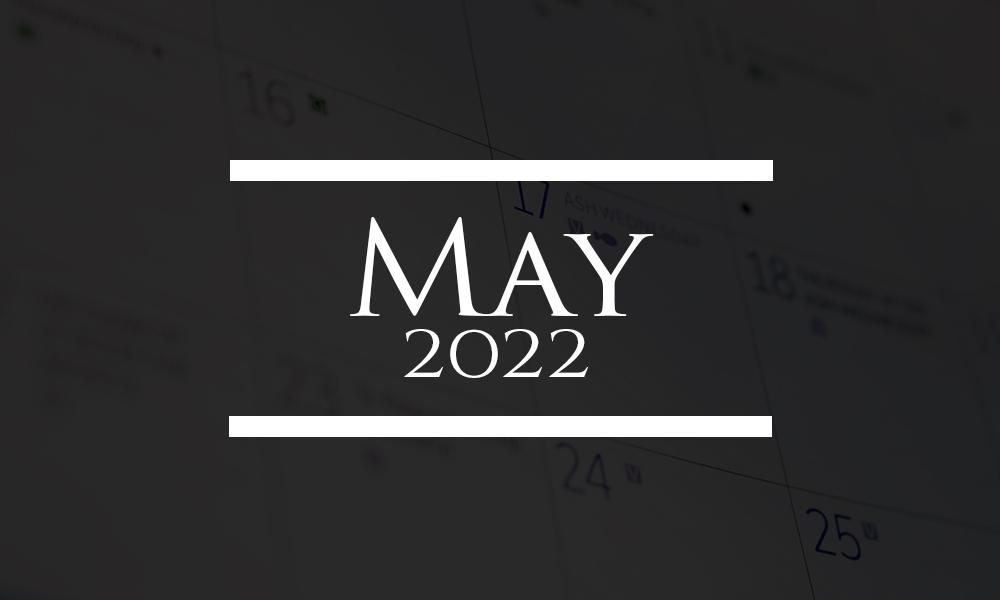 ---
Upcoming Events Around the Diocese - May 2022
---
Saturday, April 30 - Sunday, May 1
Adamsville parish to hold Springfest and two-day market
The day before Springfest, the church will offer the Ora Labora Market beginning at 11 a.m. and continue until 3 p.m. The market will continue the next day at the same times in conjunction with the parish's Springfest. Come out Sunday and bring the family for an afternoon full of fun! Vendors, a cake booth with homemade cakes and goodies, and a KidZone with inflatables and games will be featured. Dine in or carry out the church's famous spaghetti dinner! An auction full of great baskets and items will be held as well as a raffle with hundreds of dollars in cash prizes. The grand prize will be $1,500 in cash. Tickets are available now or on the day of event. For more information, please contact Desi Nelson at 205-913-4569. The church is located at 301 Shamrock Trail in Adamsville.
---
Monday, May 9
Father Louis Giardino Falcon Classic
The Father Louis Giardino Falcon Classic golf tournament will take place the Huntsville Country Club. Registration, lunch, and practice range open at 11:30 a.m. with a shotgun start at 1 p.m. The format is a four-person scramble. Don't golf? Come socialize from 5:30-7:30 p.m. with the JPII community and bid on silent auction items. Heavy hor d'oeurves, beer, and wine are included. Proceeds from the tournament will support the St. John Paul II Catholic High School (JPII) and Falcon Middle Schools Athletic Program. The club is located at 2601 Oakwood Avenue, NW, in Huntsville. For more information, email falconboosterclub@jp2falcons.org or download a registration form at www.jp2falconsathletics.org.
---
Saturday, May 14
Flores De Mayo: Filipino Festival of Flowers
Flores de Mayo (May Flowers) is a beloved Catholic tradition held in the Philippines honoring the Blessed Virgin Mary. This festival is celebrated during the month of May when beautiful flowers bloom and adorn the church especially the altar. Everyone is invited to come and celebrate with the Filipino communities from Birmingham and surrounding areas for the 2022 Flores De Mayo at the Shrine of the Most Blessed Sacrament. The celebration starts with a solemn Mass at 10 a.m. in the main church. Father Paschal Mary, M.F.V.A., will be the celebrant. A procession immediately follows with an image of the Blessed Virgin Mary lavishly adorned with flowers. Participants can bring their own flowers or purchase fresh flowers at the shrine for offering. A short program and lunch will follow at the San Miguel Castle where food vendors will be available. All proceeds benefit the Poor Clare Nuns of Perpetual Adoration, the Our Lady of the Angels Monastery and the Franciscan Missionaries of the Eternal Word. The Flores de Mayo Festival is a celebration of thanksgiving for Mother Mary's love as she intercedes for us. The shrine is located at 3222 CR 548 in Hanceville. For more information, please call 256-787-4121.
---
Sunday, May 15
Diocesan Baccalaureate Mass
Bishop Raica will celebrate a Diocesan Baccalaureate Mass at the Cathedral of St. Paul for any student graduating from high school or undergraduate/graduate programs in the Diocese of Birmingham. A light reception will follow the 2 p.m. Mass. Realizing that many schools have their own baccalaureate services, this Mass is intended to provide an opportunity especially for Catholic graduates who attend a public school, who are homeschooled, or who desire to attend this additional celebration. Students are invited to participate in the liturgy by wearing their gowns in the opening procession. Academic caps will not be worn for the Mass. Please spread this information to graduates in your schools and parishes and register on the Office of Sacred Liturgy webpage.
---
Thursday, May 19
ARISE Night of Healing 
Father Frankline of Our Lady of Sorrows Catholic Church (OLS) will lead a night of prayer and Eucharistic adoration 6:30 p.m. in the Family Life Center of OLS. Christina Fritz will teach on "You are the gate of Heaven." There will be multiple priests hearing confessions, and time will be set aside for those who want to receive individual prayer with trained intercessors. Come and bring a friend. The church is located at 1728 Oxmoor Road in Homewood.
---
Saturday, May 21
At The Well, a young women's Eucharistic retreat
Come and encounter Jesus in the Eucharist, Who alone can satisfy our deepest desires. As young women, we are called to be joyful witnesses of the beauty of femininity and to spread this joyful hope to friends and family. To spread hope, however, we ourselves must be filled. Our Eucharistic Lord calls to us to love, adore, and sit quietly in His presence, no matter our vocation in life. The retreat will begin at 9:30 a.m. with a talk by Sister Marie-Thérèse, C.J.C., then some social time with the Poor Clare Nuns of Perpetual Adoration. Mass will be celebrated directly before a catered lunch. The second retreat talk will begin following lunch, then free time will be available for adoration, confession, fellowship, shopping, or enjoying the shrine's grounds. Dinner will precede the evening Holy Hour and benediction. Registration is required and the cost for the retreat is $20. To register visit, https://olamshrine.com/event/at-the-well-young-womens-eucharistic-retreat/. The shrine is located at 3224 County Rd. 548 in Hanceville.
---
Saturday, May 21
Our Lady of Fatima to host Synod dialogue
As part of Synod 2021-2023, Bishop Raica and the Office of Black Catholic Ministry have convened a dialogue at Our Lady of Fatima Catholic Church in Birmingham at 10 a.m. for people in the community to join in prayer and conversation to discern how to be most effective in sharing the Gospel and living joyfully and fruitfully in parish communities. Pope Francis has invited all the people of God into a special period of dialogue, listening to the Holy Spirit and to one another to discover how we can more closely and fruitfully journey together as the Body of Christ. For more information visit bhmdiocese.org/synod. The church is located at 708 1st St., S.
---
Saturday, May 28
Hispanic Women's Retreat
The Office of Hispanic Ministry will offer a Women's Retreat in the gym at Prince of Peace Catholic School in Hoover. The retreat is open to women ages 18 and up. Dr. Martha Reyes will be one of the presenters. She is a well-known Catholic speaker who has a doctorate in psychology and has worked with abused and wounded women for many years. Those interested need to register at tinyurl.com/RetiroMujeresBHM.
---
Tuesday, May 31
Italian American Heritage Society Scholarship deadline
The Italian American Heritage Society is again announcing the opportunity for a $500 scholarship based on the winning essay, "What my Italian heritage means to me." To be eligible to participate, the applicant must have a relative who is a society member. Also, the person submitting the essay must be currently enrolled at the college level or a high school senior who has been accepted at a college. The deadline for submitting the essay is May 31.
Two $500 scholarships will be awarded. For more information, please visit iahsbham.com.
---