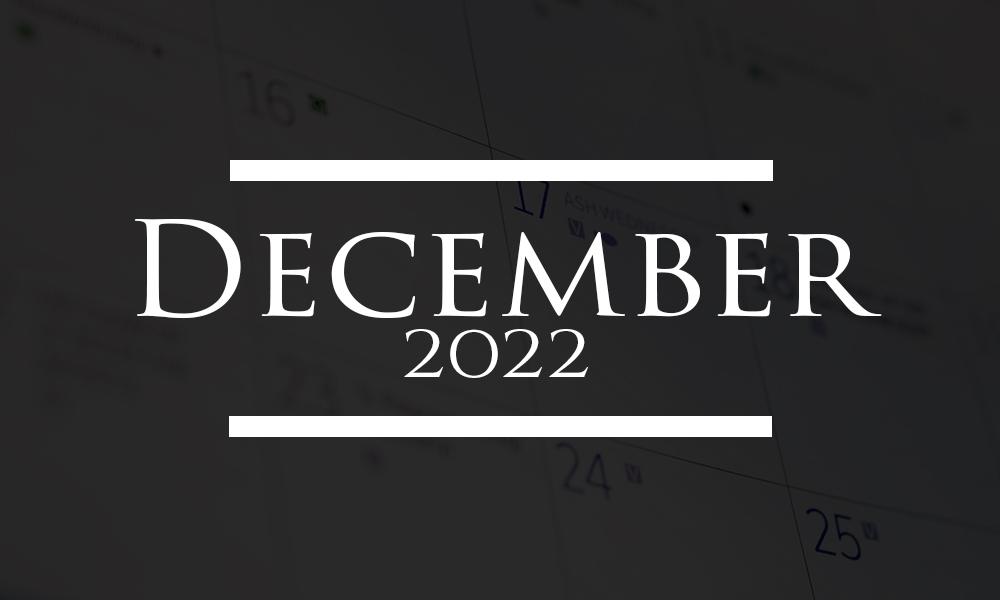 ---
Upcoming Events Around the Diocese - December 2022
---
Thursday, December 1
Fellowship and fundraising
Our Lady of the Valley Catholic Church will host a fundraising banquet from 7-9 p.m. in the social hall for the Poor of Jesus Christ (PJC), a Franciscan religious order serving the Birmingham Diocese since 2018. The friars and sisters bring Jesus to the homeless, drug addicted, and trafficked on the streets of Birmingham. Come meet them and learn more about their apostolate. The evening will feature raffle prizes: two original artwork pieces, tour and tasting for 6 at Dread River Distillery (value $150), professional photography session (value $300), $1,000 cash, and one week on Lake Martin in a beautiful lake house (sleeps 20 - value $7,000). There is no cost to attend, but an appeal for donations will be given. Each person attending must register by Nov. 23. To register, call or text the word "Banquet" to 205-913-3776. The church is located at 5514 Double Oak Lane in Birmingham.
---
Friday, December 2
Do this in remembrance of Me
The Office of Sacred Liturgy and the Office of Evangelization are sponsoring a luncheon on December 2 at the Vestavia Country Club, 11:30 a.m. - 1 p.m. The luncheon will feature a dialogue, "Do This in Remembrance of Me," between Rabbi Adam Wright of Temple Emanu-El in Birmingham and Father Ryan Muldoon, a priest at St. Patrick's parish in Yorktown Heights, NY. The two will discuss Passover and the Eucharist. The cost is $25 per person. To register for the luncheon, visit https://cbapn24.wildapricot.org/eventCalendar.
---
Saturday, December 10
Annual Advent reflection
St. James Catholic Church will host a day of reflection starting at 9 a.m. The day will begin with reflection followed by confessions. Ten priests from around the diocese will be available to hear confessions in both English and Spanish. The church is located at 622 Chestnut Street in Gadsden. For more information, please contact the church at 256-546-2975.
---
Wednesday, December 14
Christmas at Carroll
Current families, alumni, and friends of John Carroll Catholic are invited to Christmas at Carroll - A celebration of the JCCHS Fine Arts Department. The event, part of the 75th anniversary celebration of the school, will feature the students of the JCCHS band, choir, theatre, and visual arts programs. No registration is required. The event will begin at 6 p.m. and conclude at 7:30 p.m. The school is located at 300 Lakeshore Parkway in Birmingham.
---
Thursday, December 15
ARISE Worship Ministry
All are invited to a special Advent Healing Service at 6:30 p.m. at Our Lady of Sorrows Church in the Family Life Center. Father Daniel Gagnon will preside. Father Gagnon is a missionary priest with the Oblates of Mary Immaculate. Originally from Maine, he currently serves in Mexico City, Mexico. He was appointed as the director of the Commission for the Doctrine of the Faith in the archdiocese. He has written 18 books and served as the international director of the New Evangelization under Pope St. John Paul II. He has done programs for EWTN Global Catholic Network in both Spanish and English. Father Gagnon is in great demand around the world and has given retreats in 51 countries, bringing the love of God the Father wherever he preaches.
---
Saturday, December 17
Turkey Shoot
The Knights of Columbus of St. Florian will hold their last Turkey shoot of 2022, starting at 7 a.m. and ending when everyone has participated. Breakfast and lunch concessions will be offered. Shotgun, .22cal rifle, and .22cal pistol rounds are available. Ham rounds are also available. The event will take place at Langer Hall, 4051 County Road 30 in St. Florain. For any questions, please contact Blair White at blair.white76@gmail.com.
---
Friday, December 30
St. Mary's Catholic Church in Fairfield will host an ecumenical prayer service, praying to start the new year with peace and an end to gun violence, at 11 a.m. Scriptural reflections will be offered by Rev. Dr. Bannecker Hatcherson of 23rd St. Missionary Baptist Church, Deacon Carolyn Foster of Greater Birmingham Ministries, Daniel McCormick of the Diocese of Birmingham, and Deacon Peter Smith of St. Mary's. For more information, please call Deacon Walter Henderson at 205-222-2010. The church is located at 6101 Dr. Martin Luther King Boulevard.
---