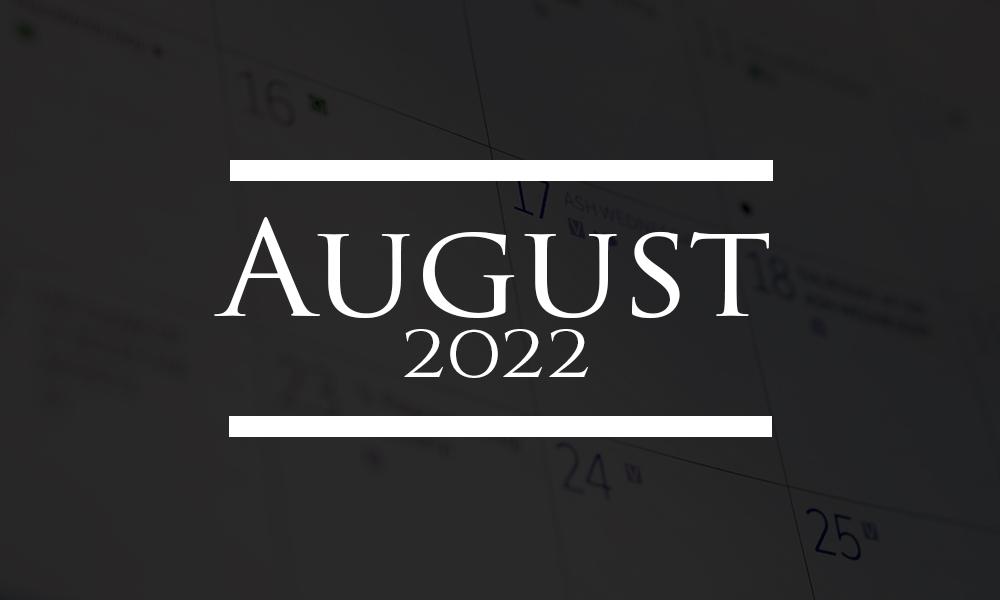 ---
Upcoming Events Around the Diocese - August 2022
---
August 1 - 11
A journey to experience the World Famous Passion Play
Join Father Vincent Bresowar and fellow pilgrims from the Diocese of Birmingham on a unique journey that will take you through the Czech Republic, Germany, and Austria. The main event is the Passion Play in Germany, but this pilgrimage also features Prague and Český Krumlov (Czech Republic), Altötting, Passau, Munich and Füssen (Germany), and Salzburg (Austria). The cost is $4490.00 and includes roundtrip airfare from Atlanta on British Airways in economy class. For more information or to register please visit https://prorometours.com/passion-play/, email office@prorome.com, or call 434-953-1112.
---
August 2
Free TeenFEMM Health Education for girls
Reproductive Health Medicine & Gynecology, a pro-life women's restorative health clinic in Gardendale, is excited to offer a free, online health education class to teen girls, starting at 4:30 p.m. This virtual education event will be led by a FEMM instructor and will go over basic information about the female body, puberty and periods, hormones and emotions, and basic reproduction. The class is open to ages 13 to 19, but is most appropriate for girls who are already familiar with menstruation and are ready for the next level of information. Teens are welcome to attend with friends, sisters, or parents. Two additional sessions will be provided after the initial class, also free of charge. To register, visit rhmgyn.com/whtcontact or email Caitlin Estes at cestes@rhmgyn.com. The link to the virtual class will be provided upon registration. Registration deadline is Aug. 1.
---
Thursday, August 4 – Monday, August 8
Embracing the Father Conference
The United for Life Foundation is sponsoring a power-packed conference on healing, education, and spiritual growth at the Shrine of the Most Blessed Sacrament in Hanceville from 9 a.m. to 6 p.m. each day. The two keynote speakers will be Father Stephen Imbarrato and Sister DeDe Byrne. Patrick and Joy Campbell will lead a healing workshop and Father Gray Bean, Lisa Fuchs, and Donna Schroyer will give talks. Adoration, confession, the Rosary, and Holy Mass will also be offered throughout the conference. Additional opportunities include an audience experience with Jim & Joy Live Show, a Shrine tour, a John Paul II Museum tour, and an EWTN studio tour. Lunch will be available each day for $10. Registration is required. To register, please visit unitedforlifefoundation.org. The shrine is located at 3222 County Rd. 448.
---
August 8-11
St. Clare Vocation Retreat
The Poor Clares of Perpetual Adoration will hold their annual St. Clare Vocation Retreat at the Shrine of the Most Blessed Sacrament. Young woman between the ages of 18-35 interested in participating in this retreat should email vocations@olamshrine.com or call 205-795-5708. Space is limited. For more information, please visit olamnuns.com.
The shrine is located at 3222 County Road 548 in Hanceville.
---
Wednesday, Aug. 10 - Friday, Aug. 12
Father Ernesto M. Caro will lead a three-day eucharistic mission as part of the Eucharistic Revival. The mission will consist of a spiritual talk about the Eucharist and end with adoration. The schedule is not finalized, so for more information, contact Maria Jose Bonilla at mbonilla@bhmdiocese.org.
---
Thursday, Aug. 11
A memorial Mass marking the 101st anniversary of Father James E. Coyle's death for the Faith will be celebrated at the Cathedral of St. Paul at 10 a.m. A reception will follow. For more information, please visit fathercoyle.org or call 205.447.8796. The cathedral is located at 2120 3rd Avenue, North in Birmingham.
---
August 13
Parish yard sale
St. Charles Borromeo Catholic Church in Jacksonville will hold their annual yard sale between 7 a.m. and 2 p.m. in Macey Hall, the parish life building. The St. Charles yard sale is a popular community event held to benefit parish activities and local charitable programs. It enjoys a hard-earned and excellent reputation among bargain hunters in Jacksonville and throughout Calhoun County. That reputation, for quality merchandise that is priced to sell, has been built by and maintained over the years by the hard work of countless parishioners. Please call the St. Charles office at 256-435-3238 for more information. The church is located at 308 Seventh Street, Northeast, Jacksonville.
---
Saturday, Aug. 13
A diocesan eucharistic retreat, led by Father Ernesto M. Caro, will be held at Good Shepherd Church in Russellville from 8:30 a.m.-3 p.m. The church is located at 1700 North Jackson Avenue in Russellville. For more information, please email mbonilla@bhmdiocese.org.
---
Friday, August 19
Battle of Lakeshore
All are welcome to attend the diocesan-sponsored tailgate for the Battle of Lakeshore game between the John Carroll Cavaliers and the Homewood Patriots. Stop by for free food and beverages, prizes, and a chance to meet your parish youth minister. The game will take place at Samford University, 800 Lakeshore Parkway in Birmingham, beginning at 6 p.m.
---
Saturday, August 20
Nazareth House training workshop
Catholic high-school students interested in working with children and youth having intellectual and developmental disabilities through a Saturday morning greater Birmingham area city-wide program of religious education are invited to a training workshop from 9:00 a.m. until 12 noon at St. Francis Xavier School, 2 Xavier Circle in Birmingham. The training workshop will take place in the School Annex Building. Please note that those who participate in the Nazareth House Saturday program are eligible for service hours that meet the requirements for high school graduation and college scholarship applications. For further information or directions, please contact Sarah Houser at sawisely@gmail.com or 205-612-6111 or Father Patrick Cullen at Rathmines.Cullen@gmail.com or 205- 907-0287.
---
Saturday, Aug. 20
Diocesan Liturgical Formation Day
A day of liturgical formation is being sponsored by the Office of Sacred Liturgy for all lectors, extraordinary ministers of Holy Communion, and music ministers. The formation will be held at Sacred Heart of Jesus Catholic Church. Both Spanish and English tracks will be available. The day will begin with Mass with Bishop Raica at 10 a.m. and conclude by 2 p.m. The church is located at 217 Second Street, Southeast in Cullman. To register or for information, visit https://signup.com/go/tUFkZfa.
---
Sunday, August 28
School to open sports Hall of Fame
The official opening and ribbon cutting ceremony for the new Our Lady of the Valley (OLV) Sports Hall of Fame will take place at 10 a.m. outside the OLV gym on the school side of the building. Requirements for the Sports Hall of Fame include graduation from Our Lady of the Valley, participation in a sport or sports (not necessarily through OLV) during attendance at OLV, a continuation of playing sports through high school, and participation in collegiate sports through at least sophomore year. For more information, please contact Wendy Hassinger at whassinger@olvsch.com. The school is located at 5510 Double Oak Lane in Birmingham.
---
Sunday, Aug. 28
Bishop Steven J. Raica will mark the eighth anniversary of his episcopal ordination with Mass at the Cathedral of St. Paul at 11 a.m.
---