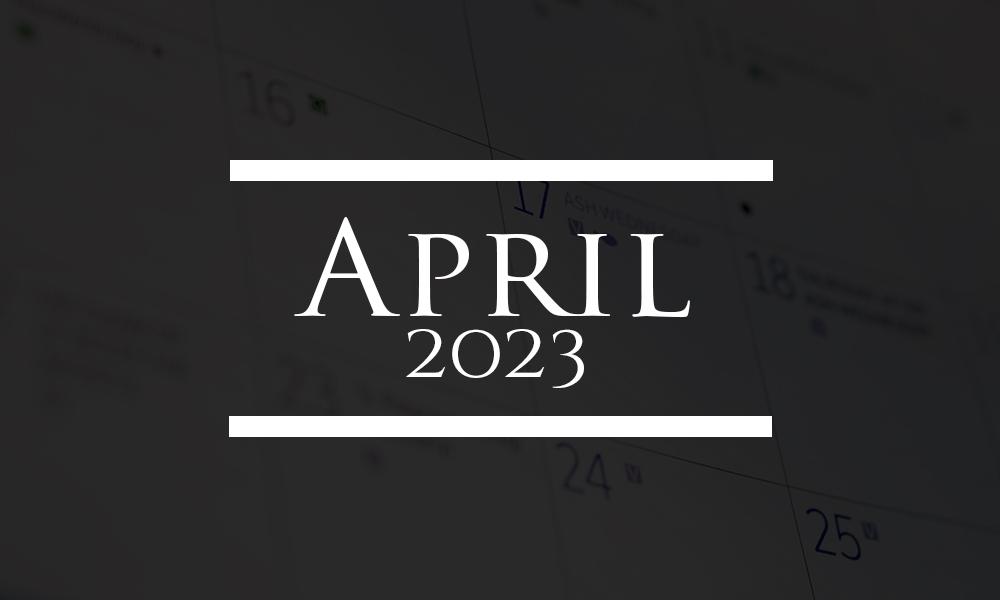 ---
Upcoming Events Around the Diocese - April 2023
Saturday, April 1
St. James Catholic Church annual Lenten reflection
St. James Catholic Church in Gadsden will hold a Lenten reflection beginning at 9 a.m. An English reflection led by Father Anthony Vadakara will be held in the church, while the Spanish reflection led by Father Jorge Giraldo will be held in Seton Hall. Opportunities for individual confession will follow the reflections. Ten priests will be available. The service will conclude at noon. The church is located at 622 Chestnut Street.
---
Tuesday, April 4
Chrism Mass
Bishop Raica will celebrate the Chrism Mass at the Cathedral of St. Paul at 10:30 a.m. During the Mass, the bishop will consecrate the sacred oils to be used in the sacraments of baptism, confirmation, anointing of the sick, and holy orders. Additionally, priests of the diocese will gather at this Mass to renew their priestly promises, showing their fidelity to their bishop and to Christ. 
---
Tuesday, April 4
ADHD 101: What every parent should know series
Dr. Dale Wisely, Prince of Peace Catholic Church's director of formation and family life, will present a two-part series on attention-deficit/hyperactivity disorder at 11:30 a.m. in the church's St. John room. All are welcome and registration is not required. The second installment will be held on April 11 at the same time and the same location. The church is located at 4600 Preserve Parkway in Hoover.
---
Saturday, April 8
Swieconka
The Cathedral of St. Paul will hold Swieconka (Blessing of the Baskets) at 9 a.m. Swieconka (sh-vee-en-soon-kah) is one of the most enduring and beloved Polish traditions. Baskets containing a sampling of Easter foods are brought to church to be blessed on Holy Saturday. The basket is traditionally lined with a white linen or lace napkin and decorated with sprigs of boxwood (bukszpan), the typical Easter evergreen. This food is shared on Easter morning in a ritual breaking of the fast. 
---
Sunday, April 9
Easter Sunrise Mass
Father Joe Lubrano, pastor of St. Joseph Catholic Church in Huntsville, will celebrate a sunrise Mass at the Monte Sano State Park overlook at 6 a.m. For more information, please call the parish at 256-534-8459. The state park is located at 5105 Nolen Avenue.
---
Saturday, April 15
Magnificat Prayer Breakfast
The Service Team of Mary, Woman of Faith Chapter of Magnificat will host a Magnificat Prayer Breakfast from 9:30 a.m. to 12:30 p.m. at Our Lady of Sorrows Parish Hall. Michelle Laque Johnson will be the guest speaker. She will compare her experiences with the suffering and death of loved ones to walking "the Way of the Cross" with Jesus. Tickets are on sale through April 10. Meal tickets are $20 and include a catered breakfast. Tickets are available online at BirminghamMagnificat.org or by email at magnificat0296@gmail.com. Tickets for priests, deacons, religious brothers and sisters are complimentary, but reservations are still required. No tickets will be sold at the door. Please call Donna Chmielarski at 205-408-0308 if you have ticket questions or would like additional information. The church is located at 1728 Oxmoor Road in Birmingham.
---
Monday, April 17
Remembering Bishop Foley
The fifth anniversary of Bishop David E. Foley's death. He was installed as the Diocese of Birmingham's third bishop on May 13, 1994, and retired on May 10, 2005. May he rest in peace.
---
Saturday, April 22
St. Elias Cedar Run 5K
St. Elias is sponsoring the Cedar Run 5K with all proceeds benefitting Just Keep Smiling, a non-profit organization offering assistance to families with critically ill children. The 5K will be chip-timed and begin at 8 a.m. The one-mile fun run will begin at 9 a.m. The price for the 5K is $30 and the fun run is $20. Students 21 and younger can register for the special rate of $15 for either event. The run coincides with the church's 25th annual Lebanese Food and Cultural Festival, which will take place Friday and Saturday, April 21 and 22, from 10 a.m. to 9 p.m. each day. The food festival is free to attend. St. Elias is located at 836 8th Street, South in Birmingham. To register for the run, visit steliascedarrun.org. To learn more about the food festival, visit stelias.org.
---
Saturday, April 22
Melodious Morsels Jazz Brunch
Holy Family Catholic Academy will host a jazz brunch featuring the Official Clutch Band from 11 a.m. to 3 p.m. at the City Club Birmingham. The brunch will include a brunch buffet, cash bar, silent auction, local vendors, and dancing. Tickets are $75 and available at https:/bit.ly/HFCAJazzBrunch_2023. Scholarship opportunities are available. To inquire, please email giving@hfcatholicacademy.org. For more information, visit hfcatholicacademy.org. The club is located at 1901 6th Avenue, North in Birmingham. Free parking will be available in the club's 6th Avenue, North garage.
---
Saturday, April 22-Sunday, April 23
Bloomin' Festival in Cullman
The 39th Annual Bloomin' Festival Arts and Crafts Fair will be held on the campus of St. Bernard Abbey from 9 a.m. to 4 p.m. each day, with an admission donation of $10 (children 12 and under free). More than 100 artisans have registered to participate. Vendors will be selling handmade items such as baskets, jewelry, ornamental garden art, birdhouses, pottery, cypress furniture, handmade soaps, brooms, wood-turned bowls, fudge, kettle corn, roasted cinnamon nuts, and more. St. Bernard's monks will be there as well to sell their famous homemade bread 
and cookies. For more information, visit bloominfestival.com or call 256.739.6682. The abbey is located at 1600 St. Bernard Drive, Southeast in Cullman.
---
Friday, April 28
John Onder and Friends Concert
John Onder, youth minister at Holy Spirit Catholic Church and music teacher at Holy Spirit Regional Catholic School, will hold a concert at Holy Spirit Catholic Church in the Family Life Center, beginning at 6:30 p.m. The night of sacred music is sure to feature some of Onder's original music from his newly released album "Bring Out the Best in Me." The concert is free of charge, but donations to the St. Vincent de Paul pantry will be accepted. The church is located at 625 Airport Road in Huntsville.
---
Saturday, April 29
Seafood Fiesta
St. Ann Catholic School will hold its 34th annual Seafood Fiesta from 10 a.m. until 4 p.m. Great seafood along with authentic Mexican food, chicken tenders, delicious desserts, children's games, arts and crafts vendors, and much more will be offered. During the event, the Big Fish Car Show will also take place from 9 a.m. until 3 p.m., featuring live music by The Cadillacs. For more information, please visit saintanndecatur.org or contact Tracy Harrell at bjtaharr@att.net. The school is located at 3910 Spring Avenue, Southwest in Decatur.