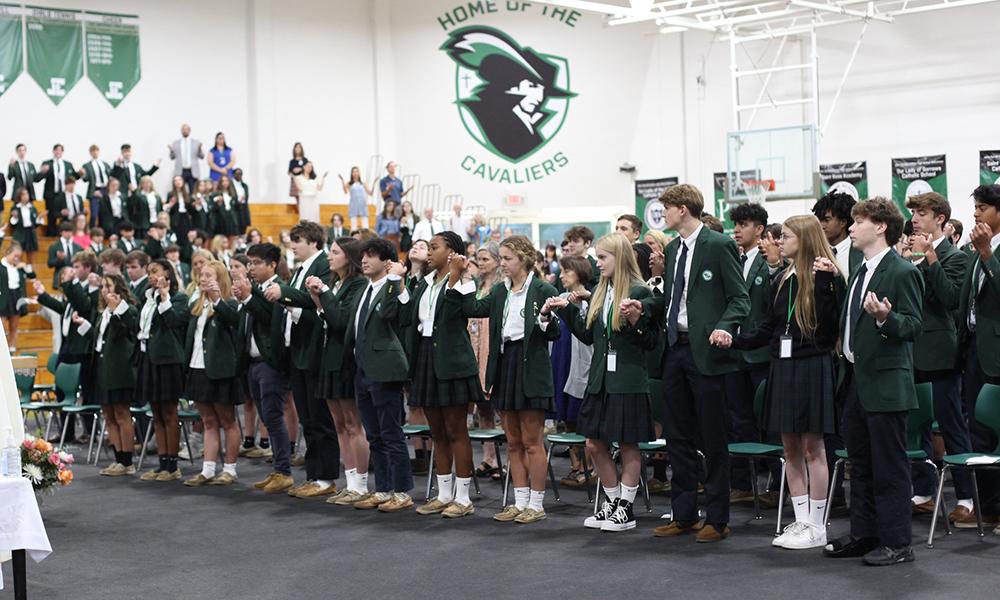 ---
Remaining Faithful to the Path and Dream of God
John Carroll Catholic Marks 75 Years
On Sept. 8, Bishop Raica celebrated Mass at John Carroll Catholic High School in Birmingham, marking the school's 75th anniversary. The school opened the doors of its original Highland Avenue campus on the same day in 1947. The complete text of the bishop's homily follows herein.
Dear friends, it is with a great joy that I join you for the 75th anniversary of the high school. In particular, I welcome our guests, families, and benefactors as well as clergy and religious who have had some connection with this John Carroll High School over the years. With a sense of great pride, through the mission and spirit of John Carroll many have excelled in ways that we could not have even imagined – priests, religious, bishops, an Apostolic Nuncio and head of the Accademia Apostolica where Vatican ambassadors are formed, a Nobel peace prize winner, and many more who lived the life of faithful discipleship in Christ Jesus on the adventure of life.
All throughout our experience here, there is the opportunity to explore the many questions that help shape who we are. Our scholarly experiences help to form our minds to think critically about the issues we face. It is here where much of the groundwork is laid so that we can make critical judgements that will impact us for life. Not only our minds, but our physical bodies and our souls are part of the soil of formation. Our very humanity must be shaped and formed so that it can operate at maximum capabilities to become everything that God desired and dreamed. Really, our education and formation are an education to freedom: not merely a freedom from, but a freedom for doing what we ought and what we must. It comes, not because freedom is free of attachments, but because we belong to the One Who guarantees it – Jesus Christ. This freedom helps us grow in faith and love for the good of all humanity and the protection of our common home.
On this 75th anniversary, many - and many who are here today - have preceded you on this amazing journey. They wanted to share the joy and accomplishment they found by sacrificing for you to be here today! You stand on the shoulders of giants who want you to succeed even more than they did. Today, we give thanks for what has been. We also nudge ourselves to think: "What gifts do I bring for the next generation? What will be my legacy in life that honors my formation at John Carroll? What will I hand on to society or the next generation?"  
Perhaps the most fundamental question begins when Andrew and the disciple John approach our Lord in the 1st chapter of St. John's Gospel. Their life was about to change irrevocably with one question - a very fundamental question. Jesus asked, "What are you looking for?" (cf. Jn 1:38) In other places, He also asks, "Who are you looking for?" (cf. Jn 18:4 passim) At the very heart of education, especially over these past 75 years, these questions of the heart shape the philosophy, the academic and formational curriculum, the scope, and sequence of everything done here. In the end, it will leave us with an invitation. Will you follow Christ? Or not?
Everything you do in life will be boiled down to one question which each of you must answer definitively: Christ, yes? Or Christ, no? The answer to that question will result in your destiny. It will be yours and yours alone.
For 75 years, many have responded, "Yes." Yes, to Christ! Yes, to Truth! Yes, to Freedom! Yes, to Beauty! Yes, because we see how much energy has been spent by Christians in fields such as music, art, sports, relationships, and academic formation to remain committed to the essence of the fact and wonder of Christ.
Now, today, on this 75th anniversary, we thank you, your teachers, administration, and staff, your parents, and the benefactors of this educational institution as part of "team Christ!" Sometimes the question is posed when contemplating life as a Christian: Is it possible to live this way … Is it really possible to live as a Christian today? There sure are a lot of things tugging at us to move in one direction or another. Sometimes we see the negative answers to this question, the mistakes, the sins, the failures of believers. Our saints, especially our young saints like Blessed Carlo Acutis, St. Jose Sanchez del Rio, St. Joan of Arc, in their youth remained steadfastly committed to the path of Christ in their life. For them, life could not be conceived without Christ.
Perhaps Blessed Carlo is instructive for us today. He died when he was 15 years old in 2006 – not too long ago. He had a passion for the Eucharist and sought to identify and chronicle the Eucharistic miracles around the world. His parents weren't all that "religious." He still found it within himself to frequent daily Mass on his own. The depth of his life was fully lived by its unique determination and intentionality. He inspires many young people today. One statement he said challenges me today. "All people are born original, but many die as photocopies." What is the originality that God has given you? Through your education here, you can become a unique, one of a kind, an inspiration and hope to others – not merely by "getting by" but by allowing yourself to become the dream that God has for you. "Before I formed you, I knew you!" (cf. Jer 1:5)
Finally, on this day that commemorates the birth of Mary, 9 months after her conception on Dec. 8 (Immaculate Conception), our Lady had an original task as well. She was being prepared for a very special mission – to be the unique vessel to bring our Lord Jesus to birth in this world through the power of the Holy Spirit. She, too, maintained her unique originality to fulfill God's dream. Today, we commemorate her through the Church for her gift that illustrated God's passion for humanity. Today, we beg her to pray for us – to be able to say "yes" to her Son, maintain our originality, and witness God's love in the world.  
My friends, thank you for this opportunity to pray with you today. This Mass is one of thanksgiving for blessings received and a begging for present and future graces to remain faithful to the path and dream of God for the next 75 years. May God bless you!
---
For more coverage of John Carroll Catholic's anniversary, please click here.