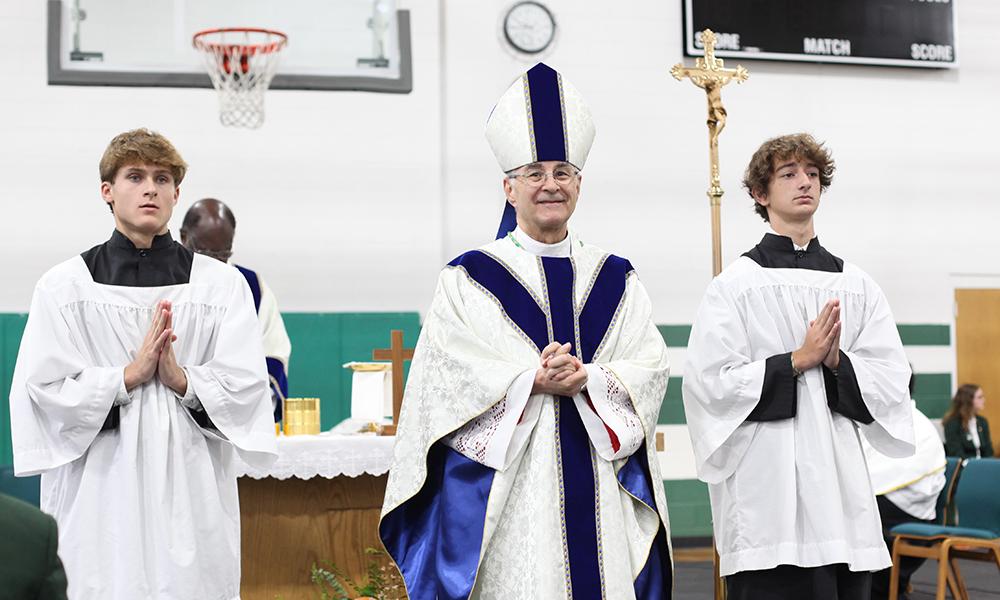 ---
Commemorating 75 Years of Excellence
John Carroll Catholic Celebrates Milestone Anniversary
On Thursday, Sept. 8, 530 students and 65 faculty and staff gathered for a special weekly school Mass to commemorate the 75th anniversary of the opening of John Carroll Catholic High School (JCCHS) on Sept. 8, 1947. Bishop Steven J. Raica celebrated the Mass with JCCHS President Father Bob Sullivan ('82), John Carroll Executive Vice-President Father Jon Chalmers, John Carroll Chaplain Father Jonathan Howell, and Father Kevin Bazzel concelebrating. They were assisted by 1968 graduate Deacon Doug Moorer. Cavalier legacy students served the Mass as lectors and eucharistic ministers, and many alumni, parents, and friends of the school were in attendance.  
Bishop Raica's homily honored the history and tradition of John Carroll, challenged current students to say "yes" to "Team Christ," and inspired all that were present with the responsibility of ensuring another 75 years of excellence.  
"Many who are here today have preceded you on this amazing journey. You stand on the shoulders of giants who want you to succeed even more than they did. Today we give thanks for what has been. We also nudge ourselves to think: 'What gifts do you bring for the next generation? What will be your legacy in life that honors your formation at John Carroll?" asked Bishop Raica.  
In conjunction with the launch of the 75th anniversary celebration, JCCHS hosted Homecoming Week, Tuesday, Sept. 6 - Saturday, Sept. 10. On Friday evening the JCCHS football team lost to Hayden High School (33-19) in front of an enthusiastic and packed grandstand of supporters. Prior to the start of the game, over 200 alumni attended a special pregame tent party hosted by the John Carroll Alumni Office.
"To have so many alumni in attendance on Friday night was amazing," stated Mike Bouton, director of alumni relations. "John Carroll alumni are special, and we were really excited to share our 75th anniversary celebration with so many."
The students wrapped up a fun and exciting Homecoming Week with the dance on Saturday night. Over 500 were in attendance at the event held in the Commons at JCCHS.  
Special events and commemorations continued on Saturday morning, Sept. 10, with a special alumni Mass and open house. Both of these events were hosted at the Bruno Campus, which has also reached a significant milestone of 30 years on Lakeshore Parkway.  
Father Bob Sullivan presided over the Mass and credited God's providence with the timing and success of the 75th anniversary events. He also reminded those in attendance of the quote from Scottish author, Samuel Smiles: "Sow a thought, and you reap an act; Sow an act, and you reap a habit; Sow a habit, and you reap a character; Sow a character, and you reap a destiny."
"This is what John Carroll has done and continues to do so well…forming young people in the image and likeness of God so that when they leave this wonderful institution they can go on to fulfill His destiny for their lives," he stated.