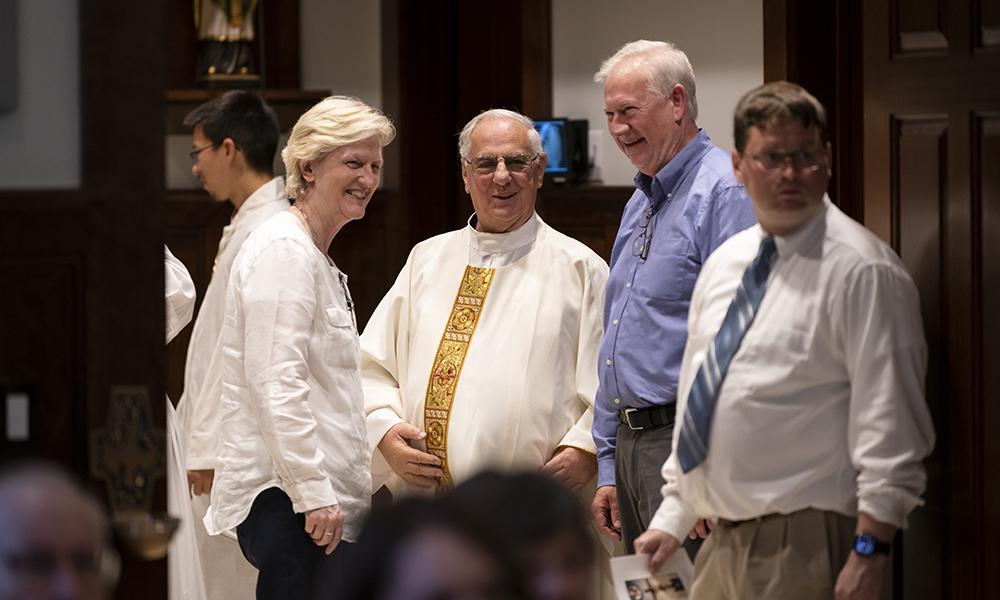 ---
A 'Beautiful Chapel to Honor the Presence of Jesus'
On Sept. 4, Bishop Raica celebrated Mass in and blessed the new Perpetual Eucharistic Adoration Chapel at Holy Spirit Catholic Church in Huntsville. The complete text of his homily follows herein.
My brothers and sisters in Christ, today, I am grateful to be here to bless the Eucharistic Adoration Chapel here at Holy Spirit Parish. For years, many people have been spiritually enriched through prayer before the Blessed Sacrament. In a particular way, I thank Father Mike and Father Josh for their invitation and acknowledge Abbot Marcus, Father Domenic, our deacons, women religious, and all here today for their dedication to keep our Lord present here in the Huntsville area through the erection of this beautiful chapel to honor the presence of Jesus. 
The Gospel reading proposes two fascinating parables. Jesus uses them to demonstrate what it means to be a disciple. How they "do" that is what concerns us this afternoon.
The first parable is about building a tower. A prudent person will carefully estimate his resources beforehand to be sure that he is able to complete the job. Today we think of need, feasibility studies, environmental impact studies, etc. What is the model we use to accomplish the project – engineering, resources, future use, etc.? Well, here in Huntsville, you have built a new chapel to honor Jesus. You, too, have calculated the costs vis-à-vis the value and purpose of the building as an investment into the spiritual health and future of residents here. 
In the same way, in the second parable, the king will ascertain whether he has sufficient manpower before engaging another in battle. What is the goal? Do we have the resources to complete the task? What is the overall objective? Here, too, we have marshalled our spiritual resources with Jesus at the center to shore up our relationship with Christ over and against the many things that constantly pull us away from the centrality of Christ.
The point is clear. It's rooted in common sense. Jesus is trying to define what it means to be a "disciple" – a true follower. In this reading and in other places, our Lord describes it as a total self-giving, a surrendering, an abandonment of ourselves to Him in such a way that we would give up everything to treasure this gift beyond all price. It is more than giving Him our leftovers. It doesn't require a great deal of intelligence, a keen imagination, or natural strength. These are not the resources Jesus is looking for.
We might say that what is being offered is the source of our life – Jesus Himself!
The "doing" is contained in these wonderful examples. Jesus says that a follower – a disciple – must even, in a very dramatic hyperbole and sometimes quite literally, "turn his back" on his family and his very self. It suggests that we must struggle with what it means to give ourselves totally and completely to the One Who made us and for Whom we are ultimately destined. It means seeing everything in a new way – everything that affects us will now be filtered through a new lens. It will be Christ who guides us and leads us. In some instances, it will mean following in a new way of life totally and completely. In some instances, it may even come to a hard decision regarding family and friends. 
In this place, all of our attention is focused on Christ in the Eucharist. So much in our lives changes as we find quiet serene moments and places that help us focus on the "source and summit" of our very lives. 
Saying that Jesus commands the pride of place in our lives challenges us, especially as we are pulled in so many different directions. Nevertheless, there is the attraction and the allure of something that tugs at our hearts. It is the wonder of the Mystery, of Christ Himself, of Someone who has turned His gaze toward us and invited us: "Come follow Me!" We feel it resonate within our hearts and souls to such a degree that we cannot ignore this impulse. Either we respond one way or another. It is not enough only to have a beautiful place to come to. It is necessary to allow Christ to transform us into a place for Him to dwell, allowing our hearts to be more and more conformed to His in order to bring that which is true, beautiful, and good to the world waiting for hope.
As Christians, St. Paul reminds us that we have "put on Christ" – we have "become a new creation," it is "I, but no longer I" who live. We have become beacons of hope in the midst of despair, light in the midst of darkness and chaos, joy in the midst of sadness.
I pray that this oratory be a place of light, refreshment, and hope for many throughout the greater Huntsville area. My gratitude for the many who have generously contributed to its realization. It is a splendid kick-off to the Eucharistic Revival that is now underway! You have made it happen here! 
We also recognize the beautiful role of our Blessed Mother who said her "yes" that God's will be done. Then, by the overshadowing of the Holy Spirit, Mary conceived and brought Christ into the world. May we, through the power of the Holy Spirit in this parish and through our willing acceptance, allow Christ to be born through our lives. As Christians, we are "Christ-bearers," people who reflect and radiate Christ to all! In that way, can we say here very vividly that through the power of the Holy Spirit, the Word becomes flesh, through the cooperation of Mary, and dwells with us here in Huntsville and beyond. 
As followers of a person named Jesus Christ, you have "count[ed] the cost" – "s[aw] what it will require" to construct this beautiful oratory to prayer before the Blessed Sacrament. May we now "count the cost" and "see what it will require" to build and strengthen our relationship with Christ for His will to be done "on earth as it is in Heaven."