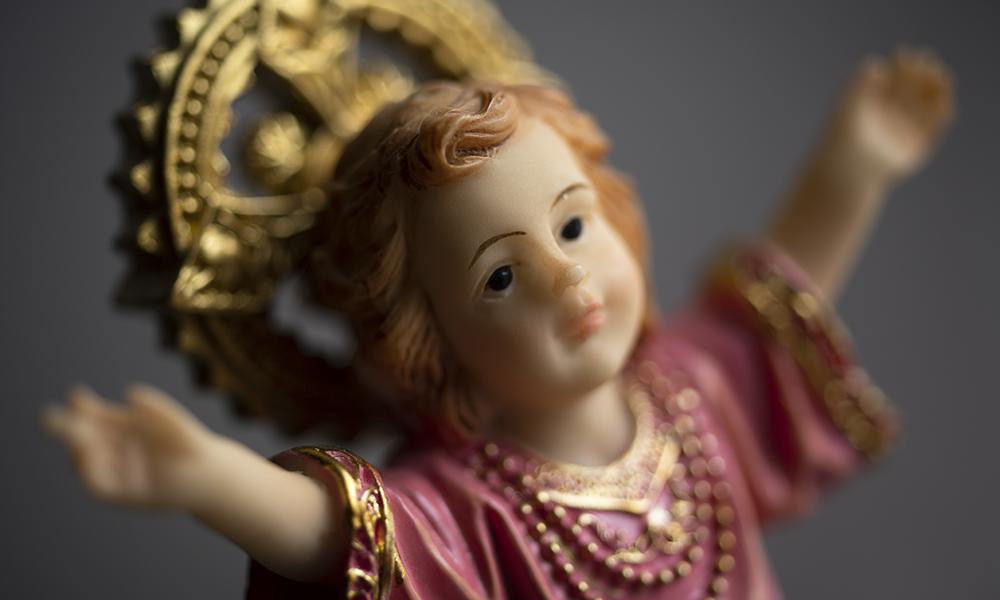 ---
'Waiting, Encounter, Response'
Bishop Takes Part in Annual Divino Niño Festival
On Sept. 3, Bishop Raica celebrated Mass at the Shrine of the Most Blessed Sacrament during the shrine's annual Divino Niño festival. The complete text of his homily follows herein.
Dear sisters and brothers, today we hear the beautiful readings from the Feast of the Presentation of our Lord – 40 days after Christmas! Customarily, on the 40th day, the parents of their firstborn brought the child to the temple to be consecrated to the Lord. It was also the time that Mary came to purify herself in accord with the dictates of the Jewish law. It is emphasized in this reading how this young couple wanted to practice their faith, delighting in the law of the Lord!
Perhaps, this beautiful occasion – similar to when parents bring their children for baptism – has some particular and similar aspects for us to consider. We might consider three overarching aspects: the waiting, the arrival (and encounter), and finally our response.
The waiting
One rabbi summed up Jewish history this way: "The inner history of Israel is a history of waiting for God, of waiting for His arrival." More than Jewish history, isn't that our story, too? We are waiting for something! Or Someone! Watching, as if on tiptoes, for the One that will answer what our heart is waiting for. We call it our yearning and desire. We are engaged in this search – to see, to hear, to touch what it is that we yearn for. It is like an absence, or a hunger, or a thirst, a loneliness that waits expectantly for the Mystery to come and be present to us. We wait for this encounter to happen! I am always touched when a mom or dad returns home from serving in the military and they show up at school. And when the child sees his mom or dad, no one has to ask questions or conduct a scientific study – they know immediately it's mom or dad.  
The encounter
The second part of this story is that the tidings of great joy proclaim that God is here – God-is-with-us! We can meet Him – like Simeon and Anna who waited patiently for that day. It was an encounter of young and old – the law of the Old Testament and the fulfillment in the New. Not just at that time, not any longer in a manger, but personally here among us. But unlike His mother, I cannot embrace Him in Bethlehem. Unlike Simeon and Anna, I do not see Him physically come through a door. Unlike the Samaritan woman, I cannot quench His thirst. Unlike Mary of Bethany, I cannot sit and listen at His feet. Unlike John, I cannot stand near Him on the cross. Unlike the disciples after the resurrection, I cannot break bread with Him on the shore. Yet, it is the same Christ – present here in ways that my senses don't immediately recognize – that will touch my flesh in a singular and powerful way. To experience Him, we must become more than spectators – but active participants in the journey. That is why we are here together, so we can accompany each other on this beautiful faith journey we have.
The response
When Simeon and Anna met the Christ child, they knew. These two people, ever-present in the temple, waiting and looking, believed with all their might that God would visit His people. They believed that if they lingered and weren't distracted or run out of the Temple right away, they would see the Messiah. No doubt, they must have seen many parents come through the doors of the temple with their first-born children, consecrating them to the Lord. Something unique in Christ stood out to them. He was a one-in-a-million, a light – "a light shining in the darkness." He was the One Who would make salvation possible for all. St. Luke emphasizes that Christ was to be shared, not with just an elite group of privileged folks, but by all. 
The Presentation of Jesus is a reminder and a plea to forsake the darkness and hopelessness of life and turn toward the light, in a Godward direction. And in doing so, we go both inward and outward. We come to church only to go back out again with a special mission to bring Christ, Whom we have met today in Word and Eucharist, to those we meet along the way. 
So, as in the days of Simeon and Anna, Christ is here. The Divino Niño, with its beautiful history, is a child in Whom all our hopes and dreams are found. Even today, there is something precious about a child that should be one of wonder and attraction. We all want to see a newborn baby – to see, to cuddle up against, to coo, and to admire the presence of the divine among us that makes us like children again. Nowadays, we find forces that, like Herod of old, find children to be a nuisance and a threat. They want to eliminate children as a burden and inconvenience. In a real sense, they want to eliminate God from breaking into the world. They are trying to quash the joy and optimism of a future. As a Divino Niño, He is a light that cannot be extinguished. Christ cannot remain hidden under a bushel, or in the manger, or in the temple. The Divino Niño offers us a path to follow. It is offered, never forced. The road is before us but depends upon us to take it. As believers, however, who come to this temple week after week, we are given a unique challenge: we are invited to walk this road with Christ at the center, called to carry the presence of the light of Christ in our lives keeping the flame burning bright. In doing so, we become a sign of contradiction, too, for those who cannot understand. The Divino Niño is for us a counter-cultural symbol of a future full of hope and life. So, the waiting, the encounter, and the response are but three aspects on the very journey of life. 
The devotion to Divino Niño came to us through Padre Giovanni Rizzo in Colombia, who inspired this precious devotion to the Divino Niño, and through Mother Angelica, whose secular name was Rita Rizzo (another Rizzo unrelated but a providential coincidence!), who was here present at the Shrine of the Most Blessed Sacrament, and who honored the Divino Niño. It is said that she spoke with the child here in the halls of the monastery and on her visit to Colombia. The Divino Niño, which we commemorate today, reminds us that we, too, can choose a path of hope and joy.  
In some way, whether we are ready or not, each of us may encounter or bump into Christ today. We will be invited to walk with Him on the journey of life and to allow Him to accompany us. In the end, it will be a journey like none other and one that will make all the difference. Divino Niño, pray for us! May God bless you!