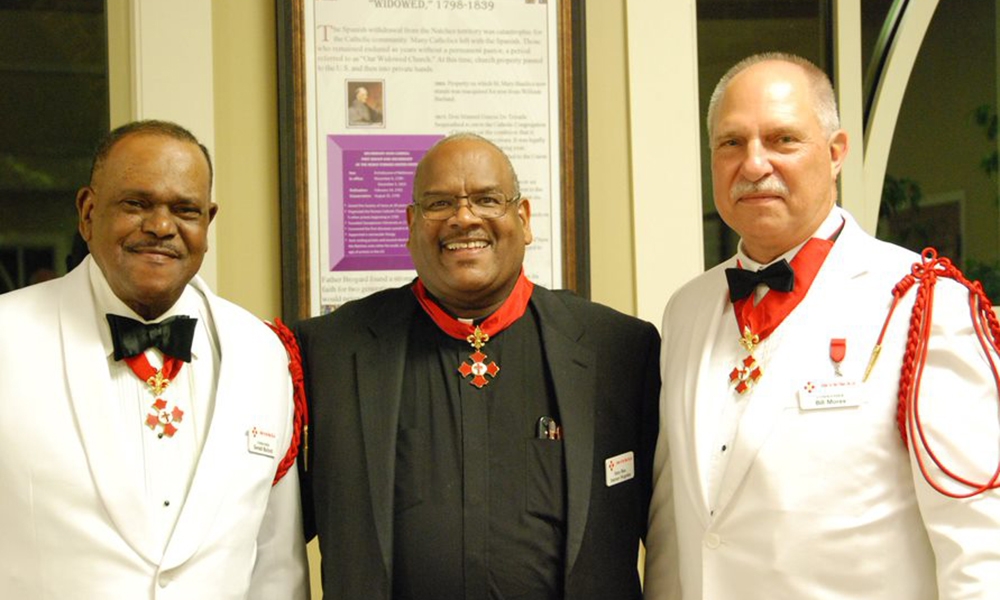 ---
Three gentlemen receive the Knight Commander Cross of the Order of the Fleur De Lis
On Saturday, Aug. 26, Father Vernon F. Huguley, Commander William Mores, and Commander Gerald Buford received the Knight Commander Cross of the Order of the Fleur De Lis at an Investiture Ceremony at St. Mary Basilica in Natchez, Mississippi. They were part of a class of 23 who received the Knight Commander Cross. Heading the class was the Most Reverend Joseph R. Kopacz, Bishop of Jackson, Mississippi.
Father Huguley was ordained June 12, 1993, and is the pastor of St. Peter the Apostle in Hoover.  He serves as a consultant to the U.S. Conference of Catholic Bishops on African American Catholics and the Vicar for Black Catholics for the Diocese of Birmingham. He is also active with the Knights of Peter Claver and Knights of Columbus. Father Huguley is the past spiritual moderator for the Cursillo movement in Birmingham.
Commander Mores is a member of Prince of Peace Catholic Church in Hoover. Commander Mores and his wife, Lady Lois, are very active in their parish and the Knights of Columbus. 
Commander Buford is also a member of Prince of Peace Catholic Church and is active in his parish and community.
The Order of the Fleur de Lis is an organization of Catholic men incorporated under the laws of the state of Louisiana as a not-for-profit organization. The order's domain is a five states region consisting of Alabama, Arkansas, Louisiana, Mississippi and Tennessee.
The objectives of the order include: Supports and defends the Holy Catholic Church and its teachings; Promotes patriotism and good citizenship, encourages public morality and unselfish service to God and country; Assists and publicizes the activities of other organizations which also promote the above; Memorializes and popularizes the memories and achievements of Catholic leaders in religion, the arts and sciences, philanthropy education, exploration and archeology, government and international relations, medicine and jurisprudence and other established professions.
Other Knight Commanders in the Diocese of Birmingham include Most Reverend Steven Raica, Father Kevin M. Bazzel, Commanders Joseph Flaherty III, Danny Garcia, G. V. Gentle, Steve Griffin, and David Renda.