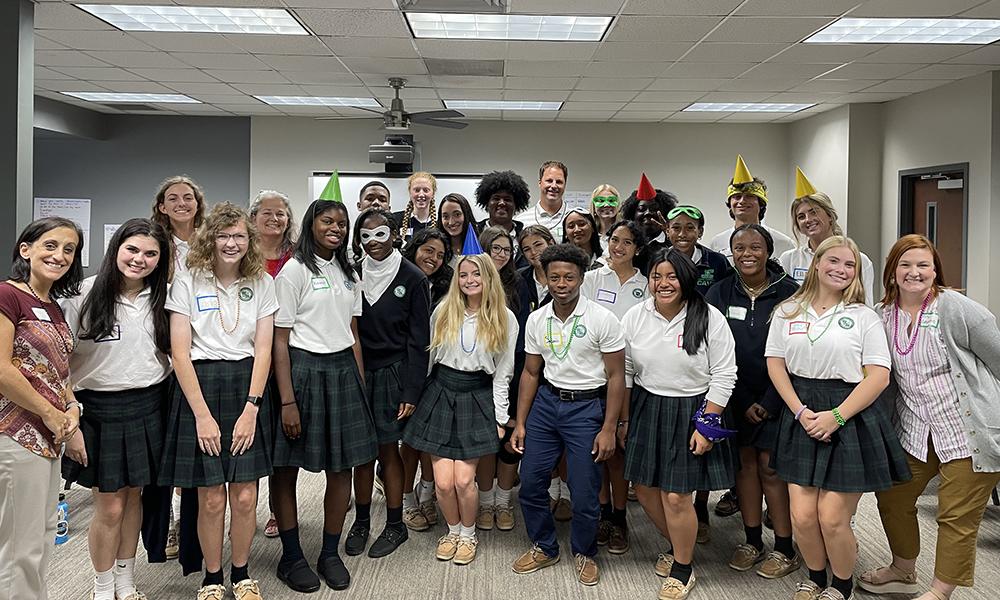 ---
Students Make Commitment to Foster Community
John Carroll Catholic High School (JCCHS) students reflect the diversity of the broader Birmingham community and John Carroll prepares them to flourish as individuals, in family-life, and in their communities of the future. A John Carroll education is an experience that sets young people up for a lifetime of success in learning, leadership, and service.
The students who participate in the Heritage Panel organization play an important role in fostering and encouraging collaboration, friendship, and understanding among their diverse group of peers. Heritage Panel members are role models in discouraging harassment, bullying, and discrimination.
On Aug. 24 and 25, 24 new JCCHS Heritage Panel students and four faculty representatives attended off-campus training. The group discussed important, but often overlooked issues that affect their school experience. Small group conversations, fun games, and team building activities helped to bring the students closer and gave them practical tools to bring back to their fellow classmates.
John Carroll's enrollment has increased more than 10% in the past two years and continues to be the most diverse high school student population in the Birmingham metro area. Each year, the school's enrollment footprint has expanded as it welcomes families from across central Alabama. Currently, the school serves students coming from more than 29 different communities spread across seven counties. This reality makes the work of the Heritage Panel students an important one, working to build the beauty of the Cavalier community and learning to grow in love and friendship with one another.