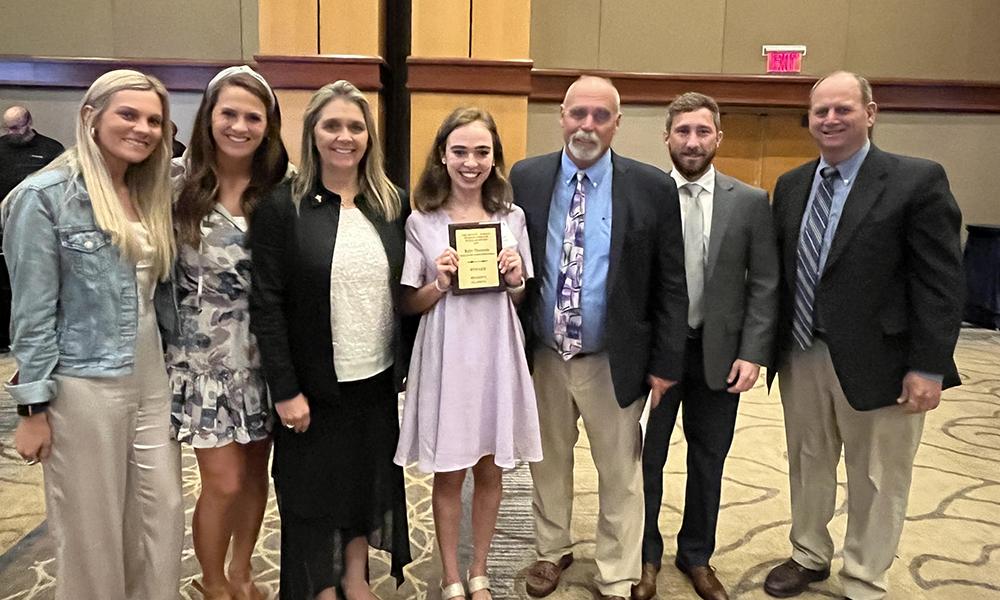 ---
Student Honored With Bryant-Jordan Scholar-Athlete Award
John Carroll Catholic High School proudly announced that one of its seniors, Ruby Thornton, was honored as a 2022 Bryant-Jordan Scholar-Athlete at the 35th Annual Bryant-Jordan Awards Banquet and Ceremony, which was held on Monday, April 11, at the Sheraton Hotel in downtown Birmingham.
Named after two Alabama sports legends (Paul "Bear" Bryant and Ralph "Shug" Jordan), the Bryant-Jordan Scholar-Athlete Award honors high school seniors who are both superior athletes and outstanding students. Selection considerations include: scholastic standing, sport involvement, athletic honors, student leadership, and civic/church leadership.
Thornton is a three-sport athlete at John Carroll (cross country, flag football, and soccer). She was on the cross country and soccer teams for four years and was an instrumental member of the Cavalier's first year of competing in flag football. In addition to the hours spent in her athletic pursuits, Thornton has served as Class Treasurer (9th and 10th), Student Government Association Chaplain (11th), Student Government Association Vice-President (12th), a John Carroll Ambassador (11th and 12th), a Sodality Member (9th, 10th, 11th, and 12th), a Campus Minister (12th), a Kairos Leader (12th), and a member of the National Honor Society.
When asked about Thorton, Head Girls Soccer Coach Rob Crawford said, "I am so proud of Ruby for receiving this honor. Ruby excels at anything she puts her mind to, and it has been amazing for me to see her grow over the years into a very talented and well-rounded young lady.
She is well deserving of this award."
Thornton is the daughter of Tommy and Wendy Thornton of Mountain Brook and is a graduate of Our Lady of Sorrows Catholic School. She is also a member of Our Lady of Sorrows Catholic Church.