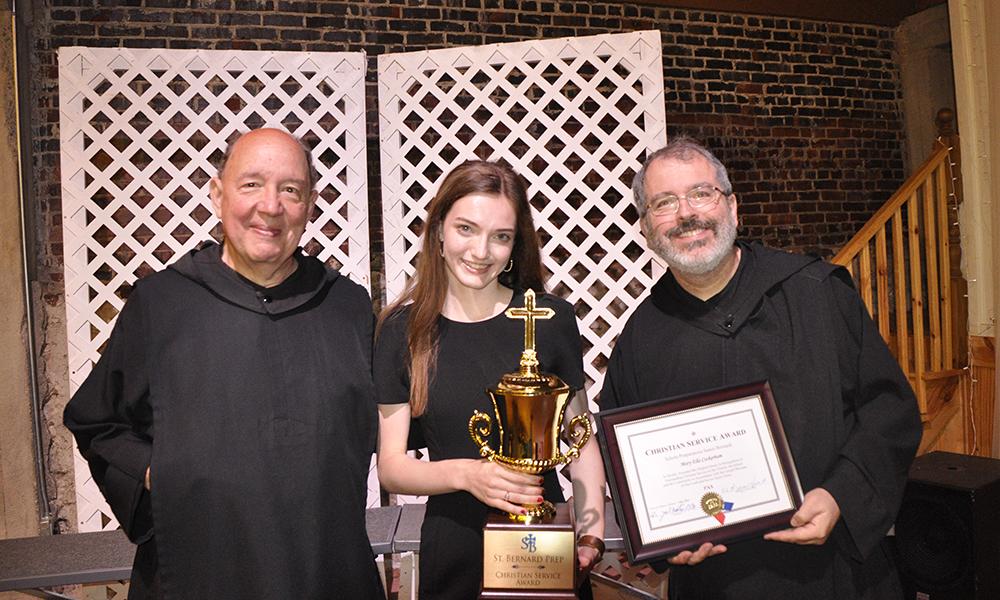 Mary Ella Cockerham receives Christian Service Award, the highest non-academic award that St. Bernard Preparatory School can bestow upon a student.   
---
St. Bernard recognizes students at Honors Night
St. Bernard Preparatory School (SBP) recognized students for their academic accomplishments during the 2022-23 academic year on May 3 in the Abbey Byre. 
SBP Headmaster Father Joel Martin welcomed everyone in attendance and reminded students that the night's celebration is a great one, but that the best years are yet to come. He also noted, "Only God knows some of the wonderful accomplishments amongst our students." 
After the opening prayer, Guidance Counselor Phong Nguyen praised the Honor Society and students at SBP for their service in raising funds for the Franciscan Monastery of the Holy Land - Syria Earthquake Relief Fund in the amount of $2,776.25 and to Catholic Relief Services for the Turkey Earthquake Relief Fund in the same amount of $2,776.25 – exceeding all expectations.
Admissions directors from the University of Alabama, Auburn University and Wallace State Community College were on hand to present academic scholarships, while both Cullman Electric Cooperative and Tesha Brewer of State Farm Insurance presented scholarships as well.
---
The following students received certificates for their achievements:
Cole Bissot - The Saint Thomas Aquinas Award for Highest Achievement in Moral & Ethical Thought; The Saint Thomas More Award for Highest Achievement in the Study of the Law; The Benedictine Medal of Merit Award
Reid Bissot – Outstanding Leadership Award - English
Gabriella Chiodo – Excellence in the Study of Economics; Excellence in Senior AP English Award
Mary Ella Cockerham – Outstanding Achievement in Finite Math; The Christian Service Award
Adrian Cortes-Villegas – Outstanding Vocalist Award; Class Discussion in Senior AP English Award
Saray Cortes-Villegas – The Saint Robert Bellarmine Award for Highest Achievement in Catholic Catechesis
Cash Daily – Student Government Association; National Latin Award (Maxima Cum Laude); Excellence in the Study of US History before 1877;
Luke Daily - Outstanding Leadership Award- English
Scarlette DeCicco - National Latin Award (Maxima Cum Laude); Father Aloysius Plaisance Award – Social Sciences; Excellence in the Study of AP History; St. Joseph Award for Highest Achievement in the Study of Holy Mother Church's March Through History; Excellence in Junior AP English Award; Excellence in Pre-AP Pre-Calculus;
Charles Deist – Outstanding Scholarship Award – English; Excellence in the Study of US History since 1877; Outstanding Scholarship Award - Spanish;
Rafaela Galhumi - Outstanding Vocalist Awar
Natalie Garcia – Outstanding Reporting Award - Journalism; Excellence in the Study of Economics
Nathan Gaspar - Excellence in the Study of US History before 1877; Most Improved Award – Spanish
Audrey Gil – Student Government Association
Charles Gil - Outstanding Achievement in Calculus; Outstanding Photography Award - Journalism; Excellence in the Study of Government
Diego Gomez - Outstanding Leadership Award - English
Parker Guthery - Outstanding Scholarship Award – English; St. Jerome Award for Highest Achievement in the Study of Sacred Scripture; Outstanding Achievement Award - Honors Biology
Elizabeth Hazard - Outstanding Achievement in Calculus; Excellence in the Study of Economics; Excellence in the Study of Government; The Saint Thomas Aquinas Award for Highest Achievement in Moral & Ethical Thought; The Saint Thomas More Award for Highest Achievement in the Study of the Law; Excellence in Senior AP English Award
Marissa Hazard - 10th Grade Theology: Summa Cum Laude Award
Cesar Hernandez - Student Government Association
Rowan Hines – Excellence in US History 1 Award; Outstanding Pre-AP Chemistry Student Award; The Saint Robert Bellarmine Award for Highest Achievement in Catholic Catechesis; Outstanding Scholarship Award- Spanish
Martha Jimenez Jose – Excellence in the Study of US History since 1877; Outstanding Achievement Environmental Science Award
Madi Kerber – Outstanding Achievement in Algebra II; The Saint Robert Bellarmine Award for Highest Achievement in Catholic Catechesis
Angelina Marte - Best Overall Artist
Abby McBride - 10th Grade Theology: Magna Cum Laude
Madison Moody – Drama Directors Award
Ashley Morris - Outstanding Achievement in Finite Math; Outstanding Vocalist Award; Excellence in Senior English Award
Alexander Nacilla – Excellence in World History 2 Award; St. Jerome Award for Highest Achievement in the Study of Sacred Scripture; Outstanding Achievement - Honors Biology; Excellence in Honors Geometry
Jade Nguyen - Excellence in the Study of US History before 1877
Xavier Pautler – Father Edward Markley Award for Social Sciences; Excellence in the Study of Economics; Excellence in the Study of Government; The Saint Thomas Aquinas Award for Highest Achievement in Moral & Ethical Thought; The Saint Thomas More Award for Highest Achievement in the Study of the Law; Excellence in Senior AP English Award
Ezra Penner – Student Government Association; Excellence in the Study of US History since 1877; Class Discussion in Junior AP English Award
Daniel Pichardo – National Latin Award (Cum Laude); Best Class Participation in Science Award;
Adriana Lopez Serrano - Outstanding Achievement in Algebra II
Charley Richards – Outstanding Vocalist Award; Excellence in Senior English Award
Margaux Richards - Outstanding Vocalist Award; Excellence in Senior English Award
Ramon Ibañez Rodriguez – Outstanding Chemistry Award
Anna Rogalski - National Latin Award (Maxima Cum Laude); Excellence in the Study of US History before 1877; 10th Grade Theology: Magna Cum Laude Award
Joel Rose - Outstanding Scholarship Award – English
Joey Shadowens - National Latin Award:  Cum Laude; Excellence in the Study of US History before 1877
Willa Smith - Outstanding Achievement in Algebra II; Best Actress Award; Outstanding Scholarship Award – English; Outstanding Pre-AP Chemistry Student Award
Allison Stidham - Outstanding Achievement Environmental Science Award
Amelia Tafazoli - Outstanding Scholarship Award – English; St. Joseph Award for Highest Achievement in the Study of Holy Mother Church's March Through History; Excellence in Pre-AP Pre-Calculus
Andrew Tombo - Excellence in the Study of AP History; Outstanding AP Chemistry Student Award; Excellence in Junior AP English Award
Peter Tran - Outstanding Achievement in Environmental Science Award
Yelena Vlasic Reig - Best Overall Artist
Sydney Watwood - Excellence in the Study of AP History; St. Joseph Award for Highest Achievement in the Study of Holy Mother Church's March Through History; Excellence in Junior AP English Award; Most Improved Artist
Sarah Woods - Outstanding Scholarship Award – English; National Latin Award (Cum Laude); Excellence in World History 2 Award; St. Jerome Award for Highest Achievement in the Study of Sacred Scripture; Outstanding Achievement in Honors Biology Award; Excellence in Honors Geometry
Ethan Wu - Excellence in Pre-AP Pre-Calculus
Thomas Yohe – Scholar's Bowl MVP; Class Discussion in Senior AP English Award