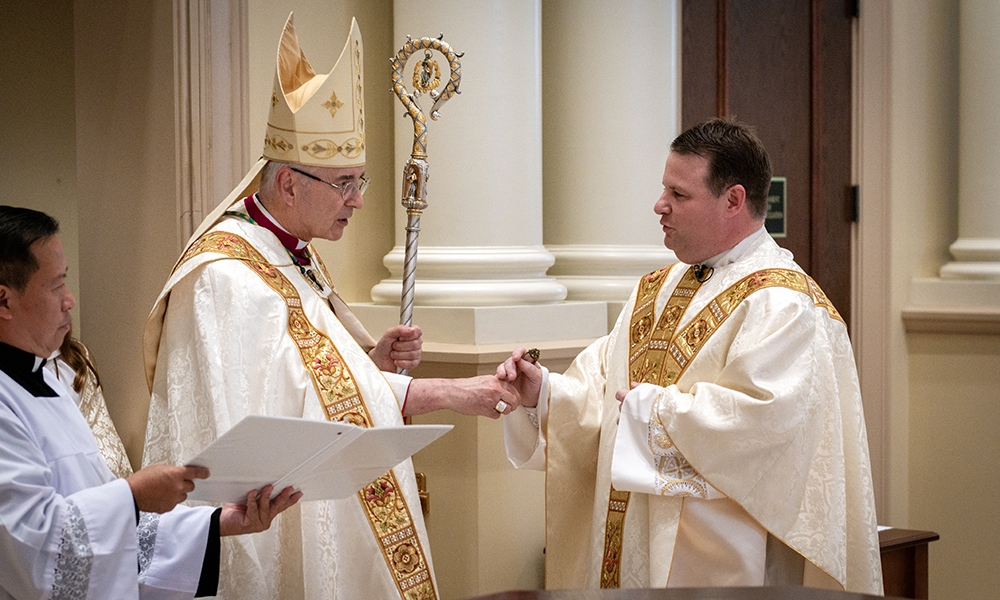 ---
Spread the Good News, share what you have, love one another
Father Justin Ward installed as pastor of St. Mark's
On Sept. 16, Bishop Raica celebrated Mass at St. Mark the Evangelist Catholic Church in Birmingham, marking the 20thanniversary of the building of the church. During the Mass, the bishop also installed Father Justin Ward as pastor. The complete text of the bishop's homily follows herein.
Dear sisters and brothers – and Father Ward – we gather this evening to give praise and worship to Almighty God as you are in the custom of doing here. In addition, on this special evening, we commemorate the 20th anniversary of this church building and the installation of Father Ward as pastor.
I am grateful for the presence of Bishop Baker and our visiting priests this afternoon.
Allow me to offer a modest reflection on the importance of this celebration of these two events in the life of St. Mark's Parish.
In the First Book of Kings, we read about the dedication of Solomon's temple, where Solomon prays to the Lord, saying, "But will God indeed dwell on the earth? Behold, heaven and the highest heaven cannot contain you; how much less this house that I have built!" (1 Kings 8:27) As we gather in this church, we are reminded that this building is not the totality of God's presence. It is a sacred space where we seek and encounter God's presence. This church building is a reminder to all of our desire to encounter the living God.
The Apostle Paul, in his letter to the Corinthians, speaks of us as "God's building" and reminds us that "you are God's temple and that God's Spirit dwells in you." (1 Corinthians 3:9, 16) This reminds us that while we honor this beautiful church building, the heart of our faith is not confined to these walls. It resides within each of us –  in our faith, love, and service to one another. In a sense, we are here to be infected with divine love – the love of Jesus. If I can say so, this is one of the contagious infections we hope and pray will go viral as it spreads through the community.
In the Gospel according to John, Jesus tells the Samaritan woman at the well, "But the hour is coming, and is now here, when the true worshipers will worship the Father in spirit and truth, for the Father is seeking such people to worship Him." (John 4:23) It was about Jesus' encounter with a Samaritan woman who was sneaking out at noon for some water for her family, hoping to avoid contact with others. It was her thirst that Jesus identified – her soul's desire that He wanted to amplify – that only He could satisfy with living water that He alone could offer. Our worship is not solely about physical spaces but about the sincerity of our hearts and the authenticity of our faith that thirsts and hungers for living water that is the divine food, divine love, divine desire.
Just as the roots of a mighty oak tree firmly anchor it to the ground, the presence of Christ in this church grounds us in our faith. St. Mark's has witnessed countless baptisms, confirmations, weddings, and funerals. It has echoed with the joyful laughter of children, the solemn hymns of worship, and the heartfelt prayers of the faithful. It has seen us through moments of elation and joy and moments of gut-wrenching anguish. It is a vibrant community of hospitality that impacts individuals and others on this AL-119 and US 280 corridor.
Moreover, it is bolstered by the many priests, deacons, women religious, and lay leaders who have served here in ministry. Through them, the Word of God goes forth, a stronger faith community is built centered and focused on Jesus Christ, our Savior.
As we celebrate the 20th anniversary of this church building, we remember that our faith is a living faith, not confined by physical structures, as beautiful as they are. Rather we are reminded that this church, St. Mark's, is a privileged place where we, as Christians, encounter Christ and form a believing community. It is here that we learn to "Spread the Good News, share what we have, and love one another." You will notice that this tagline is the very theme of our Catholic Charities and Communities Appeal this year. As we commemorate this building, we are even more mindful of its essential mission – "Spread the Good News, share what we have, and love one another."
Today we also formally and ritually welcome our new pastor, Father Justin Ward.
The responsibilities of a pastor are many. It is a delicate balance of cherishing the rich traditions of the parish's institutional memory, listening to the joys and hopes and anguishes of those who comprise this faith community, and accompanying many on a pilgrimage of faith. A pastor is to honor the experience of faith of so many here while attempting to knit together a vibrant tapestry of faith, woven by the prayers and actions of those who have called St. Mark's their spiritual home. Father Ward, this parish, is entrusted to you as if it were your bride, the only love of your life, to honor, cherish, and love with your entire life and being – to always seek her good and ultimate destiny. In addition, allow those you serve to inform your faith growth too – in ways that you have not yet imagined. Also, give thanks to God, pray for those entrusted to you, and encourage others to pray for you that you will be open to God's abiding spirit. Importantly, work humbly and sincerely with your staff, pastoral ministers, deacons, advisors, collaborators, and the parish committees and councils to share the work of ministry so that this place will be a vibrant place of welcome and hospitality. Also, remember that there are those you serve who live in the margins of life, are unable to be here because of illness or incarceration. Perhaps the best summary I can provide on this weekend is to circle back to our Catholic Charities Appeal which is providentially summed up – spread the Good News, share what you have, love one another. That is the nature of your ministry, the nature of St. Mark's Church. May God bless you, your dedicated team, and the parishioners of St. Mark Parish.