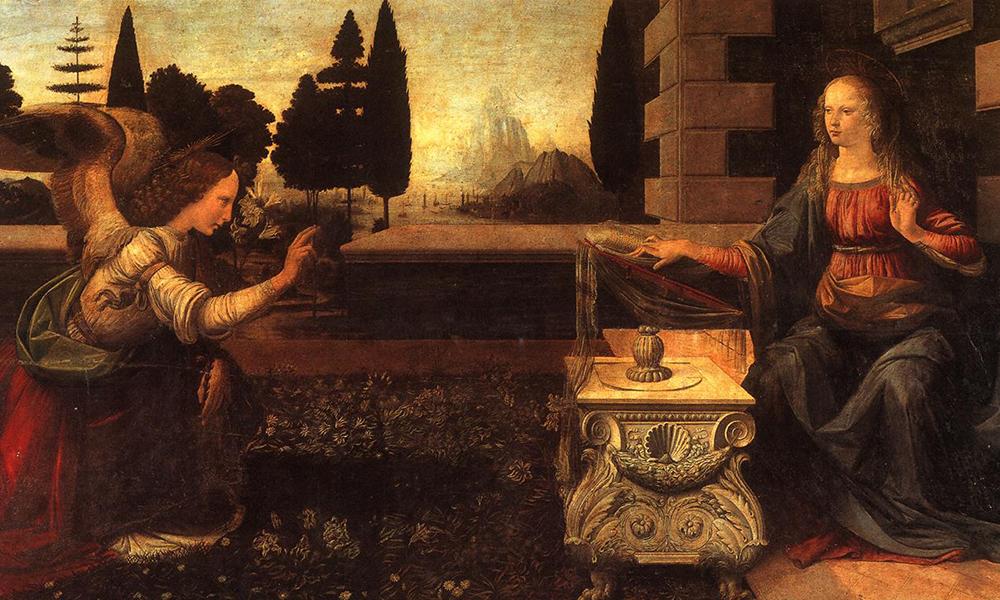 ---
'Rejoice in Hope'
Bishop Raica Celebrates the Solemnity of the Annunciation
On March 25, Bishop Raica celebrated Mass at the Cathedral of St. Paul, marking the Solemnity of the Annunciation of our Blessed Mother. The complete text of his homily follows herein.
My friends, today, we commemorate the Solemnity of the Annunciation of our Blessed Mother. You remember that this is the moment when the Archangel Gabriel visited a young unknown Jewish girl, most likely in her teens, and informed her that she was chosen by God to conceive and bear the child Jesus through the mysterious power of the Holy Spirit. Her response was, without hesitation, a resounding "Yes!" "Let it be done to me as you say." That moment changed her life forever!
    
Today, we also join in prayerful solidarity with our Holy Father Pope Francis, as we join him as he consecrates Russia and Ukraine to the Immaculate Heart of Mary. Though many pontiffs have done so, Pope Francis is pulling out all the spiritual artillery to bear on the current tragic situation in Ukraine. I join him on that event which occurs in Rome at 5 p.m. Rome time / 11 a.m. Central Time. We believe in miracles! We believe that Our Lady, through her Immaculate Heart, will overpower and overcome the weapons of destruction we are following in almost real time in Ukraine. After all, under the foot of the cross, our Lord entrusted the Apostle John to our Lady, and then He entrusted Mary to the Apostle John: "Behold your son!" / "Behold your mother!" The act of consecration seeks to provide the mutual powerful embrace of our Lady toward God's children, especially in Russia and Ukraine, to be a refuge and protection. These past four weeks, we have witnessed through our media outlets and social platforms the horrific images of war into our living rooms. We plead that hearts not be hardened. Rather, we aspire to become brothers and sisters in the human family whose hearts beat for love of God through fraternity and solidarity as we encounter the dignity of each person who bears the image and likeness of God.
    
In a remarkable way, as we reflect when humanity was lost, we were not saved by an idea or some physical or spiritual regimen that demanded all our strength to try and fulfill. He didn't save us by a doctrine or by system of ethics. He didn't save us by weapons of mass destruction. He proposed His Son – a person, one like us, sent to us so that we could meet Him, so that we could meet Love itself. He showed us how to get back on the path. He showed us the dream His Father had for us. What an amazing answer that all humanity was waiting for – the coming of a savior, a Messiah – through the "Yes!" of Mary, the birth of a child in Bethlehem and a person we could meet along the way! Through her, and through the particular physical coordinates of time and place, it happened. The Word became flesh in the womb of our Blessed Mother and was born and lived among us in a moment in history! The divine invaded our reality. We could come to know Him in personally and directly, for He is "one like us" in all things but sin. Thus, we could see "God among us" – our Emmanuel!
    
Now, we've been recalling this event for more than 2,000 years. At first, Mary treasured it in her heart, and then, now, she shares it with all humanity.
    
When all seems like we've waited an eternity for an answer, we recognize in our readings a similar experience. Certainly, the Jewish people who were in Babylon in exile far, far away from Jerusalem must have felt that same hopelessness and uselessness. Yet, they mustered the courage to keep hope alive. The Lord will come! He will come in glory! He will come and save us! He will come and redeem us! He will come and bring us home! Yes, even the sign foretold by the great prophet Isaiah gives us the clue:
"Therefore the Lord Himself will give you this song: the virgin shall be with child, and bear a son, and shall name Him Emmanuel, which means 'God is with us!'"
In view of the sad and tragic events in Ukraine and other hot spots in the world, we seem to be shackled by insurmountable obstacles to build a world of respect for the dignity of each other and a world of peace. In one sense, we can't do it by ourselves or through our own efforts apart from God. We need a Savior. We need a Messiah! We need someone to remind us who we are and to guide us!
      
Preparing ourselves to accept Christ every day, saying "YES" to the invitation that comes our way to "Follow Him," are not merely hollow spiritual clichés. They are not just wholesome and pious thoughts about the past - or in the wake of terrible things to withdraw into one's shell. As we can already see, they are insufficient to attract us and even produce Christianity. Jesus entered the world with a tremendous capacity to attract and fascinate people of His time. As Charles Péguy, noted French author wrote, "He (Christ) did not waste His years groaning and demanding explanations of the wickedness of the times. He cut through [it] … making Christianity."  Christ became such an extraordinary presence that one could not but take it into consideration – to reject it or accept it. No one was left indifferent – as we know. These are the things that touch us today.
    
When we speak about the crises of our day, whatever results in our anxiety about the world around us, we are still looking for the first budding signs of the miracle of spring to come – that first glimmer of hope. Every season of Advent reminds us that no matter what is going on around us, we are a people who stand in hope because we have put on Christ, our Light as a radiant sign of hope. Every Lent, we remind ourselves of the obstacles that prevent us from experiencing our conversion to fullness of life.
    
As for us, we are a people who don't merely think about past events. The nearness of Christ is something that should continue to guide us, even today. Yes, we struggle to understand! We have our doubts! We are distracted! We can be very critical about what we like or don't like. Christ is near to the brokenhearted. He lifts us up from the doldrums. He is the great Event that changed history. Christ is near to those in Kyiv and Mariupol, Odessa and other places affected. He came to show that life has meaning and value. What we have before us is a beautiful thing that surpasses all comprehension.
    
It is amazing that Christianity generates persons like this – a person not able to reduce our humanity but one who fills us with hope because Christ is near, dwelling in our midst leaving our freedom intact but walking with us in the journey of life. He is constantly educating us about our life, our freedom, and our call.
    
On this Solemnity of the Annunciation, we know we are not alone. We have a joy and peace and hope that cannot be explained by those who have no hope. May our Lady, who in your youth said "Yes!" "Let it be done to me as you say!" be a constant reminder and reason to us to rejoice in hope: Christ the Lord is near. After all, He reminded us, "I am with you always until the end of the world!" May God bless you!