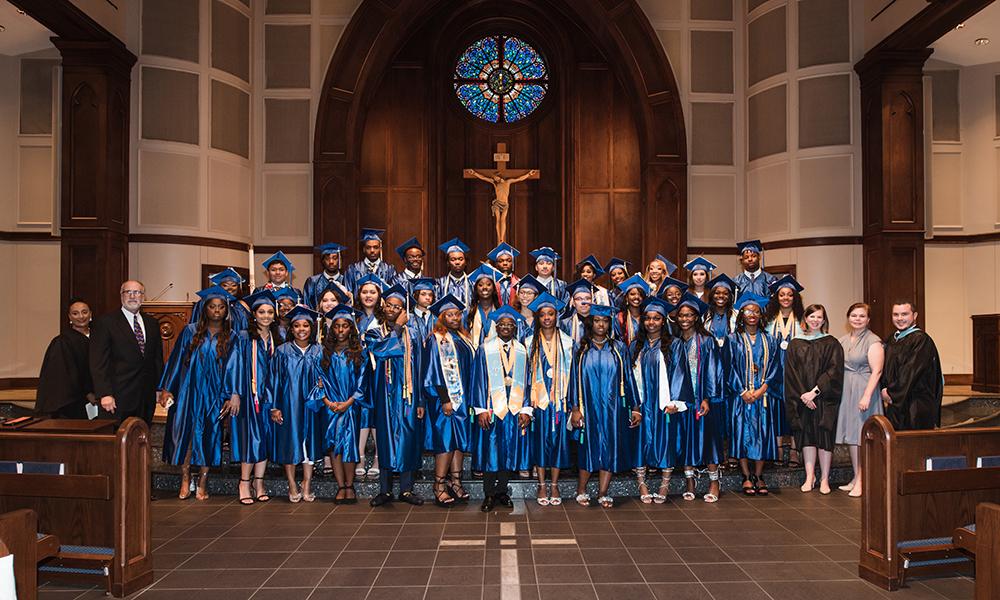 ---
Over $3.3 million in scholarships awarded to Holy Family Cristo Rey students
At 6 p.m. on Friday, May 19, Holy Family Cristo Rey Catholic High School (HFCR) held the commencement ceremony for the Class of 2023 at St. Francis Xavier Catholic Church in Birmingham. Margaret Dubose, superintendent of Catholic Schools for the Diocese of Birmingham in Alabama and Holy Family Cristo Rey board member, presided over the ceremony and conferred the graduates' degrees. The commencement address was delivered by the Honorable Maria C. Fortune, District Judge for the 10th Judicial Circuit Court of Alabama. Also in attendance were Steven Schultz, interim president, and Brooke Coleman, chair of the Holy Family Cristo Rey Board of Directors.
Remarks were given by salutatorians Olivia Forté and Christopher Edwards and the valedictorian, Alana Files. All three are members of the National Honor Society, National English Honor Society, Mu Alpha Theta Mathematics Honor Society, Rho Kappa Social Studies Honor Society, and Sociedad Honoraria Hispánica (Spanish Honor Society). The Bishop's Trophy was awarded by Dubose to Alana Files for her leadership, commitment to Christian service, and outstanding academic achievements. Files will attend Harvard University in the fall.
The Class of 2023 is comprised of 36 graduates, who have received more than $3.33 million in scholarship offers and financial incentives to date. HFCR's newest alumni received 1,827 individual acceptances to 84 schools across the country and will attend colleges such as Georgetown University (a Cristo Rey Network University Partner), Tuskegee University, the University of Alabama, Clark Atlanta University, and the University of Alabama at Birmingham.
Congratulations to all the graduates of the Holy Family Cristo Rey Catholic High School: Alex Alberto Munguía, Edith Carabante Andino, Deja Bowie, Christopher Brown, Janiyah Byner, Anita Cade, Darly Cruz Ordóñez, Aubrey Eatmon, Christopher Edwards, Alana Files, Olivia Forté, Mya Givens, Jahnani Grimes, Cariyauna Hall, Maya Hall, Kelvin Heard, Jr., Bre'shauna Houser, Brian Hunter, Mar'shelle Ike, Annaysha Jackson, Janaya Jones, Micah Lampkin, Madison Lanier, Sean Littleton, Angel Moss, Daziah Norris, Caytlyn Owens, Tenill Powell, Jesus Ramirez Gutierrez, Shamariah Reed, Wendy Ríos García, Fernando Rodríguez Blancas, Dasenica Shank, Michael Turner, Alecia Walker, and Nnaji Williams.
Located in the Titusville community of Birmingham, Holy Family Cristo Rey is a member of the Cristo Rey Network of high schools, comprised of 38 schools nationwide, delivering a career focused, college preparatory education in the Catholic tradition for students with limited economic resources, uniquely integrating rigorous academic curricula with four years of professional work experience and support to and through college. The school partners with educators, businesses, and communities to enable students to fulfill their aspirations for a lifetime of success. The Cristo Rey movement empowers students to fulfill their life's dreams. For more information, visit hfcristorey.org.