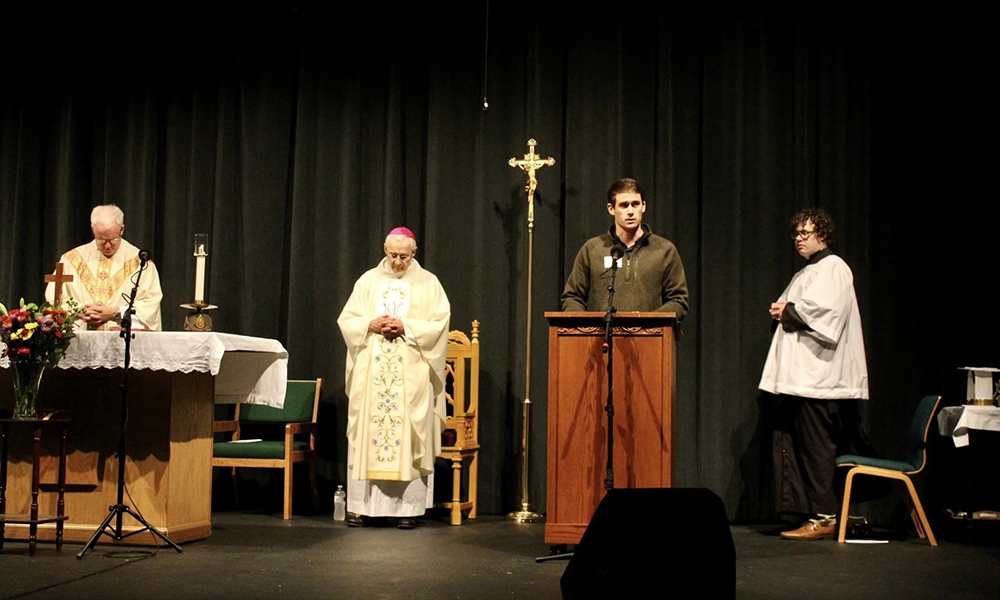 (Photograph courtesy of Catholic Schools Office)
---
A mission of hope
Bishop speaks to Catholic educators
On Sept. 15, Bishop Raica celebrated Mass at John Carroll Catholic High School in Birmingham, marking the feast of Our Lady of Sorrows. The Mass began a day of formation for school faculty and staff throughout the diocese. The complete text of his homily follows herein.
My sisters and brothers, welcome to this Mass today as we gather on the feast day of Our Lady of Sorrows. I also express my gratitude to Margaret DuBose, our superintendent of schools, and her team for inviting me to be with you all today and to Father Jon Chalmers, school president here at John Carroll, for hosting our gathering. Allow me to share a few thoughts this morning with you.
First, thank you for your presence today and your ongoing commitment to the mission of Catholic Schools. We play a vital role in the formation of our young scholars academically, physically, humanly, and spiritually. What we are providing is a privileged place where past and future meet in the present. Our work today, prepares us for tomorrow and the day after, and the many years later. A solid foundation is laid, an ideal is proposed, and reality is experienced so that we can be open to everything before us that we did not make but allows us to interact with the drama of life. If we are anything, we are agents of hope for the future that the Kingdom of God, a kingdom of truth, beauty, freedom, love, respect for one another, and peace in our hearts and our world can flourish more each and every day.
Yesterday and today can almost be seen as a diptych – two different but related scenes. Yesterday, the feast of the Exaltation of the Cross, where Christ was crucified and His side pierced in which water and blood gushed forth. And today, the day after, the feast of Our Lady of Sorrows – whose heart a sword has pierced as Simeon prophesied. We recall her presence near Jesus upon the cross. In one of His last few words in that moment of anguish to John, the Beloved disciple, He turned toward John and affirmed: "Behold, your mother" and then to Mary, "Behold, your Son."
Yes, we are often put at the foot of cross. Sometimes in major ways whenever we make major moves in our lives, whenever we make a major decision, whenever we lose a parent or a child, whenever we lose a significant friend or partner, whenever we make a major life decision. Yes, being at the foot of the cross are significant moments in our life. As the spiritual director of our retreat center up north told us, these intense moments can leave one bitter or better. Bitter or better. The cross can do so through its injustice when nothing seems to go right, and we stew over the wrong outcome that we somehow want to make right. Or, it can make us better by teaching us to forgive, to let go, to move on, to retain lessons learned, and to continue building a life of hope.
Today, we work because our lessons learned help us to approach tomorrow with hope, even when we don't have all the answers, or when everything didn't go as planned, but somehow, there was a moment of resurrection when we rise and recognize that we are not abandoned or alone. Christ is walking along side of us and reminding us, "Behold, your mother!"
This is the foundational message of education today – that we are not alone; that we can discover the beauty and joy of the world around us; that we can learn to get along as brothers and sisters with a common and unimaginable destiny; that we have a purpose and meaning in life; that we can work for and hope for a bright future; and at the heart of our mission is the discovery of our humanity, with all of its wonder and woundedness, which seeks a response that only the infinite reality can answer. That is Christ, Who is mediator between Heaven and earth, God and us. 
So, this day, we give ourselves over to the Mystery. We prepare ourselves for the surprises in life that may not have easy solutions. Nonetheless, we live our Christianity because the saving event of Christ will enable us to exalt the cross and Jesus Christ as Savior of the world. Today, we lift high the cross. And, through the Sorrows of Mary, our Mother, who protects each of us under her mantel, we prepare ourselves for a radiant future.
Again, my gratitude to Margaret DuBose and her team in preparing this day so that we can reflect on our mission to be agents of hope today. May God bless you all!