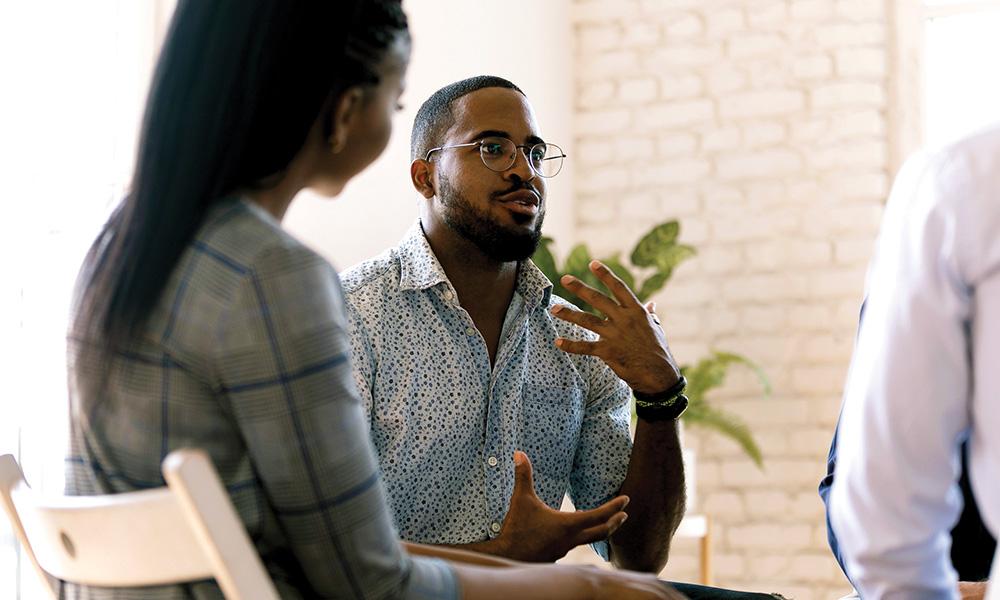 Photo by Getty Images/fizkes
---
The masculinity of asking for help
Dear Cathie, as a man, I find it very difficult to believe that talking about my feelings will actually solve anything. Am I the only man that feels that way?
First, I can say with confidence that you are not the only man that feels that way! Second, I believe this question presents the perfect opportunity for me to introduce Chris Allison, a new counselor practicing at Catholic Family Services in Huntsville. He is a young, dynamic convert to Catholicism, and he and his family attend Most Merciful Jesus Parish in Madison. He has offered some insight regarding men and counseling.
He states that it is "an established fact that men are often reluctant to seek professional help for mental health concerns." Among the many reasons for this reluctance include the misconception among men that "it is weak to ask for help" and the "I can handle it myself" attitude. "Historically," he adds, "a higher percentage of women seek counseling." This reality leads to the perception that "relatively little is provided to men for their specific issues which is satisfactory." However, it has been shown that the counseling experience is as helpful for men as it is for women.
Sadly, many men end up suffering in silence. My new colleague rightly says: "As the Body of Christ, it is our responsibility to demonstrate the same love and care to hurting people as Christ Himself showed. It is also just as imperative that each of us care for the life that Christ gave us. And, men, that may mean taking what might be an uncomfortable step and talking to a professional counselor."
Another hurdle to overcome is the unawareness regarding what actually constitutes a mental health concern. "Maybe you have lived with low level depression or anxiety without even realizing it," observes our new counselor. A few of the symptoms that may merit further investigation include:
Feeling overly tired
Lacking interest in things that you at one time enjoyed
Finding it hard to concentrate
Feeling more irritable than usual
Experiencing mood swings
Feeling down (in general or for a specific reason)
Most importantly, Chris emphatically says, "There is no shame in talking to a mental health professional about these symptoms." In fact, he says "it shows strength and a commitment to care for yourself in a greater way." Some men may not think they need care while others may be too proud to admit it. However, just as an "engine needs occasional tuning, our psychological processes can get out of whack sometimes and need adjustment, too." Speaking directly to men, he asks all men to "consider if your situation merits a professional opinion and, when the time comes, be willing and humble enough to get the help you need." He also points out that men like women "are worth it," and by taking humble action, men are not only helping themselves but also helping everyone around them. "What a great way to show the love of Christ to yourself and to others," he profoundly concludes.
Catholic Family Services provides counseling that incorporates mind, body, and spirit. The counselors are licensed in the state of Alabama, are Catholic, and strive to make a difference in the lives of those they serve.
---
Cathie McDaniel is the director of Catholic Family Services in Huntsville. She has a master's degree in clinical counseling from Franciscan University in Steubenville, Ohio, and is a licensed professional counselor in the state of Alabama.