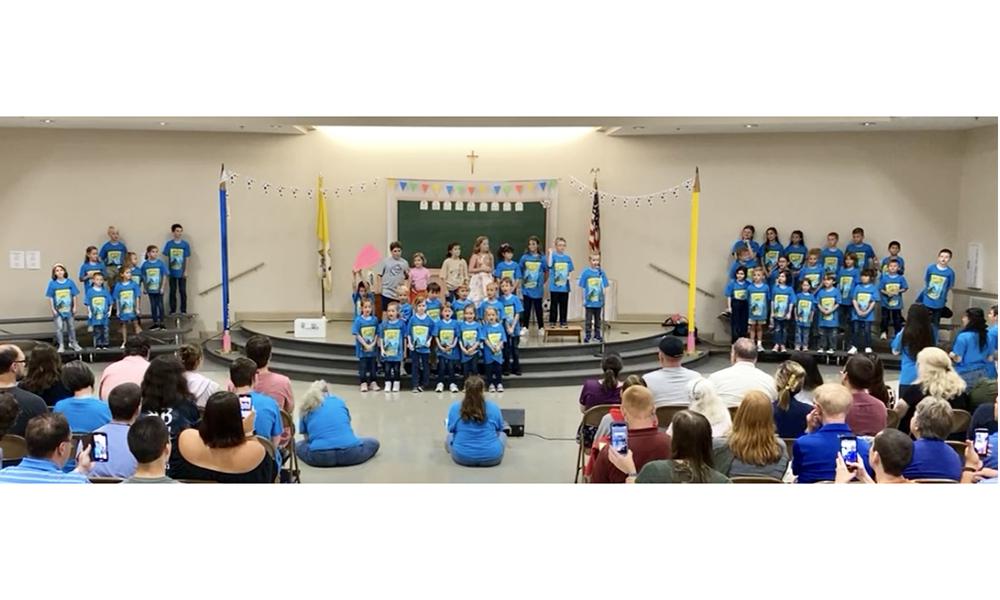 ---
'Legends at Camp Garner Creek'
Parish youth preform musical
Good Shepherd Catholic Church in Huntsville enjoyed a presentation of the musical "Legends at Camp Garner Creek" on Friday, July 21. Co-directed by Music Director Brooke Nabors and long-time choir camp volunteer Liz Shaffer, the musical tells the story of a group of 5th graders eager to finish the school year but disappointed their parents are making them go to a summer church camp. They wanted to go to a favorite sports camp or talent camp and meet their "legends."
The students soon discover from a veteran church camper that the legends of the Bible are actually cool and REAL and should also be celebrated! The soon-to-be camp counselor also helps them understand that even they have what it takes to be a legend in God's eyes because everyone is special to God.
Pantomimes were performed to illustrate the stories of Daniel in the lion's den, Queen Esther, and Joshua and the battle of Jericho, complete with costuming. About 50 youth participated with 50 teens and adult volunteers to help guide them. A reception was held after the musical Friday night.
Continuing a 32-year-long tradition begun by retired Music Director Micki Lighthall, the week-long camp incorporates music and rhythm classes, drama class, crafts, and games all while teaching the stories of the Bible and providing youth an opportunity for fun, fellowship, and community in a Catholic environment.
All involved are already looking forward to next year!