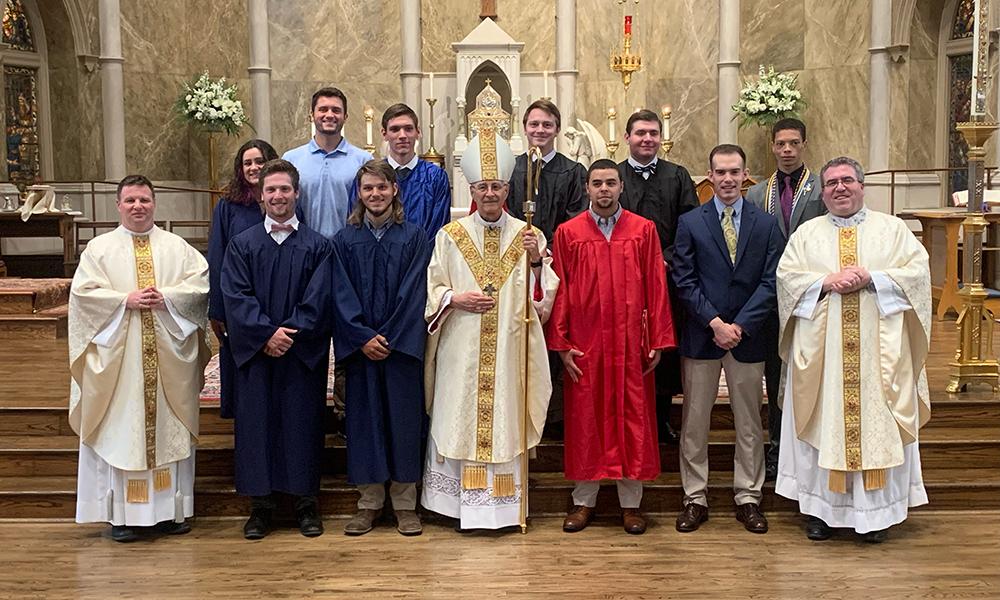 ---
'It Will Be Your Journey and No One Else's'
Bishop Celebrates Baccalaureate Mass
On Sunday, May 15, Bishop Raica celebrated the Diocesan Baccalaureate Mass at the Cathedral of St. Paul for all graduating seniors in the diocese. The complete text of his homily follows herein.
My friends and our graduates in particular, May and October are months that have been traditionally dedicated to Mary and we find some time to reflect on her very mission to be the mother of Jesus and His disciple. Her simple "yes" to the invitation of the archangel to become the mother of Jesus signals that her life only made sense in responding to the invitation of God. God made each of us for some purpose in this world. Wrestling with those deep questions enables us to reach an interior peace about the purpose of our lives. For those graduating this year, on behalf of the entire diocese, I heartily congratulate you on your achievement. It comes after a lot of hard work, some sweat and, at times, some tears, to reach this moment. It is not for naught. With commencement, you embark on a journey that will be your adventure in life. It will have highs and lows, some twists and turns, and some breaks when you make mistakes. It will have obstacles, detours, and fascinating diversions. It will be your journey and no one else's. What you think will happen, or the order that it happens, may or may not become true! You may end up where you don't expect to be. You will face a litany of choices: more schooling, work opportunities, marriage, family, remaining single, pursuing a religious vocation? Who knows? I can only speak for myself to say that life has been an extraordinary adventure full of happy and challenging surprises. Two small examples: 1) I never expected to be a bishop; 2) I never expected to live in Alabama. Neither were part of my long-term goals; however, both have turned out to be amazing experiences, even though the choices were made for me and I had only to accept them.
With that background, we can turn to some brief observations about the readings. The context of the Gospel is the Last Supper just after Judas, the Apostle who betrayed Christ, left. Our Lord leaves them with one more challenge – with a little more clarity. When asked, "What are the greatest commandments?" He told them, "Love God with your whole mind, heart, soul, and strength." And then, He added a second without hesitation, "Love your neighbor as yourself." These were the two commandments that summed up the entire Jewish law: God and neighbor – upward and outward. At that gathering, the Last Supper, He provided an updated variation and version: "Love one another."
Nowadays, the term "to love" is, shall we say, overused and misused that it can easily become maudlin. In the brief few minutes we have today, I'm not able to explore this in depth except for a couple reflections. Our challenge is picked up by the early Christians who understood this charge from our Lord and applied it to themselves. Outsiders would observe those who belonged to this man named Jesus, who became known disparagingly and pejoratively as "Christians" (i.e., "those people"), noted what they saw: "See how they love one another!" They were startled.
What they were noticing was that there was something different, distinct, something unusual from the normal pattern that was notably more than "Can we just get along!" It was a recognition that they were living for something greater, more freely. More than merely being a random group, the believers stayed together, gathered together, prayed together, walked together, recounted what was happening and how the Lord was working among them. It was utterly amazing to see this community in action. Here was a community of believers who sought to follow what they had met in Christ.
Now, don't get me wrong, the early Christian community did not always have smooth sailing. There were misunderstandings and disagreements among early leadership and members that challenged everything. The questions were posed to the community by outsiders, non-believers and they were raised by members themselves. It was not much different than we find today. We continue to find misunderstanding about who we are, what our mission is, and the way we worship.
Some want to reduce religion to mere ethics: "Do good and avoid evil." That certainly involves a human need which affects believers and non-believers alike. However, one doesn't need to be a believer to be good, and one can be believer without being good. Still, there is a growing understanding of what expectations should be observed as a follower of Jesus Christ. A simple measure of this came from a journalist "off the record" I spoke with some years ago. I never forgot his observation said in non-suspect time, which gives it even greater weight. "We need you" (and he was referring to priests, by extension all believers!) to "be the people you say you are!" That will guide your decisions about life. If you are a Christian, don't just get your input from secular or social media or the gossip of friends about the nature of Christianity or the Church. Misinformation can and does skew reality big time. Know your faith, pray, and get to know some believers who are on fire with the faith because they have encountered Christ along the way. Our Sacred Scriptures, our prayer, our engaging with others help guide our experiences so we don't easily "give up" or become distracted.
Actually, there is something more going on here. To love someone is to be concerned about their good, their destiny, their future. This is the only reason to love another. It begins because we are first loved by Christ Himself who's concerned about our future.
The reason we gather week after week is not merely to satisfy some obligation to do so and tick it off our "to do" list that we've done something good this week, but to recognize that Christ is deeply concerned about our future. Every sacrament we receive is God's visible way of saying, "I love you, and I'm concerned about your journey and your future." And this invitation from Christ to follow Him, is not to be lone rangers, but to be part of a believing community – a community who finds it necessary to be together and recount what the Lord is doing in our lives. We cannot do it by ourselves. I cannot live my life as though I am the only person in the world and no one else matters or the environment that I am called to care for doesn't matter. We're all in this together!
During my formative young years, I played French horn in the band and drum and bugle corp. Now French horns have some soaring solos that give one goose bumps. Most of the time, it is merely the "pa" part of the "ump – pa." Pretty boring! By oneself, you'd become bored after 10 seconds of only playing that part. It doesn't make sense without the rest of the band playing their parts. Church is like that – like an orchestra or band – each with their own parts to seek to become a symphony of praise in Church and in society. At times, we have our solos, and at other times, we have a contribution to the great symphonic harmony.
For this reason, I find it important to be here with you Sunday after Sunday. It helps me; it challenges me; it motivates me; it enables me to persevere in the faith because I hear the encouraging words of Paul or the challenge of Christ or the news that one member of our community is suffering new limitations or another has found a new joy, or another has gone through a life-changing awakening! It is so amazing that I leave here week after week filled with hope and filled with life because I can't sustain an intensity that great – I forget and need to be reminded.
The challenge of Christ to "love one another" is the boldest challenge we can ever have. It is saying, in those three small words, that "to love" means to honor, to respect, to seek to understand, to welcome, to forgive, to belong to those we know and those we don't but meet along the way. As Christians, we belong to Christ, but we also belong to those who bear His name in the title of being "Christian." It is for that reason, from a historical perspective, that the Christian and Catholic faith community became very interested in fostering education with schools to eliminate ignorance; fostering respect for life by establishing hospitals and caring for the suffering and dying and the unborn; fostering aid and charities to help those in need to recognize their dignity and giftedness. The same continues to be true today – by education, health care, charity, and relief services. We continue to demonstrate our fraternity as brothers and sisters all with the very command of Christ: "Love one another." In our local community, these are readily evident with our Centers for Concern, Catholic Social Services, St. Vincent de Paul Societies and many other parish and local outreach organizations throughout our diocese. We are ready and willing to offer that hand because we have been so blessed, and we want to share with each other the hope and joy we've found in Christ.
Again, charity does not expect anything in return but demonstrates the One to Whom we all belong and our concern for the future and destiny of each person we encounter.
With these words, and through the vivid example of Our Lady's ever-present affection for her Son, whom she shares with us, we encourage each other in our pilgrimage through this earthly life.
Through this Baccalaureate Mass today, may God shower His abundant blessings on you as you begin a new chapter on your life's journey!