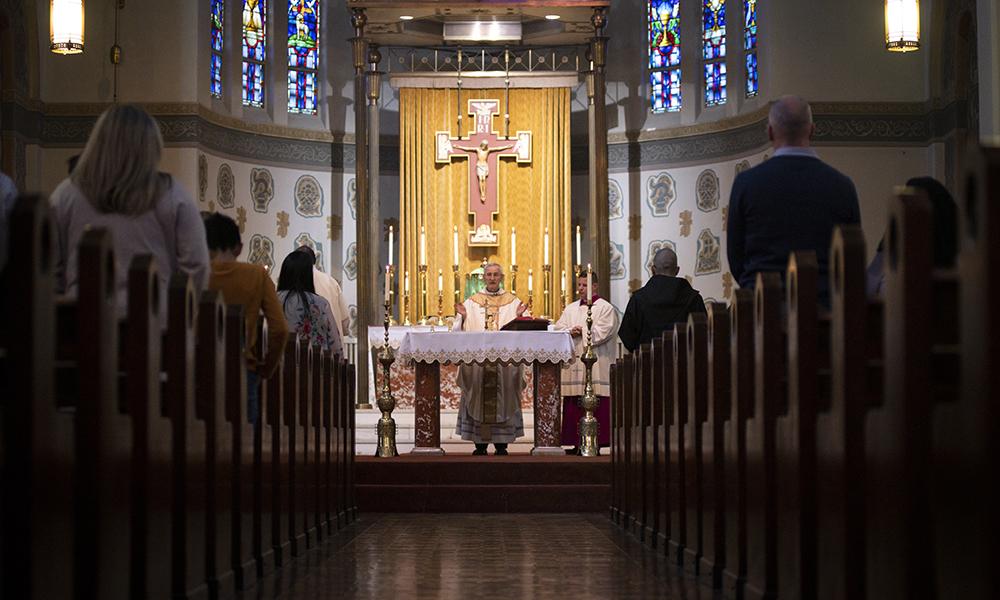 ---
'An Instrument and Agent of Hope'
Bishop Raica Helps Celebrate Anniversary of the Fraternity of Poor of Jesus Christ
On Oct. 23, Bishop Steven Raica celebrated a Mass of Thanksgiving at Blessed Sacrament Catholic Church in Birmingham, marking the 20th anniversary of the Fraternity of Poor of Jesus Christ. The complete text of the bishop's homily follows herein.
Good morning. It is my great joy to be with the Community of the Poor of Jesus here in Birmingham along with their many supporters who champion the work that is being done among the least among us here in Birmingham.
Your witness is an extraordinary one and represent the heart of Christ beating in our city and in the many places where your ministry is carried out with great generosity.
So, this morning, we come together to give thanks to God for this mission and the work that is being accomplished in the name of Christ and His Church.
The Gospel passage you have chosen, part of Chapter 10 of St. Luke's Gospel, which, as we know, is the Gospel of the poor, the lost and found, and the Good Samaritan, represents the joy that is felt by the 72 whom the Lord appointed to visit every city. They have returned because they experienced the power of the name of Jesus in the face of evil. "Even the demons are subject to us in your name!" And our Lord added quickly, "Do not rejoice so much in the fact that the devils are subject to you as that your names are inscribed in Heaven."
Yes, our work is precious because it is Christ Who is acting among us and through the caring and witness you give. You have seen and experienced things that are blessed, indeed. The Gospel of St. Luke gives it the rubric the "Privilege of the Disciples." Jesus tells them, "Blest are the eyes that see what you see. I tell you, many prophets and kings wished to see what you see but did not see it and to hear what you hear but did not hear it."
The work you do is certainly a great witness to all of us today. You see in each person you meet an image of Christ. The image of Christ in those who are hungry, thirsty, homeless, in prison, enslaved, on the wrong path of life. Under all these descriptors is someone looking to be found, to be loved, to be recognized – since so many blend into the tattered fabric of society and equated with uselessness, refuse, and matters to be discarded.
For them, you have become an instrument and agent of hope. You have honored their dignity, and through your words, gestures, and presence, you've offered something that no one else can provide – that everyone you meet is someone found, cherished, and loved immensely.
We need this message today – we need this witness today. Today, we thank God that, through your community present in Birmingham, a difference is being made – and you are finding and honoring the face of Christ in our community.
May God bless your ministry abundantly as we share your joy today that our community has become just a little bit better, more humane, and more respectful of one another as we see each other as brothers and sisters all.