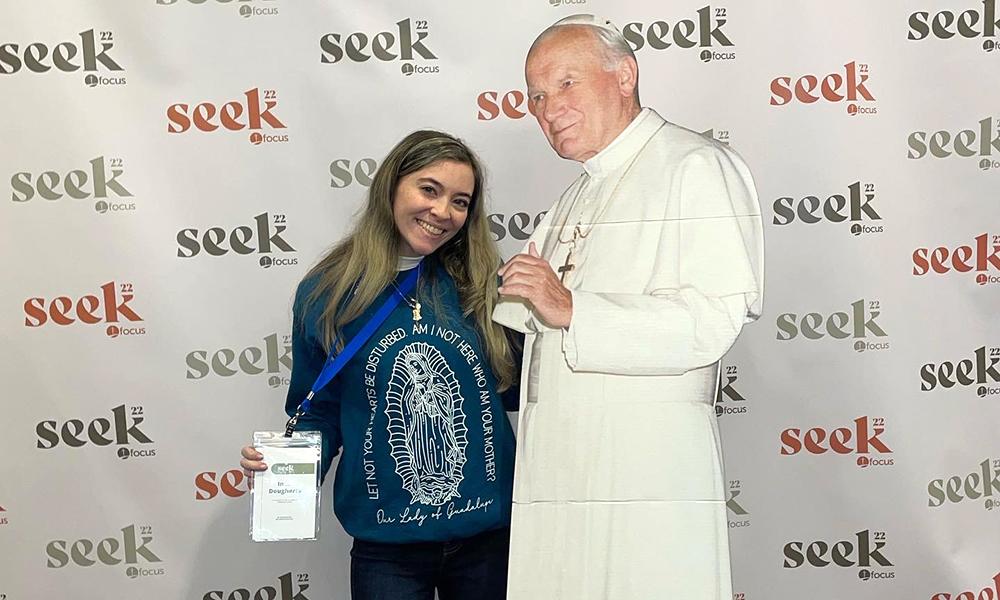 ---
How Could You Ever Leave the Same?
A College Student's SEEK Experience
I recently attended SEEK in Knoxville, Tennessee; a conference held by the Fellowship of Catholic University Students (FOCUS). The short weekend allowed me to hear from speakers, meet new people, attend Mass, and participate in adoration. However, I had no idea my life would be changed and transformed by that weekend.
I spent the drive up to Tennessee with a couple of girls I hadn't met and others I didn't know that well. I was afraid that we wouldn't connect and that the spark of conversation wouldn't happen, but I was so wrong. We quickly became friends on the way to SEEK and had some of the best conversations.
It surprised me to discover that over 1,000 students were attending the weekend. I was happy to find so many like me who loved their faith. The moment that I will never forget was adoration. I had never cried during adoration before, but when the priest brought Jesus into the room, my eyes immediately filled with tears. I was looking at my Lord, hidden in the Eucharist. He was fully present in that room, and everyone could feel it.
I usually talk continuously to Jesus during adoration, telling Him about everything I need and all my struggles, but this time, instead of talking, I sat in silence and waited for Him to speak to me. It reminded me of the story in the Bible where the Lord is crying out to Samuel, and he replies, "Speak, for your servant is listening."
Another moving experiences was the sacrament of reconciliation. It took my breath away to see over 900 of the 1,000 young adults present line up to confess their sins. How wonderful it was to see this unspoken witness of faith, which truly changed me, for it made me realize that we are all sinners simply trying to receive His abundant mercy.
On Sunday, we started the day with Mass, and afterward, we were fortified for our journey home with the wisdom of speakers, one such speaker being Father Mike Schmitz. In his talk, he asked, "If you're a Christian and you really believe that eternal life is possible, how much would you have to hate someone not to tell them that?" The question really got me thinking: "Am I sharing Jesus Christ with everyone I meet?" It is my job as a follower of Christ to share the love of the Father.
Now that I am home, I have a renewed desire to share my faith with everyone I meet. I want to tell them of the beauty not just of the Catholic Church but of God the Father. The experience brought me new friends and deepened my faith in an unprecedented way. When I reflect on this experience, I ask myself, "How could you ever leave the same?"
---
If you are interested in having your faith deepened in a similar way as I did, consider getting involved at the campus level. To find out more, email catholicblazers@gmail.com or contact your home parish.