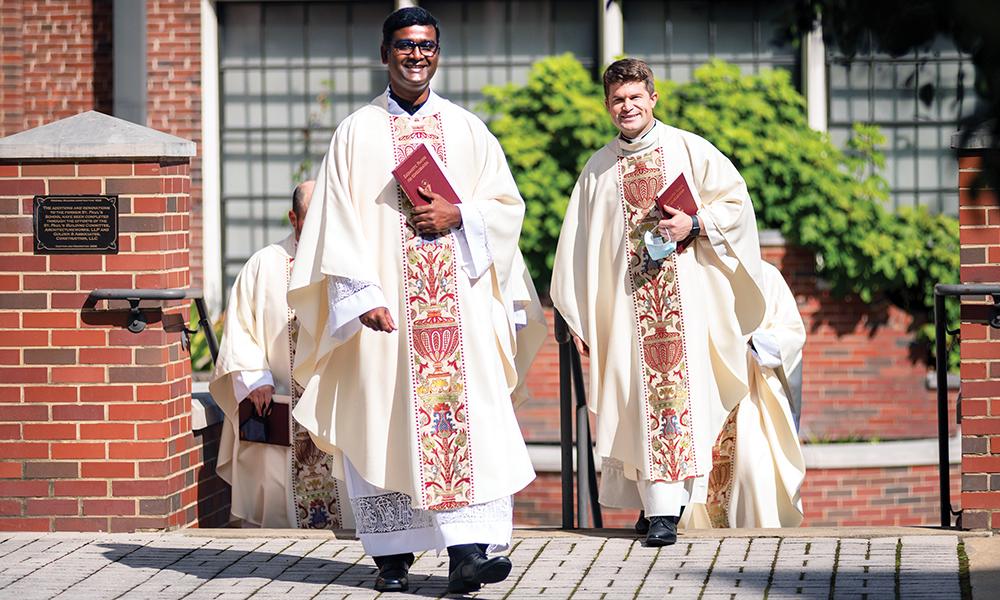 ---
'Here I am, Lord! Send me!'
My sisters and brothers,

Whenever we speak about vocations, we are speaking specifically about a "call" from the Lord to be or do something for the mission of proclaiming the Good News of our salvation in Christ. I was in the fifth grade at Sacred Heart School in Munising, Michigan, when I began to hear the stirrings of this call in my heart. Year by year, it grew stronger and more compelling. There were moments I doubted it and questioned it as I pondered other careers and vocational paths. Nevertheless, the Lord continued to "hound" my heart and my mind such that whenever I thought of going in a different direction, He would find a way to bring my focus back to Him with the whisper, "Follow me!"
There's an author that speaks of God as the "Hound of Heaven." He tries to break through the noise of our lives to enter into the silence and depths of our hearts, hounding us to listen to His voice. For many, this call — this vocation — is to the noble state of marriage for the purpose of bringing new children into this world and for mutual support. For others, this call is very specific to the priesthood, consecrated life, the diaconate, to consecrated virginity, or to live as a hermit in prayer and solitude.
As I reflect on my own journey and the renewal of the "yes" to God's call, I am reminded that God is full of surprises. I never would have guessed in a million years that I would exercise ministry as a bishop, nor would I have ever guessed that this ministry, in my senior years, would be spent in Alabama.
In fact, most, if not all, of my ministry was full of surprises. Yielding to the "Hound of Heaven" has brought a sense of interior serenity and peace. I suppose I could say that I've done what I've been asked to do. Through it, I have met many friends of Christ who continue to spur me on to experience the victory won by Christ. Today, many new friends here in Alabama remind me that we are on an amazing journey of faith together.
Reading the articles of this issue of the One Voice dedicated to diverse vocational calls, I pray that you can express your gratitude for your vocation as the disciples of Christ and many saints over the centuries did. For those hearing the call to follow Christ more closely in a religious vocation, I especially pray that you will not hesitate or be fearful to say "yes" generously like so many before you: "Here I am, Lord! Send me!" We have all been there! We will journey with you as you open your heart ever wider to God's grace and peace!
---
Bishop Steven J. Raica is the Fifth Bishop of Birmingham in Alabama.