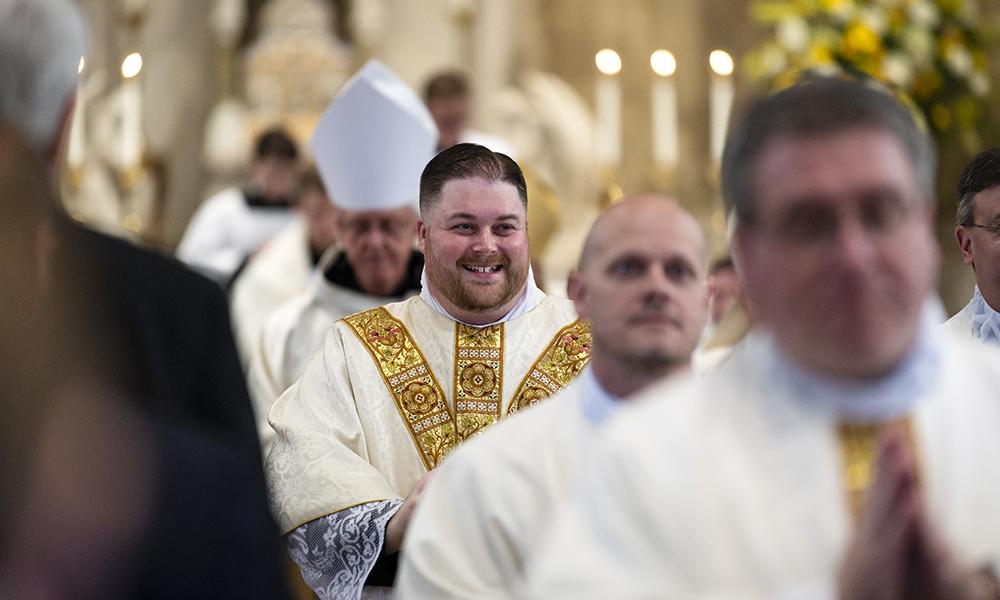 ---
'Docility, humility, and encouragement'
Father Charles Deering ordained to the priesthood
On June 11, Bishop Raica ordained Father Charles Deering to the priesthood at the Cathedral of St. Paul. Father Deering will begin his priestly ministry at Annunciation of the Lord Catholic Church in Decatur as the parochial vicar. The complete text of the bishop's homily follows herein.
I welcome you today to the celebration of priestly ordination for Deacon Charles Deering. I am especially grateful to my brother priests and deacons who are here from across our diocese as well as those who are visiting from other dioceses and religious communities! I extend a particular welcome to the family, Chuck Sr. and Cathy, your parents, as well as your sisters Jennifer and Kristen, and their families. Without a doubt, families play a foundational role in discerning a call from the Lord. I thank you for your prayers and your encouragement during this formation process.
In a particular way, I welcome Bishop Baker whose presence means so much for all of us. As well, Abbot Marcus, welcome. Thank you for your prayers and sharing this beautiful day with us today.
Our dedicated women and men in institutes of consecrated life and societies of apostolic life, lay ecclesial ministers and pastoral administrators throughout the Diocese of Birmingham honor us with their presence and prayers. Their generous ministry is appreciated as valued co-workers in the Lord's vineyard!
Our seminarians and those visiting from other dioceses, especially your classmates and friends, are here today. How grateful we are that you are responding generously to the call of the Lord for ongoing discernment and formation!
Thank you, Knights of Columbus and the Knights and Dames of the Equestrian Order of the Holy Sepulchre of Jerusalem, for gracing our celebration with special solemnity this morning. Over the years, our St. John Vianney Vocations Society has been vital partners with us, supporting and following our seminarians through their prayerful and financial stewardship.
Father Nile Gross, who represents the faculty, staff, and students from Notre Dame Seminary in New Orleans, Louisiana in an official capacity, as well as others from your seminary experience  welcome to Birmingham.
Finally, I welcome the many parishioners from Our Lady of Sorrows here in Homewood and Holy Spirit Parish in Tuscaloosa and other places where you've served, particularly, those who are watching this ordination broadcast on livestream services.
Deacon Charles, you are imbued with unique gifts and talents that will guide you in priestly ministry in the Diocese of Birmingham. Of course, you ought to consider seriously the nature of the rank to which you will be ordained. Today, you will be ordained to the presbyteral or priestly order.
[You will] walk in the newness of life, pattern your life on that of Christ's, and carry out your ministry with "constant joy and genuine love, attending not to your own concerns but to those of Jesus Christ."
For the past several years, you have been in a formative stage of seminary which now brings you to a point to make a leap into the deep (duc in altum) – a leap into pastoral ministry as a priest. In spite of your own hesitations and limitations, it is truly through the grace of Christ, and not solely on his own, that a priest accomplishes God's work in our midst. By ourselves and without Christ we accomplish little, if anything at all! At the same time, priestly ministry is not something mindless or something that, after ordination, goes on automatic pilot. It is not merely a hobby in which we dabble in our spare time. Nor is it a career that I have made myself. There should be no competition or one-ups-man-ship among those who serve and collaborate with you! Ministry is not a matter winning or losing with our co-workers in mission. Truly, it is a vocation, a calling which is not of our own making. And as such, like marriage, for it to reach its full potential, each priest must truly and genuinely respond to the call he has received in freedom and conform his life to the mind and heart of the Master! It requires prayer –  much prayer, a boatload of patience. Joys and frustrations, hurts and anxieties are not lacking along the way. Ministry, especially priestly ministry, requires a lot of listening, showing up for events even when you may not want to go, regular ongoing study and reflection, accompanied by the guidance of those who have mature wisdom from the more seasoned among us. More precisely, that ministry is ordered under the guidance of the bishop of the diocese. For that reason, the bishop, in ordering the priestly ministry in a diocese, weighs an array of factors that are not always evident in the assignments or transfers of priests for ministry as he tries, with the help of the Holy Spirit, to ensure that ministry is provided everywhere throughout our diocese so that the saving name of Jesus Christ our Savior can be proclaimed.
Priesthood is not something entered by and for yourself. There is no such thing as a loner priest in ministry. There is no such thing as a priest who isolates himself from the people of God, from brother priests, from those with whom he shares ministry, or from his bishop. We are not merely functional in nature nor functionaries of the goods of faith. We don't impose our own views,  thinking that my way is the only way or the better way apart from the wisdom the Church has handed on to us. Rather, we must, over the course of time, conform ourselves to Christ and His Church with docility, humility, and encouragement. It is His Church – His Bride whom we are asked to care for. She can be very loving, and, at times, very testy, and even demanding. She demands your fidelity to remain in the thick of it to witness the power of Christ.
Perhaps three special figures help us understand this relationship of priest to Church.
First, of course there's your own patron saint: St. Charles Borromeo. As archbishop of Milan, he was deeply engaged in the life of the local church, encouraging a literate and intelligent clergy through the establishment of seminaries, colleges, and institutes. He was hands-on in facing the many challenges of the time. He rallied his priests to be who they say they were and be faithful to the teachings of Christ and the Church, especially in the aftermath of the Council of Trent. He called for docility to the teachings of Christ and the Church as a way to be faithful dedicated witnesses to Christ. Deacon Charles, like us, you are to be docile to the spirit that filled St. Charles so that by conforming yourself to Christ, you "may show His face to the world."
Second, today is also the feast of Our Lady of Humility, the patron of the American College and beloved by many. Her image portrays a young, beautiful woman with her eyes cast to the heavens and crossing her arms over her heart. She was one who kept her eyes fixed on God while being a person to love and cherish all that God was doing in and through her so that the greatness of God may always be known. Pope St. John Paul II observed in his writings that excluding Mary from his life, especially the life of a priest, we would be neglecting the will of God! After all, she was there at the Annunciation, there at the birth of Christ, there at the wedding feast in Cana, there at the foot of the cross, there at Pentecost. She keeps showing up wherever our Lord is present not to take His place, but in all humility to point Him out again. So, you too, Deacon Charles, must be humble to receive God's grace, to treasure those moments, and to use that grace as the Lord sees fit throughout your priestly ministry. Already as a deacon you know that service is a form of humility for the other becomes more important than yourself. So, too, in priesthood, your diaconate is not coming to an end, but becomes a foundation for priestly ministry today. Our Lady of Humility can help you.
Finally, St. Barnabas, the saint on the liturgical calendar for today, is the "son of encouragement" who accompanied Paul and others in the excitement of the early Church. Together they were bold evangelizers in the spread of the Gospel of Christ. Their task was not always an easy one, but it sure was one that bore fruit in time. He participated in the life of the early Church and ultimately became a witness to faith by his very life. Barnabas stands among us as a witness to what Christ can do today by encouraging believers everywhere to embrace the Gospel of Christ. So, for you, too, Deacon Charles, Barnabas can be a solid guide to your ministry. He was a man "filled with faith and the Holy Spirit" who "strenuously preached the Gospel of Christ …  by word and deed." Lord knows, we need encouragement today to remain faithful and not overlook the signs of Christ who accompanies us.
Many people have come today to the Cathedral of St. Paul in downtown Birmingham so that they can offer their prayerful support of your generous response to God's call! It is a call that is not just something we read about from past generations! It is happening today! Those gathered here from near and far represent a clear visible sign, affirming the inestimable value priestly ministry has among God's holy people and in society. Above all, be and become who you say you are: a priest who exhibits docility, humility, and encouragement. The more we take on and plumb the depths of Christ in our prayer, the more we reaffirm our "yes" to follow Him unreservedly. The more we open our hearts to His Word and conform our lives accordingly to Him, the more we will become magnetized by the One who loved us so very much from the beginning. The more we will be increasingly effective in ministry because it is not our work, but Christ working through us, allowing us to proclaim Good News to all, touching the hearts of those who are waiting for a word of hope!
These are only brief reflections – docility, humility, and encouragement. "Carry out the ministry of Christ the Priest with constant joy and genuine love, attending not to your own concerns but to those of Jesus Christ."
Deacon Charles, you have heard God's call and responded. For some here today, young, and not so young, the Lord may be calling you to ordained ministry, service in consecrated life or lay ecclesial ministry, too! It is God asking the question! Listen – keep your hearts open to the Lord's will. I assure you the Lord will provide an abundance of signs and confirmations along the way! God does not disappoint! In the end, you will experience an incomparable happiness and fulfillment in your heart more than anything this world can provide as you see in Deacon Charles today.
Accompanied by the prayers of St. Charles, your patron; St. Barnabas, the "son of encouragement" whose feast day is today; and our Lady of Humility, as well as St. Paul and St. John Vianney, the patrons of our diocese, we entrust ourselves totally to Jesus, her Son, our Lord and Redeemer, our High Priest. With the joy of the Gospel present in our lives, we, as believers in Jesus Christ, may hear His call and respond generously with our "yes." "Hear I am, Lord – I come to do Your will!" May God bless you!