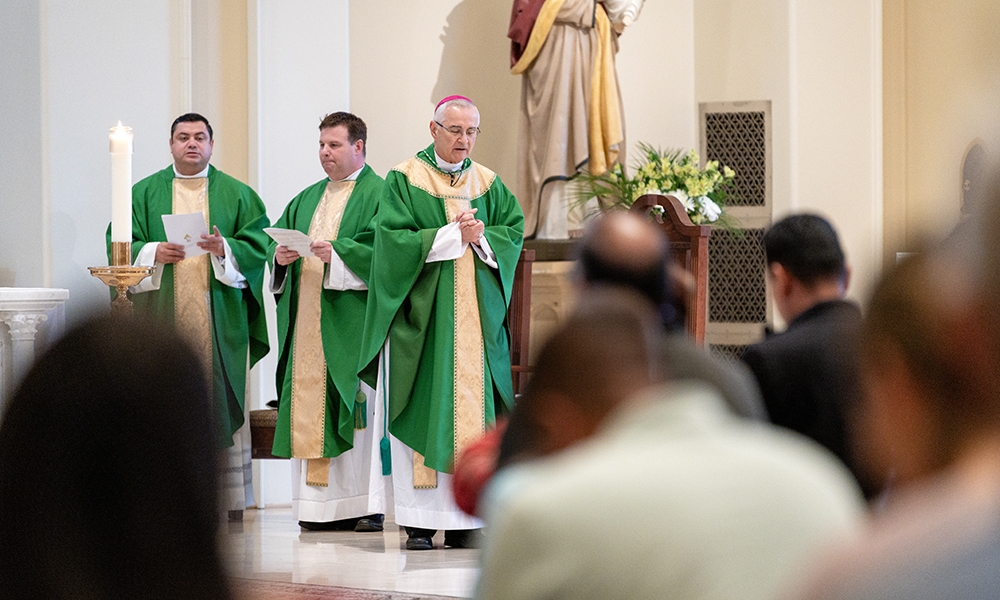 ---
Diocese holds a day of liturgical formation
On Oct. 14, Bishop Raica celebrated Mass at St. Mark the Evangelist Catholic Church in Birmingham, marking the beginning of the diocesan day of liturgical formation. The complete text of his homily follows herein.
My sisters and brothers, it is a great joy for me to be with this morning for this diocesan day of formation sponsored by the Office of Sacred Liturgy for the Diocese of Birmingham. I thank Father Justin Ward for hosting us at St. Mark's this year. To be sure, you have come from near and far because the Sacred Liturgy, the Mass, the Eucharist, and the sacraments are a very important part of your spirituality and life. In fact, it is an amazing part of our lives as many of the saints attest in their writings and their actions.
Above all, we want the celebration of the Eucharist and the sacraments to be a reverent prayerful moment whereby our participation in the various roles demonstrate our responsibility in taking this moment seriously and with clear intention. Our presence here today signifies that something important is happening. Slowly, bit by bit, we seek to build a dedicated team throughout the diocese that can provide leadership in word and action in our parishes so that they can become Eucharistic centers.
In saying that, I mean precisely that Jesus is the very heart of who we are and what we do. Jesus is made present once again and inspires us to not forget that He is the source of our life and the summit to which we continue our pilgrim journey.
I am grateful for the many speakers who are with us today who seek to inspire us into action. 
By now you are aware that we are engaged in this process of Eucharistic Revival. While the grand events will take place next summer in Indianapolis with representatives from every diocese, the heart of what occurs happens in our parishes, missions, chapels, oratories, and institutions. We are truly blessed by the dedication of so many people.
I ask you to encourage each other, pray for each other, and help us to become a people who come together, to give praise, worship, and adoration to Almighty God, and then, full of grace, we go out on mission to announce the Gospel of the Lord. That is precisely what we heard in the Gospel today: "Blessed are those who hear the word of God and observe it." Similarly, the harvest is ready for the "Lord is a refuge to His people, a stronghold to the children of Israel."
Finally, in these days of turmoil and strife across our globe – in Ukraine and Israel, and in our cities – we remind ourselves that "light dawns for the just; and gladness, for the upright of heart."
May this gathering today inspire us to deepen our love for Jesus in the Eucharist and enable us to be ever more vibrant witnesses of God's merciful love to those who need it most. May God bless you!