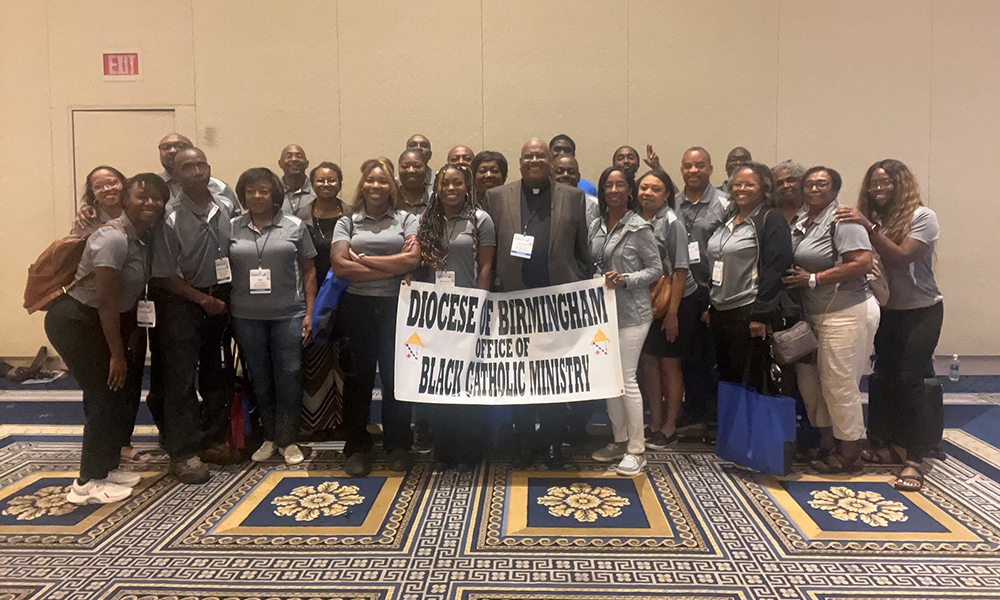 ---
Diocesan delegates travel to National Black Catholic Congress XIII
On July 20-22, Washington, D.C., was the host city for the first National Black Catholic Congress since the COVID-19 pandemic. The congress is held every five years and is attended by thousands of black Catholics from around the nation. The theme for the 13th congress, "Write the Vision: A prophetic call to thrive," guided delegates, young and old, through prayer, many spiritual and informative breakout sessions, keynote speakers, Mass, and soulful worship services.
Delegates from around the diocese attended, including Father Vernon Huguley, Deacon Jackie Rogers, Deacon Peter Smith, and James Watts, director of the diocesan Office Black Catholic Ministry.
One diocesan delegate, Brent Patterson, attended with his wife Dawn. It was their first time attending as delegates. "It was an impressive sight to see," remarked Patterson. Explaining the theme of the congress, which is based on the Book of Habakkuk, Patterson said: "The prophet Habakkuk questions God about the discrimination he is facing in Judah, and he wants to know when God will address it. God tells Habakkuk to write down on a tablet what He is about to reveal and to get messengers to help proclaim God's vision. God promises that His justice and truth will prevail and all who trust in God's words will survive the struggles to come. God is telling all those who trust in Him, to live according to the His truth that is revealed and to praise Him always for what He is doing and will do."
The scripturally based theme helped attendees focus on "trusting in God amidst all the questions, injustices, and adversities … in this world." Patterson noted that the congress reminded those present to "listen to God's truth, write it down and keep our focus on God's word." He also noted, that trusting in God allows the faithful to walk together in faith as "one body in Christ."  
Another diocesan delegate, Matthew Walker, was also a first-time attendee. "I had heard so many things about how and what Congress was and felt a little bit intimidated," he admitted. Those hesitations, however, were "immediately dispelled" as soon as he arrived. "Seeing black folks from countless locations across the U.S. coming into this space hungry to receive the Word of the Lord eased any fear I had coming in." The numbers of fellow black Catholics wanting to share their faith helped Walker see the "influence of God among His people." His experience, he said, enabled him to take the lessons he learned back home to share with his family and friends. 
One major highlight of the congress was the HBCU (historically black colleges and universities) Evangelization Initiative being launched. This initiative spotlights the need to support Catholic Campus Ministry (CCM) at these colleges and universities by creating a network, reinforcing the "efforts of new and underfunded CCMs." A young adult mixer was held to help spread the word about the initiative. Walker, who attended the mixer, remarked: "I often ponder on the future of our Church and how it interacts with young adults and the youth. Listening to modern day criticisms of the Church leaves me wondering what the youth presence is like. Then this session occurred. … I will provide this fact: the new generation of Catholics is here. They have wonderful ideas on how to further increase the faith of the world."
Rowena Turner, another congress attendee from the diocese, felt the mixer was a very significant part of the congress. "We were able to express our fears, concerns, and hopes among peers," she said. "It is not that we do not have faith, it is just difficult to express among non-Catholics, [with] the older generation, and sometimes within your own parish. … As I sat in the room, it was a reminder that I am not alone in my faith journey." Turner pointed out that awareness, recognition, and outreach are key not only to growth in the faith but also to sharing the faith.
"The congress truly nourished our souls by feeding thousands of souls' food of eternal love, perseverance, and sacrifice," concluded Patterson. For more information about the diocesan Office of Black Catholic Ministry, please contact James Watts at jwattts@bhmdiocese.org.