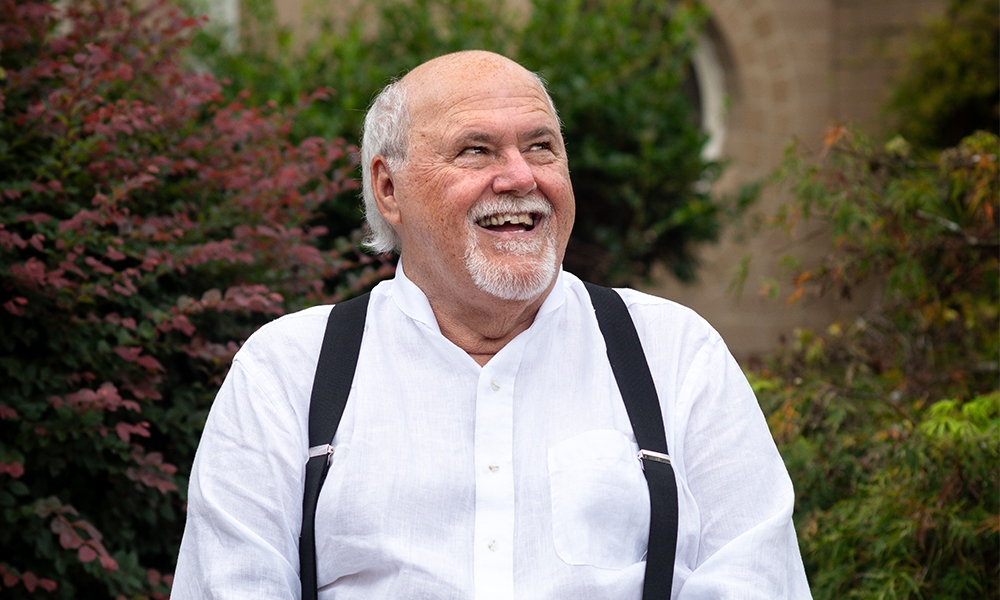 Photography by Mary D. Dillard
---
Seeing the presence of Christ
One deacon's indelible lesson
I wouldn't mind being back full time at Sacred Heart, but this is where I belong," says Deacon Mike Cova before pausing to fight back tears. "This is where the people need help the most."
Rural ministry, which has been a primary focus of Deacon Cova's diaconate, is not a ministry with which everyone in the diocese is familiar. For many living in the Birmingham and Huntsville metro areas, attending Mass is made easy, with numerous parishes only a short distance away and with just as many Mass times available. However, the Diocese of Birmingham is technically a mission diocese, meaning a variety of resources are scarce, chief among them financial means and manpower.
Growing up in Anniston, Deacon Cova is very familiar with the realities of a mission diocese, but his journey to rural ministry did not happen overnight. In his early years, his mother, being a Southern Baptist, attended Sunday service at the local Baptist church, which meant he and his siblings were in tow. That is, until a priest by the name of Father Frank Giri befriended his parents. At the age of six, the young Cova was baptized a Catholic by Father James Smith at Sacred Heart of Jesus Catholic Church in Anniston. Looking back, he believes the day of his baptism is the day his love for the Church began.
As he journeyed through life, his desire to serve others continued to grow. He even used his talent as a florist to "help others while in church so as to enhance their experience before the Eucharist." His servant's heart was noticed by Father Richard Donohoe shortly after he began his appointment as pastor of Sacred Heart. "What he did more than anything else," remembers Deacon Cova, "was to seek out different people to get them more involved in day-to-day activities. He found ways to pull it out of you."
The deacon and his wife, Lanelle, enthusiastically answered Father Donohoe's call and led the parish school of religion and parish youth group in the early 1990s. The experience was so profound that it propelled him to consider the diaconate. At the time, however, the diocese did not have an active diaconate formation program. Instead, he took three years of lay ministry courses out of the diocesan Lay Ministry Office, spearheaded by Sister Marie Leonard, O.S.B.
In 1997, Bishop David E. Foley, the third Bishop of Birmingham, approved a new diaconate program, identifying four pastoral needs which he wanted deacons to address. One of the four needs just happened to be rural ministry.
The man chosen to lead the program, Deacon Sam Anzalone, brought in a wide array of clergy and academics to help form the men. One of the priests invited to teach a course was a Vincentian priest, Father Bruce Krause. The Vincentian, whose order is known for serving the poor in rural areas, left a lasting impression on the deacon-to-be, and initially, the impression wasn't exactly favorable. Much to Deacon Cova's dismay, he didn't actually ace the class, which troubled him.
In an effort to gain some insight into his lackluster academic performance, Deacon Cova devised a plan: practicum. This element of formation, during which candidates are given practical, hands-on experience in a ministry, would be Deacon Cova's means to obtain clarity. So, for his practicum, he chose St. Mark's Catholic Church in Ashland. Of course, it was certainly not a coincidence that Father Krause was serving the parish and the community. "I just had to find out why I didn't do good in his class," explains the deacon.
At first, it was rocky. Deacon Cova would accompany the priest on his visits to the homes of the poor, after which Father Krause would pose the question, "What did you observe at this house?" The question and others like it challenged the deacon. "What am I to observe?" thought the deacon. "Where is this guy coming from?" he pondered. One visit, however, helped open the deacon's eyes.
For this visit, the two traveled to the "far side" of a trash dump, parking in the middle of the woods at the beginning of a roughly cut trail. Traversing down the quarter-mile-long path, Father Krause and Deacon Cova came upon a modest house. After knocking at the door, the solitary resident opened her front door, beaming ear-to-ear with a toothless grin. With such joy, the woman, a non-Catholic, welcomed the two into her home. "She was just tickled pink to set us down at her kitchen table," remembers Deacon Cova. As the woman reached into her cupboard, the deacon noticed it held only one item: a can of peaches. Without hesitation, the woman grabbed that can of peaches, opened it, and presented it to the two men.
In that moment, it clicked for the deacon. This woman, a "little lady that had been forgotten," happily opened her home and shared the very last thing she had. The lesson Father Krause had been trying to teach was now clear. "He was educating me to look for the presence of Christ in these houses, in their poverty," attests Deacon Cova.
The deacon would go on to serve alongside Father Krause "off and on" for the remainder of his formation. When the time came for his ordination to the permanent diaconate in 2000, he was assigned to his home parish, Sacred Heart. Early in his ministry at Sacred Heart, Father Bob Sullivan was assigned as pastor, and, after "long talks," Father Sullivan verbalized what the deacon knew in his heart: "You are going to do a lot better in rural ministry."
Over the course of the last two decades, Deacon Cova has served St. Mark's in Ashland, All Saints in Anniston, Holy Family in Lanett, and Immaculate Conception in Wedowee, ministering to all communities, be it Hispanic, black, or white. While baptisms are the highlight of his ministry, his joy comes from serving the people who live their lives just as the woman in the woods did those many years ago, trusting in God with unwavering faith. What seemed so difficult for the deacon to grasp back in his days of formation has become almost second nature, for it is in the people who give not from the "extra," but from their "means" who make the presence of Christ crystal clear.