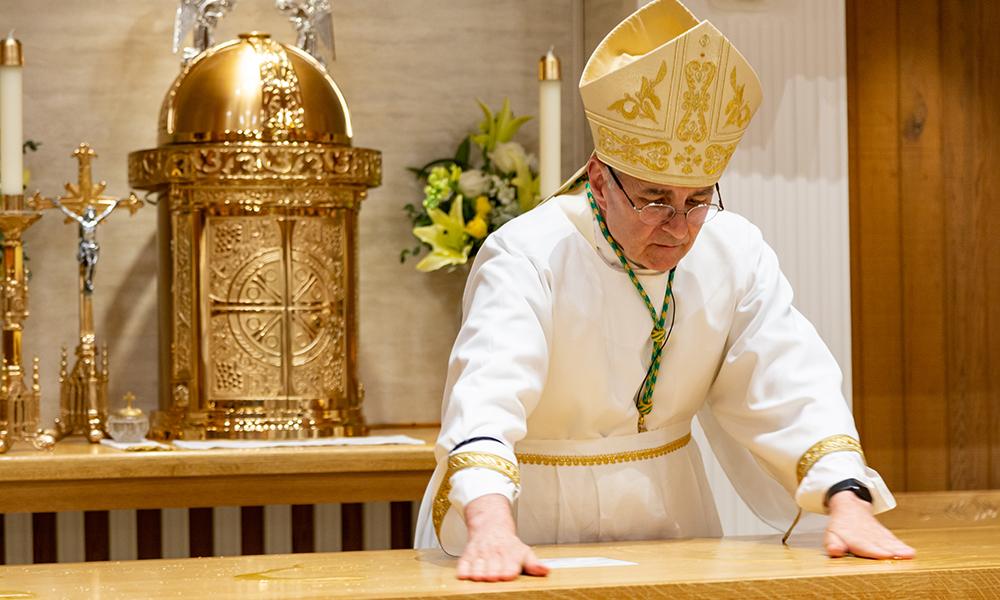 ---
'A Central Part of Our Liturgical Life'
Bishop Raica Consecrates New Altar at St. Jude's in Scottsboro
Dear sisters and brothers,
How grateful I am to be here tonight to celebrate your patronal feast, to consecrate the new altar and to install a new relic! Thanks, Father Tom, for your ministry here in Scottsboro and for all who are part of this beautiful community. A few months ago, I had an opportunity to visit here briefly as I was getting a tour of various parishes in the diocese. I also welcome our visiting priests.
An altar is such a central part of our liturgical life as Catholics because it is precisely the place where the sacrifice of Christ continues to be made present today. We are saved today by Christ who offers us His Body / His Blood for our salvation. The great mystery of our faith is that Christ did so 2,000 years ago on the cross, but the same sacrifice continues to be made present today. The altar is the reminder that Christ saves us today and we participate in this extraordinary event. Our faith would not survive if were merely something relegated to the past. We would struggle mightily to try and remember it. In a better way, it is a present faith, and the presence of Christ active today, with us today, saving us today, accompanying us today, nourishing us with His Body and Blood today, is a reminder that we are not forgotten but embraced by the totality of the salvific mercy of Christ.
Our readings for this feast of Ss. Simon and Jude guide our reflection as well. From the first reading to the faith community in Ephesus, he reminds us that we who have come together are not "strangers and sojourners," but rather "fellow citizens with the holy ones," that is, the saints.  In fact, the relic of St. Jude we place in our altar today is a reminder that the holy ones are with us today – those who live in eternity with Christ are with us today. We are part of one great family built on the foundation of the Apostles (including St. Jude), and Christ is the capstone holding everything together. It further reminds us that we "are being built together into a dwelling place of God in the Spirit." That is especially true here in this parish church under the patronage of St. Jude, the Apostle.
Our Gospel from St. Luke further reminds us that Jesus prayed, and He called His disciples from whom He chose the Twelve Apostles, who gathered around Him, listened to Him, prayed with Him, observed Him, saw Him, heard Him, and learned what it meant to belong to Him and a community of believers. We are grateful that St. Jude said "yes" and is now the patron of impossible cases. While St. Jude Hospital does extraordinary work today, even this parish, dedicated to St. Jude is a field hospital where those who are wounded because of sin, or anguish, or suffering can also come to experience the healing balm of His Word or the nourishment of the Eucharist, as well as the anointing of the sick.
The altar that we have here will be anointed with the Sacred Chrism to set it apart for sacred worship. It is the same oil used in confirmation – so all who are confirmed are connected in some way with the altar, the sacrifice and mission of Christ. Infants and newly baptized are anointed with Sacred Chrism to indicate they are incorporated into a priestly people. Priests and bishops are also anointed with the Sacred Chrism to set them apart for sacred duty. And so are churches and altars are anointed to be set apart for worship and sacred activities – a place where Heaven and earth intersect.
Today, the message of Christ has come to us through the apostolic witness of the ages right down to us through an unbroken chain of succession. It is entrusted to us to be handed on to future generations. That is why this church, this altar, is so very important in our mission of evangelization. May the message of Christ's salvation resound here in Scottsboro, and may the witness of each person here proclaim with fidelity that we are a people who proclaim His death and resurrection until He comes again in glory.
May our Lady, who is our refuge and strength, guide and protect us.