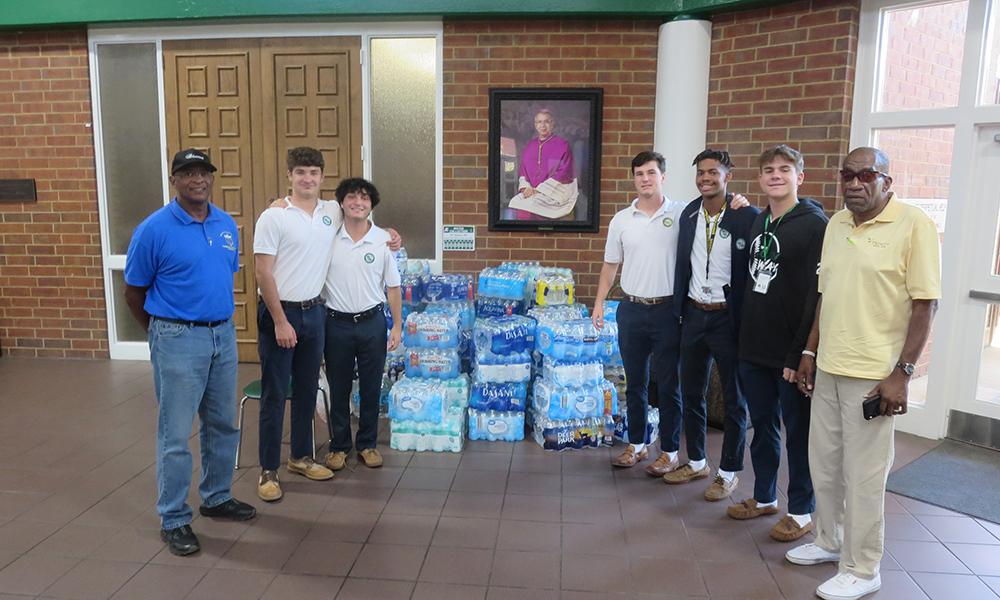 ---
A Call to Serve
In mid-September 2022 the news reported a water crisis in Jackson, MS, as a result of extensive flooding on the Pearl River. The treatment plant was damaged, and people were advised to boil the water or use bottled water. Once Deacon Walter Henderson of St. Mary's in Fairfield heard of the crisis, he knew something had to be done to reach out to those in need.
As a deacon, Deacon Henderson knows firsthand what is means to serve others. As a member of the clergy, a deacon is called to a ministry of service through assisting his bishop and pastor and to perform works of charity. A deacon may only perform those liturgical functions for which the bishop has granted him faculties. A deacon may, with permission from the pastor, proclaim the Gospel, give homilies, perform infant baptism, preside at funerals, and witness marriages.
A deacon can also preside at communion services and administer blessings for such items as religious objects, houses, etc. A deacon may not, however, administer any rite or perform any function that is reserved to the priesthood. The deacon's first mission is always service to others through works of charity and other acts.
After prayerful consideration, several deacons in the Diocese of Birmingham gathered together and decided to hold a bottled water drive for Jackson, MS. Posters were made and distributed to various parishes within the Birmingham area. The Passionist community of St. Mary's, Holy Family, and St. Joseph's parishes were the first to respond to the call. They were then soon joined by Our Lady of Lourdes Catholic Church and John Carroll Catholic High School in the water collection efforts.
An estimated 300 cases of water were collected in a about two weeks. Transportation was arranged by Deacon Peter Smith who drove the truck for collection and delivery. After collecting the water from the locations, the water was delivered to the Cathedral of St. Peter the Apostle in Jackson, MS. The water was received by Deacon Wesley Lindsey of Jackson, MS, on behalf of Bishop Joseph Kopazz.