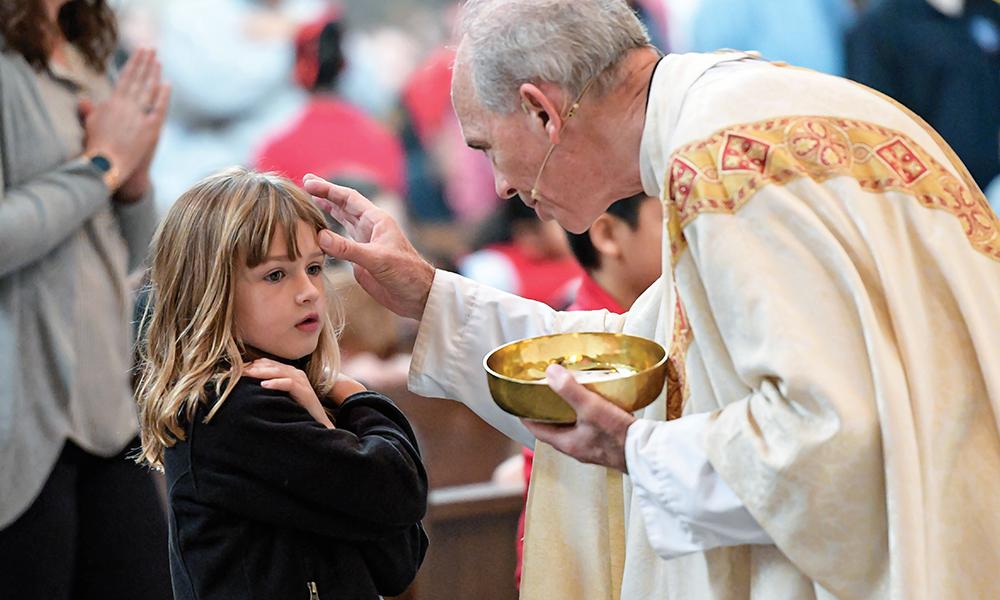 ---
The Blessing of Catholic Schools
"Good morning, Father!" That was the enthusiastic greeting I heard the moment I crossed the threshold of the classroom where 20 Holy Spirit High School juniors were waiting to begin their career choices class. And as they welcomed me, they all stood up! What a marvelous display of respect. It's one of the many things that students learn in a Catholic school that will serve them well the rest of their life.
"Good morning, Father" is a greeting that all the students know well, for it's their happy response to me each Thursday morning at the start of our weekly School Mass when I greet them with the salutation, "Good morning, Saints!" 
Over and over again, I remind them that the name "saints" is more than their school mascot, it's who they are! Yes, they are boys and girls blessed with the Holy Spirit of God dwelling in their soul to be their advocate on their journey through life, helping them to grow in their love of God and neighbor so that one day they can join countless other saints in the Kingdom of Heaven. 
How do we get away with talking so openly about God? We're a Catholic school!
And while the culture has removed the very mention of God from public schools, we not only say His holy name, but we sing His praises and teach His truths every day!
Our God is a perfect God, and He has the perfect plan for each of our lives. 
But in order to follow His perfect plan, you first have to know His plan, which is why we offer religious instruction to all of our students each and every day. 
Talk about value. Catholic schools are at the top because public schools only offer three areas of instruction: "readin', 'ritin', and 'rithmetic." Catholic schools offer four: "readin', 'ritin', 'rithmetic, and religion." That's 25 percent more!
Believe me, the difference between having or not having religious education shows up each time kids from public schools and Catholic schools get together at a retreat or a youth group event. When the kids are asked questions about God, Church, or faith, more often than not, it's the Catholic school kids who not only answer first but answer correctly. 
That's not a surprise. It's what happens when students get to pray together at the beginning and ending of every school day and again before they eat their lunch! It's what happens when you place Jesus at the forefront of everything that's done in a Catholic school. For example, we reverence this by referring to our athletes not as student athletes but as Christian student athletes — with the most important title first!
So, Catholic school students learn their faith better than public school students. What's so important about that? Just the fact that we're saved by faith! So, if you want your kids to go to Heaven, faith is absolutely essential!
While becoming proficient in "readin', 'ritin', and 'rithmetic" will help students to be successful for some 40 or 50 years of their earthly life, helping students know, love, and live their Christian faith will help them to successfully attain eternal life! 
One way to accomplish the Catholic school mission is by uniforms. First of all, it puts them on the same level with each other and unites them as a student body and a school family. That's the very reason that their school football players, basketball players, and soccer players all wear uniforms: it unites them as representing the same team. 
Another reason Catholic school students wear uniforms is because it prepares them to participate in the work world, where many adults wear uniforms to work. Professional athletes wear uniforms to compete. Soldiers wear uniforms in battle. Doctors, nurses, policemen, firemen, mailmen all wear uniforms that signify their capabilities and their mission. 
It's important to Mercedes-Benz and it's important to McDonald's that their employees wear uniforms because top management want their employees to feel and display that whether it's making cars or cheeseburgers, they are united in their mission.
Well, Catholic schools are united in their mission, too! They are united in their mission to educate and form students for both this life     and eternal life. 
Now, in addition to all the books and resources that Catholic schools use to instruct their students, some of the best instruction the students get comes from the modeling they see in their principals, their teachers, their coaches, and the school staff.
Yes, they see love, goodness, kindness, patience, and commitment in action, which they will hopefully try to imitate during their school days — and for many years to come.  
Moreover, Catholic school students participate in many     activities including weekly Mass, daily prayer, and monthly confession that will truly serve them throughout their lives. 
You know, the word is out about Catholic schools — they do a wonderful job of preparing students to be successful in their studies and forming them to demonstrate good behavior. 
This is why many universities today actively recruit Catholic school students to be a part of their student body. Yes, our graduates have a good reputation!
Are Catholic schools perfect? No, they are not perfect, but they are passionate!
Yes, they are passionate about their mission of helping students to grow in love — love for God and love for others — so they can make good grades in this life and one day graduate to eternal life.
---
Msgr. Michael Deering is currently pastor of Holy Spirit Catholic Church and School in Tuscaloosa. He was associate pastor of Our Lady of Sorrows Catholic Church and School and taught theology at John Carroll Catholic High School for two years (2002-2004). He was pastor of St. Elizabeth Ann Seton and St. Henry Parishes for 12 years (2004-2016). He also served as Vicar General of the diocese for 14 years (2007-2021).