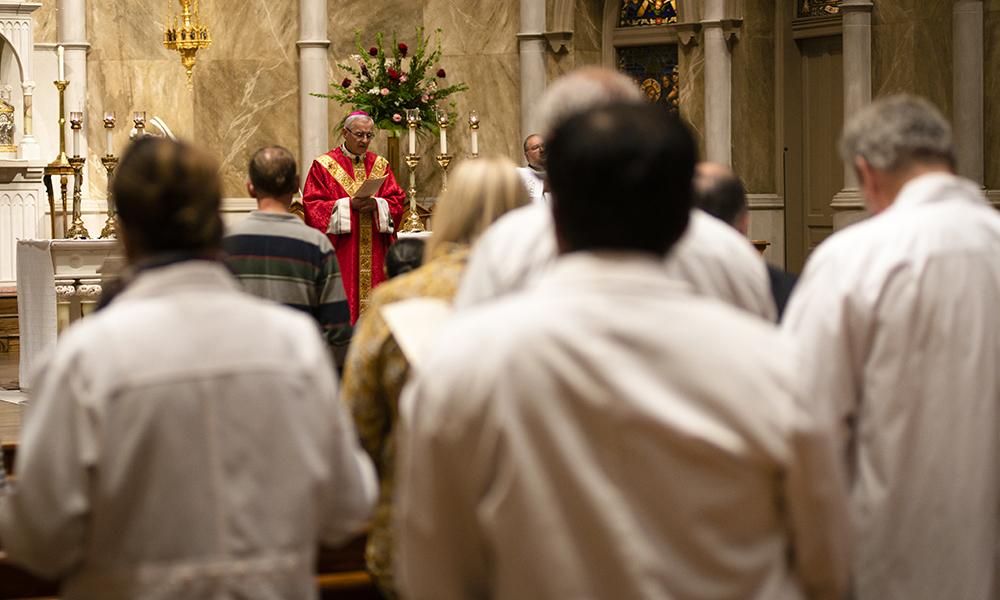 ---
Blending Science and Humanity
Bishop Raica Celebrates the Annual Red Mass
On Oct. 18, the Feast of St. Luke, Bishop Steven Raica celebrated the annual White Mass at the Cathedral of St. Paul, which was followed by a light reception. The Mass of Thanksgiving was for all health care workers. The full text of bishop's homily follows herein.
My sisters and brothers in Christ, especially all those in the medical profession,
On behalf of all of us here at the Diocese of Birmingham, welcome to the Cathedral of St. Paul for the White Mass, honoring those who serve in the wide array of medical services in in our diocese. Last year, we met at the Shrine in Hanceville. This year, here at the heart of the diocese, our hearts beat ever stronger in greater appreciation for the vocation and gifts you have brought to the larger community in central and northern Alabama. Last year, and indeed this year, we are still in the throes of this pernicious virus causing an extra strain on our medical services and a return to normalcy. I see the reports that come from the Alabama Hospital Association. Indeed, last year those who served so generously during the pandemic were identified as "heroes" by civil authorities and media. Truly, many, if not all, have gone above and beyond the call of duty to ensure the health and well-being of our community. We honor their selfless dedication in ways that are never recorded or seen in the public eye.
Therefore, it is right and just that we should gather in prayer today with all those who walk with us on the journey of life, knowing that our lives depend upon your expertise, your gifts, and your talents. While it is true that we don't always do what we've been told, sometimes complicating the risk factors, you have remained steadfast in your commitment and pursuit of our health and well-being.
As I mentioned last year: "The medical profession is a noble profession to be sure. It is a profession, like many others today, built around relationships: relationships with patients and families, relationships with support staff, relationship with knowledge, relationship with truth – scientific truth and the truth about the human person. All of these factors and many more are necessary in order to see…[clearly]." We don't merely reduce life to atoms and molecules; rather, [we see life] as cherished and vivified by the Spirit resting in the hands of God. Life, human life - my life and your life - "is created for a specific purpose," as St. John Henry Newman reminds us. It is this intersection of the physical with the divine intention that becomes for us an ineffable mystery to behold and to cherish.
For whatever reason, none of us are perfect specimens. We have our weaknesses and flaws. Still, medicine today is remarkable in terms of what can be done to provide a quality of life like never before. This doesn't happen on its own. It is rather the unlocking of the key mysteries through scientific research and the scientific method, whereby we see the remarkable plan of God at work among us.
We also know that in many cases you have gone above and beyond the call of duty to tend to those most in need – long hours, sleepless nights, physical and mental exhaustion when a life is lost. Sometimes, as we know, the solutions are not purely scientific but a deeper understanding of the person - their life, their habits, their interests, the wounded human condition - that may reveal a source of infection that may not otherwise be detected, even with the most sophisticated scientific instruments.
In all honesty, I remember senior staff of the diocese, where I was, talking about a pandemic back when we had the threat of avian flu about 10 years ago. We had studied the issue in a proactive way, considering how it would impact diocesan and parish life. Outside of the usual flu infections, we fortunately never had to go down the path of a pandemic. It would have been more complex and complicated – we didn't have Zoom back then! This current pandemic seems so very different. Our responses are different. Yet, it seems to me, that there is a mix of science and technology at work that offers us relief and a pathway forward. At the same time, other questions and problems emerged which had the unintended consequences of alienating the person and their personal human need for companionship and community. A newly ordained young Italian priest I know, Father Stefano Zamagni, posed this question in a recent speech: "Rather than starting with the technocratic question, 'What can our inventions do to solve this?"…we must ask ourselves, 'What is most essential to our very humanity?' and 'What, understood comprehensively, is human health in the first place?' In so doing, is recentering the question and tension between technical advances and an understanding of humanity.
Here's an example of what I mean. Another lay friend of mine in Italy was the sole caretaker of his aging mother. They lived together. Her sight was almost gone, she was on a limited diet, and she relied on him for everything, including her physical and hygienic needs – absolutely everything – as well as the injections she needed. From time to time, she would become anxious and afraid. Somehow, knowing he was near was a source of calming consolation for her. He was everything for her. A couple months ago, she started to have some emergent medical issues not COVID related that needed more specialized attention. He called the EMS who took her to the local hospital. When he arrived at the hospital, he was refused entry. As he tried to explain, she knew his voice and could interpret the indications of what she needed and what was being done to her. The nurses did call once a day to give him a brief update – but on weekends, being short of staff, there were no calls. Then, on Sunday night, he did get a call informing him that she died. He didn't have a chance to say "good-bye" or "I love you." In retrospect, he remains convinced that she died completely alone and abandoned by him, her only son, of a broken heart. Had he known, he would have tried to find another solution. Relationships are important. Today, he's still suffering the aftermath of this irreversible set of circumstances, blaming himself for abandoning his mother and in her hour of need, he could not be near her.
In medicine, our humanity is also at stake. We don't live alone. We need the presence of another, the touch of another, the voice of another to ensure we have meaning and purpose. Yet, I am keenly aware of the need to have a professional detachment for the sake of objectivity about the situations you face. There must be a way to provide for the humanity and the spirituality of a situation that can help foster our humanity whenever necessary, in addition to the scientific and medical solutions.
Perhaps that is why Christ took on human flesh and was born in Bethlehem. We needed to see, hear, and know that the God who made us, loved us – not just by sending us a text message, not by some theory, not a note from the religious technicians of the day, but from a person who is one like us, who told us so personally. He's the One who told us we are made for Another and that by hearing His call and following Him, we will live forever! Afterall, He who loved us into being, remains with us the whole of life until we return to Him.
My sisters and brothers, we gather today to invoke the prayerful intercession of St. Luke, the patron of the medical profession. We pray that in these challenging times the high standards you espouse are maintained, that you don't lose heart, and that you remain strengthened and encouraged by the prayers, particularly of our patron St. Luke the "beloved physician," that surround you on days such as this.
The Gospel of St. Luke and the Acts of the Apostles offer us a glimpse into humanity from the birth of Christ in those unforgettable accounts read every Christmas to the human stories of loss and discovery – like the lost coin, the lost sheep, and the prodigal son – to the disappointment of disciples heartbroken coursing their way toward Emmaus. The humanity of these stories, the hope they generate, suggests to us a value added to life that exceeds the bounds of the current science.
Today, doctors, nurses, technicians of every sort, support staff, and chaplains – an entire team is necessary to reach the highest potential of our humanity and of right care for those entrusted to us. Indeed, the right anthropology of the human person must guide our mission – not misusing or reducing the weakness of humanity to utilitarian ends where the strongest prevail and the weakest are ignored or discarded. For each person stands before the infinite mystery as bearing the incomparable image and likeness of God that we call human dignity, an inviolable essence.
Through this White Mass, we in our faith community express our esteem and closeness to Catholic medical professionals and staff to sustain this magnificent mission which gives so much back to our community and the world, especially the acknowledgement of the immense dignity of the human person.
In addition to those who are here, we lift up those who are working today and cannot be here. We also remember those who have lost their lives during this past year and are presented to the mercy of God. During this time, their generosity and altruistic spirit are not forgotten.
As we recall the spirit of St. Luke, may we also see in the brokenness and woundedness of humanity the incomparable and ineffable image of Christ in those we serve, for in this, we find hope and consolation.
May God bless each of you in the medical profession and your families. Your mission is a true vocation for which we express our thanks today.
May God bless you all abundantly.