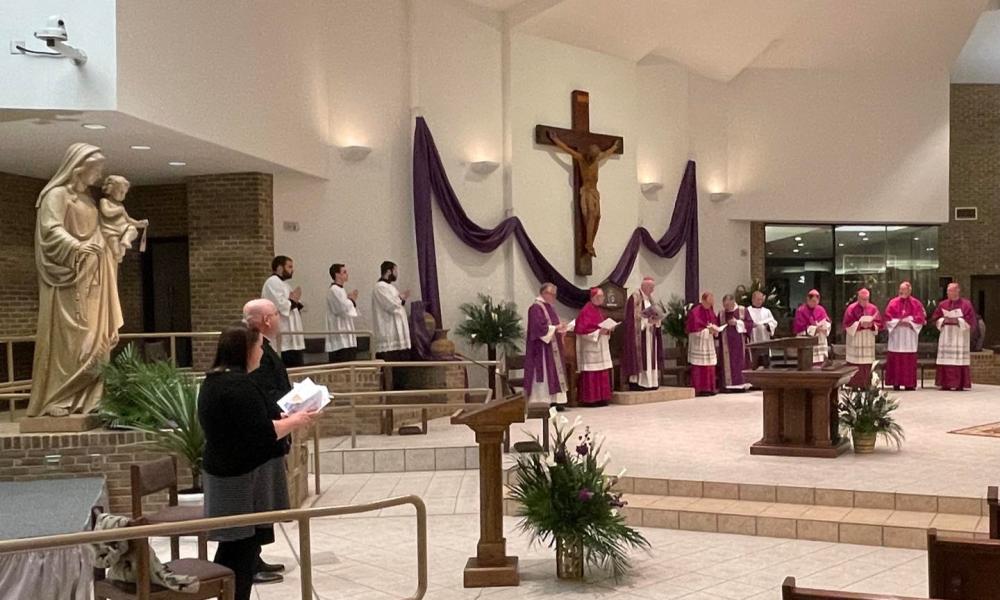 ---
'A Beautiful Adventure of Faith'
Bishop Raica Addresses His Gaylord Successor
On March 3, Bishop Raica was the homilist for Solemn Vespers celebrated on the eve of the Episcopal ordination and installation of Bishop Jeffrey Walsh. The complete text of his homily follows herein.
My friends, in particular my brother Bishop-elect Jeffrey Walsh, I thank Bishop Hurley for welcoming us so graciously and warmly to the Diocese of Gaylord where he willingly said "yes" to the Apostolic Nuncio to serve as the Apostolic Administrator here "for some months!" Now we know what the definition of "some" is! Thank you, Bishop Hurley, for your witness to Christ, your love for the Church, and your ministry here during these past almost two years. Tomorrow, Bishop-elect Walsh will become the Bishop of Gaylord. It will be very, very happy day for you! And, if my sense is correct, for Bishop Hurley it will be an even happier day!
Last evening, I learned the sad news of the passing to eternal life of Bishop Robert Rose, the Bishop emeritus of Grand Rapids who served as the second Bishop of Gaylord. He was my rector in the seminary. Bishop Rose witnessed his discipleship with Christ in a gentle, respectful way, always joyful and encouraging. May he rest in peace!
In a special way, I greet the bishops, clergy, religious here tonight, and, in particular, your family and guests who have made the trek by car and by air from the Diocese of Scranton, Pennsylvania and beyond to Upper Lower Michigan for this celebration in the freeze of winter as we begin the season of Lent! As you can see, there's just a light dusting of snow! Welcome!
Bishop-elect Walsh, I'm sure when you received the call, you probably said to yourself, "Where?" But honestly, this is the part of Michigan that is surrounded by spectacular beauty, a pristine hidden gem of nature, a glimpse of paradise for many who reside here or have their summer cottages here. In fact, one has to come here intentionally to experience its majesty. It's not one of the pass-through states. You might say that it lives up to the early PR motto of Michigan found on car license plates years ago, a "Water Winter Wonderland" - the original WWW! Or as it states on the Michigan's flag, given in Latin but translated: "If you seek a pleasant peninsula, look around you!" How true it is!
Not only is nature an amazing part of this diocese, but its people, parishes, schools, institutions, priests, deacons, women religious, and your team at the pastoral center are even more amazing! When I came in 2014, I couldn't have asked for better disciple companions to accompany me on the journey of faith that the Lord was laying out. As Archbishop Hebda and I discovered, all our reference points in ministry today go back to the ministry we experienced right here in the Diocese of Gaylord. With taproots in the bold missionary endeavors of Bishop Frederic Baraga, originally from Slovenia, known more commonly as "the snowshoe priest," who impacted Catholic life in the mid-1800s here and in Michigan's Upper Peninsula (the UP as we call it), especially in the Native American communities, for us Catholics and bishops of Gaylord as well, including the founding bishop, the late Cardinal Szoka, the late Bishop Rose, the late Bishop Cooney, Archbishop Hebda, and I, are grounded in the ministry of Christ in a special way. Baraga's episcopal motto, "One thing is necessary," characterized his ambitious ministry as he visited village after village to proclaim Christ in new and novel ways without the modern technological conveniences we rely on today. What an inspiration!
Because of him and other dedicated leaders and faithful disciples, our Catholic faith here is strong. Here, many people have discovered the love of Christ! Here, we are reminded that the glory of God is revealed both in nature and in the disciples of Christ who are fully alive.
Tonight, we are honored to join together in prayer for you, my dear brother. We pray for an abundant outpouring of the Holy Spirit on your episcopal ministry, noting as St Augustine did, that you are first and foremost a Christian before you are a bishop. With the former, you will walk with, and journey with, your brothers and sisters in the faith. There will be joyful moments and anxious moments. There will be those moments of ministry when everything goes absolutely right and you rejoice in God's faithfulness. Of course, there will be those moments when hard decisions will have to be made and not everyone will be pleased – and you'll hear about it.  There will be those moments when you joyfully celebrate the accomplishment of Christ's mission, and, there will be those moments of hurt when you will lack the precise words of comfort, praying silently and intensely for guidance from the Holy Spirit. There will be moments of serenity in ministry, and there will be moments of turmoil when you will have to navigate choppy waters and maybe even feel abandoned. But you are not alone. Christ is with you. He promised He would be! "Draw close to God and He will draw close to you," we heard in the reading. The faithful, too, all around this diocese are lifting you up in prayer every day. I know because I experienced it firsthand. Above all, your steadfast relationship as a disciple of Christ, along with your presence and perseverance to pray with and for your fellow pilgrims, will enable you to discover again God's providence at work right before your eyes.
I leave you with one brief personal reflection. Just like you, I had no idea that my life was about to change when I was sent here to Gaylord in 2014, neither did Archbishop Hebda. Similarly, I also had no awareness that I was going to be posted to Birmingham in Alabama two years ago. I had never been to Alabama before. You know, I thought I was going to complete my earthly journey right here in Gaylord. Then, Alabama happened.
Honestly, Alabama was not even on my bucket list, just as Gaylord was not on your's or Sam's bucket list. In some way, my life, I thought, would have been complete without ever going there. Then, in my own prayer and on deeper reflection about the transfer, I came to believe that the Lord was telling me: "No, you're not done yet. I want you to meet some new friends of mine!" My brother, tonight and tomorrow and in the next months, you will meet many new friends of Christ – companions on the journey with you. You will be enriched in ways you never imagined through God's providential grace. You will not be alone!
On behalf of all here today and tomorrow, thank you for saying "yes" to this new adventure in ministry here in this water, winter wonderland. Sam is going to enjoy this too! You will be amazed at what Jesus is doing right before your very eyes. Like those in the Gospel who witnessed these things, you, too, will respond with amazement and gratitude.
So, tonight your family and friends from the Diocese of Scranton and beyond, and your new family here in the Diocese of Gaylord, surround you in prayer, invoking the Holy Spirit to pour out the abundant gifts and graces you received in baptism, confirmation and holy orders to witness God's love to a beautiful extended family here in northern lower Michigan along Michigan's 45th parallel.
May Our Lady of Mt. Carmel accompany you on this beautiful adventure of faith to experience God's providence anew in your life. May God bless you all!