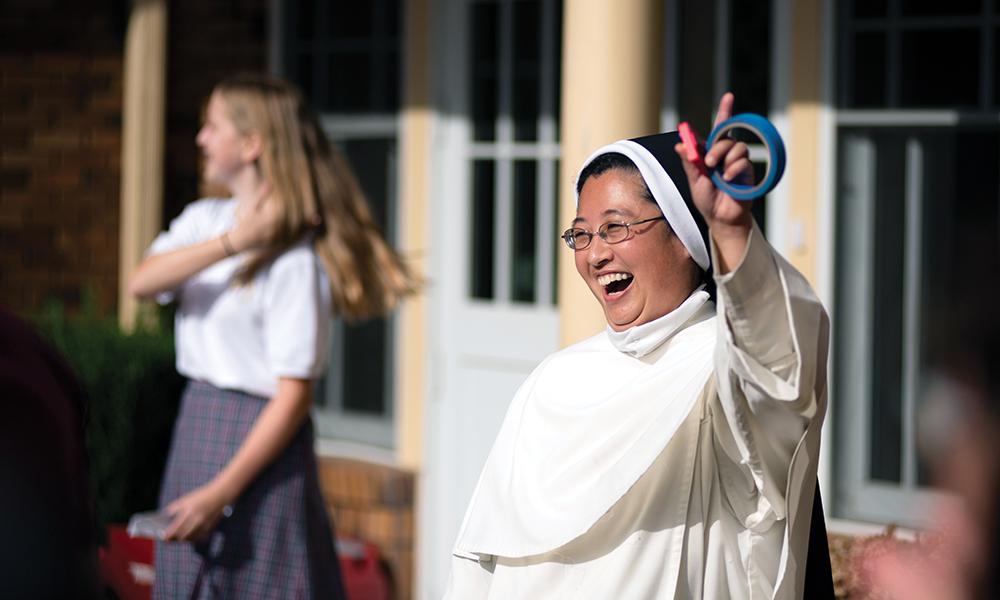 ---
Accompanying Students and Families on the Journey to Heaven
My dad is really big on goal-setting, so I was formed to set one-year and four-year goals for myself. When I began college, my goals were clear: be a medical researcher in a laboratory, a wife, and, hopefully one day, a stay-at-home mom.
However, after college, these goals started to slip away as I spent more time before the Blessed Sacrament.
When I nervously drove through the gates of the motherhouse of the Dominican Sisters of Saint Cecilia, I was overwhelmed by the sense that I had come home — somehow the sisters had always been a part of my life, and I had been a part of theirs.
As a novice preparing for my first profession, I suddenly realized that our community's main apostolate is teaching in schools. I had never pictured myself as a teacher. With growing panic, I visited one of our wise sisters in the infirmary. Sister calmly looked at me with a twinkle in her eyes and said: "Oh honey, don't you worry. The grace will be there." She was right, but not in the way that I imagined.
God's grace wasn't to turn me into a perfect teacher whose lessons were always successful. Rather, His grace taught me how to be a Bride of Christ. It is from this spousal relationship and identity as bride that I am sent into the classroom. Striving to listen to the Holy Spirit in the midst of teaching grammar and science lessons, I am asked each day to accompany my students and their families on our journey to Heaven. Together, we encounter Jesus in prayer, in the liturgy, in our studies, but especially in building up community and fellowship as the family of God. As the Church teaches in The Catholic School on the Threshold of the Third Millennium, the "Catholic school is at the heart of the Church." In this living, beating heart within the Church, I have found a joy and peace that I never planned for myself and am grateful each day for the opportunity to encounter Christ with my students, their families, and my colleagues.