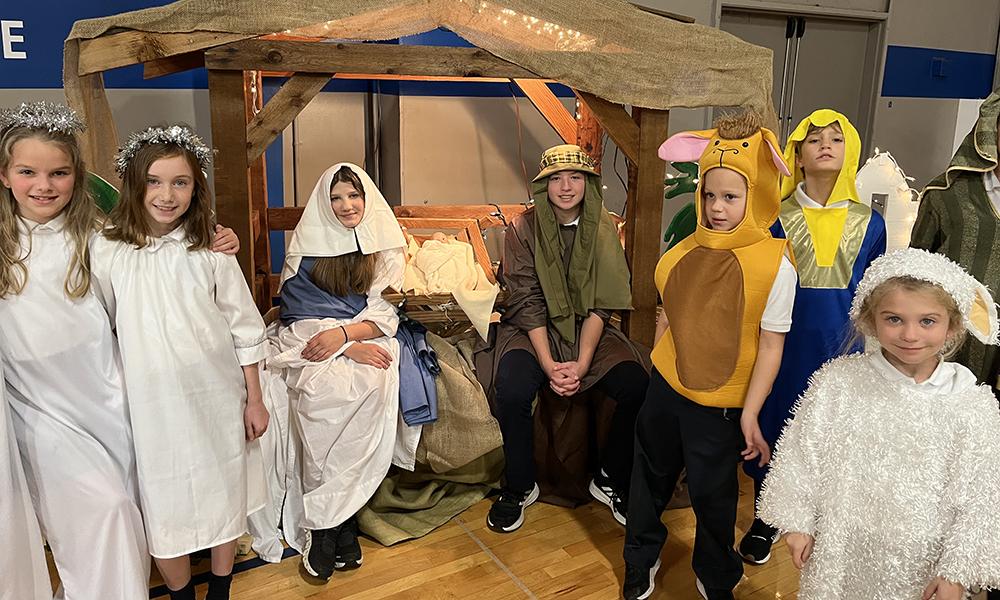 ---
Students Portray Live Nativity and Living Advent Wreath
Our Lady of Sorrows Catholic School students presented a live nativity and a living advent wreath as a part of a special holiday celebration. On Friday, Dec. 16, the children presented this very moving holiday program for family and friends.
"For the first time in two years since we were affected by COVID, we were excited to present our traditional Advent/Christmas program in person," said Principal Mary Jane Dorn. "This live rendition of the birth of Jesus and the living Advent wreath help our school community remember the true meaning of the season," she said.
The program began with the lighting of a living Advent wreath. A child represented each candle to show the world's anticipation of Christmas. In addition, students characterized a live nativity scene including Mary, the mother of Jesus, and her husband Joseph. Other children dressed as Mary's cousin Elizabeth, the Angel Gabriel, a shepherd, little angels, Wise Men, and farm animals.
"The focus of the program was Mary's important role as the mother of Jesus, the Holy Family, and the angels with the message of the birth of Jesus," said Dorn. "We try to help our students understand how the saints spent their lives working for peace."
Each grade represented biblical characters: the kindergartners as angels with halos; the first graders wore animal masks to represent the animals that surrounded Jesus; the second graders represented glowing stars; the third graders appeared as more angels; the fourth-grade girls portrayed townspeople; the fourth-grade boys dressed as shepherds; the fifth-grade girls imitated Mary; and the fifth-grade boys dressed like Joseph. The sixth, seventh, and eighth graders depicted even more townspeople. The annual Christmas program concluded the 2022 year on an inspirational note for the students and staff as they began their Christmas break.
Our Lady of Sorrows Catholic School fosters the religious, academic, and social development of every child, recognizing that knowledge enlightened by faith and realized through service is at the heart of Catholic education. Accredited by Cognia, the school provides a curriculum that combines Catholic faith and teachings with academic excellence. The school offers a partnership with parents in the religious formation of their children through a family-friendly environment to prepare students to be productive citizens and future leaders.
To learn more about Our Lady of Sorrows Catholic School, visit olsschool.com.