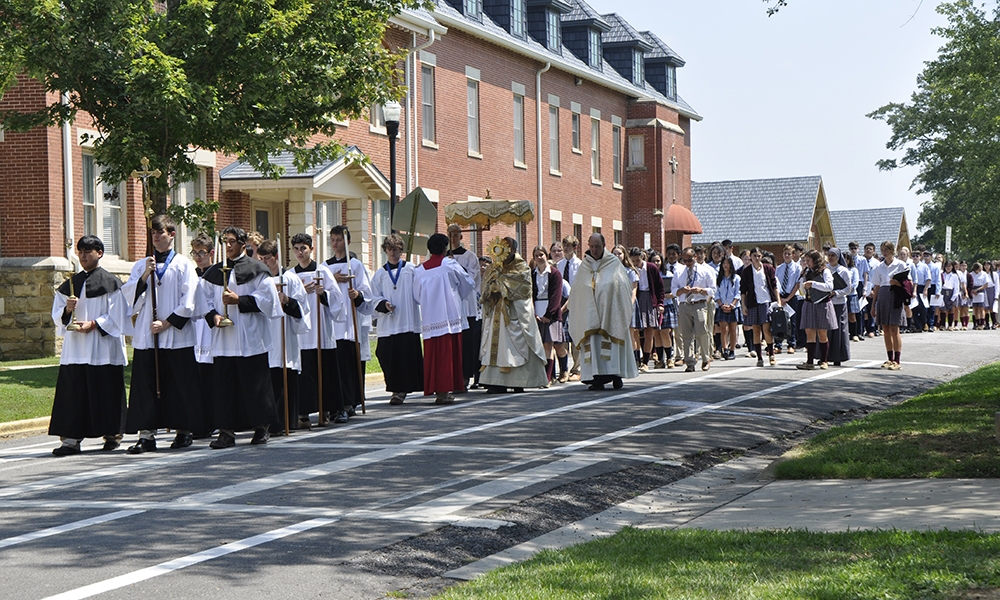 ---
St. Bernard Prep embarks on a promising new school year
St. Bernard Prep began classes for the 2023-24 academic year on Aug. 14, with great enthusiasm and a vibrant community of one hundred and twenty-four eager students. The campus buzzed with excitement as students from around the world, including Brazil, Spain, and China, converged to embark on a journey of mind, body, and spirit.
The first day of classes unfolded at St. Bernard Prep as students gathered in Room 100 of the Swisher Science Building to receive a warm welcome from Benedictine Father Linus Klucsarits, the school chaplain. Addressing the students, Father Klucsarits shared, "I evaluate no one. You always have an open door to my office, and I am honored to serve as your chaplain." This message resonated deeply with the students, setting a tone of openness and support for the year ahead.
The school's guidance counselor, Chanda Dabbs, anticipates an inspiring year ahead, both in her role as a counselor and as a math teacher. Dabbs is committed to helping each student set and achieve their goals while overcoming any obstacles that may arise.
Tim Burleson, the athletic director, took the opportunity to introduce the fall sports teams and encourage all students to participate in extracurricular activities. Emphasizing the importance of teamwork and healthy competition, Burleson motivated students to embrace the various opportunities the school offers.
Phuong Nguyen, headmaster, who previously served as the guidance counselor, addressed the students, and highlighted changes to bell schedules and upcoming activities. Student Council officers – Ezra Penner, Charley Deist, Cash Daly, and Sydney Watwood – played a pivotal role in guiding their fellow students on matters such as dress code, conduct, activities, and the importance of fostering a caring community.
In an email sent to the faculty and staff on the evening of Aug. 14, Nguyen expressed profound gratitude for their hard work and commitment in ensuring a smooth and welcoming transition for the students. He acknowledged the seamless start of the academic year, despite minor hiccups like the bells initially not functioning correctly and a few schedule changes.
Nguyen stated, "Thanks to all your efforts. Our students experienced a seamless and welcoming transition into the new academic year. Your warm smiles, encouraging words, and dedication have not gone unnoticed. Many students shared with me their appreciation for the care and attention you have given them on their first day, especially new students."
By the end of the first week of classes, students had enjoyed an array of thought-provoking discussions, hands-on activities, interactive presentations, and engaging lectures. The faculty's innovative approach to teaching was evident as students remained consistently engaged and attentive, further reinforcing the school's reputation for academic excellence.
On Wednesday, Aug. 23, St. Bernard Prep marked a momentous occasion with a reverent and joyous celebration of the feast of St. Bernard, the great patron saint of the monastery and school.
The celebration commenced with a special solemn Mass held in Abbey Church, where the entire school community, along with faculty and staff gathered to honor the legacy and virtues of St. Bernard. The Mass, led by Father Klucsarits, reverberated with hymns and prayers that echoed the deep spiritual foundation upon which the school stands.
Following the Mass, a moving procession of the Holy Eucharist took place, spanning the distance from the grand Abbey Church to the serene high school chapel. All members of the St. Bernard Prep School community walked in contemplative reflection, carrying the Eucharist in a procession that embodied unity, faith, and reverence. As Father Klucsarits said in his homily, "When we take our Eucharistic Lord in procession on the campus and into the classroom building, we say that we believe what He said, 'This is My Body, this is My Blood,' and when we sit in class we can know that He is here with us, Body and Blood, just as He said He would be."
"St. Bernard Preparatory School's celebration of our patron, St. Bernard through this Mass and Eucharistic Procession exemplifies our commitment to nurturing not only academic excellence but also the spiritual and personal development of our students," commented Father Joel Martin, O.S.B., Dean of the school. "By teaching and practicing the Christian faith and virtues, we aim to inspire our students to be dedicated – even heroic – men and women who truly give themselves for the good of the world and prepare themselves for eternal life."
St. Bernard Prep looks forward to a year of growth, learning, and collaboration as it continues to provide a nurturing environment for students to excel and flourish.
For more information about St. Bernard Prep and its programs, visit www.stbernardprep.com.