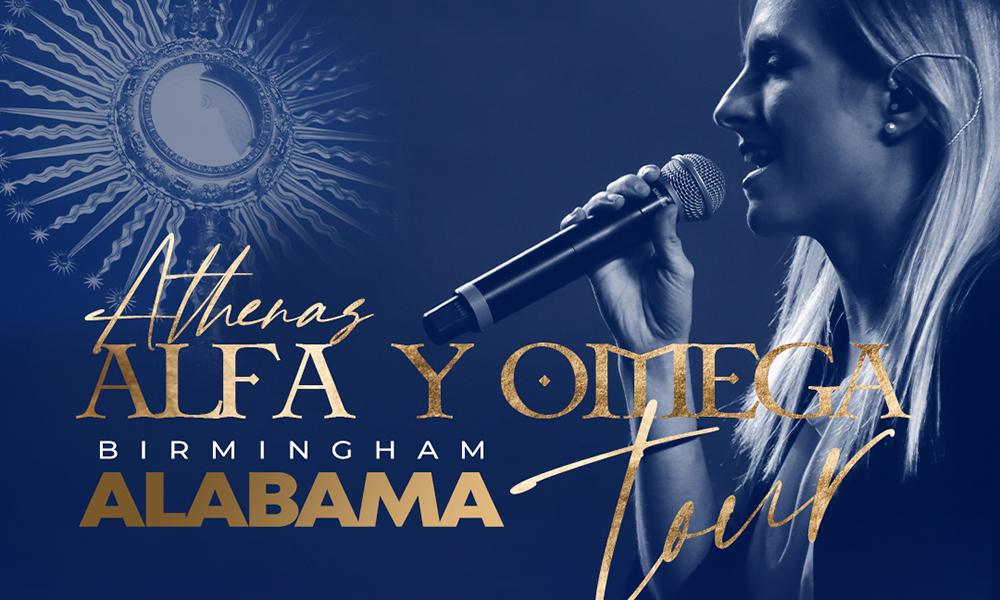 ---
Renowned artist, Athenas, to perform benefit concert
Grammy-nominated and internationally known Catholic singer, Athenas, will perform in concert on June 1 at Prince of Peace Catholic Church in Hoover. All proceeds from the concert will go to help the diocesan Catholic Charities and Communities campaign reach its 2023 goal.
Nearly four thousand families have pledged or donated to the 2023 Catholic Charities campaign; however, the campaign has not reached the $4.6 million goal for this year, which will affect funding for the bishop's ministries that support those in need throughout our diocese, formation in the Catholic faith, pro-life ministries, campus ministries, youth programs, and discipleship.
Athenas has not been on a major tour since giving birth to her first child in 2021, but has performed a number of shows including sold out concerts in Miami, Florida; Greenville, South Carolina; and Hartford, Connecticut. Most recently, she became the first Latin American performer invited to perform at Abbey Fest in Pennsylvania, singing before 10,000 people alongside Matt Maher and other Catholic artists.
When Athenas heard that the Diocese of Birmingham campaign had not reached its goal, she offered to perform a benefit concert. Thanks to the generosity and sponsorship of Prince of Peace parish in Hoover, the idea has quickly become a reality.
The two-hour show will begin at 6:30 p.m. and feature a time for eucharistic adoration. Doors open at 5:30 p.m. with food available for purchase prior to the show. Due to limited seating, only 1,200 tickets will be sold. Tickets are $30 for adults and $15 for ages 8-12. To purchase tickets, please visit  www.simpletix.com/e/athenas-concierto-tickets-133139. The church is located at 4600 Preserve Parkway.
Please consider donating or pledging support to Catholic Charities and Communities. To learn more, please visit www.catholiccharitiesbhm.org/give-now.html.