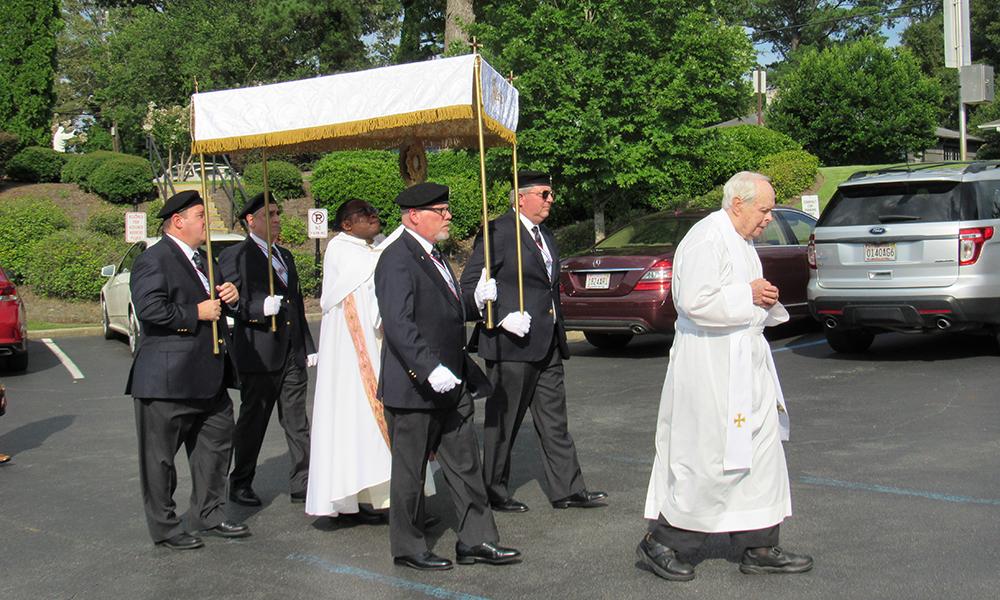 ---
Our Lady of Sorrows Celebrates 30 Years of Perpetual Adoration
Committed Adorers and Substitutes Honored
Perpetual eucharistic adoration thrives at Our Lady of Sorrows Church (OLS) as the parish celebrates the 30th anniversary of the devotion. Parishioners gathered on Aug. 13 to mark the occasion. The celebration began with a procession including pastor Msgr. Martin M. Muller and associate pastor Father Eric Gami carrying the monstrance accompanied by members of the Knights of Columbus Council 4304 as honor guard. Benediction was followed by the Holy Sacrifice of the Mass celebrated by Msgr. Muller. Hundreds of red roses representing each committed adorer were displayed as were white roses representing committed adorers who died since the last anniversary. "We cannot thank all of you enough," Msgr. Muller said during the Mass. "Suffice it to say this is the greatest offering of Christ to the Father."
After Mass, committed adorers, substitutes, and families enjoyed a catered appreciation dinner in the Family Life Center. They were joined by Msgr. Muller and Father Gami.
In 1981, Pope John Paul II established perpetual eucharistic adoration at St. Peter's Basilica and urged parishes to do the same. OLS is one of the few chapels that livestreams adoration, allowing people from over 100 countries to pray with the parish. Perpetual adoration at OLS was founded on Aug. 15, 1992, by two parishioners, the late Mary Claire Brouillette and the late Ida Wilker.
---
Photo cutline: Associate pastor Father Eric Gami carries the monstrance accompanied by pastor Msgr. Martin M. Muller and the Knights of Columbus, celebrating 30 years of perpetual eucharistic adoration at Our Lady of Sorrows Church in Homewood.