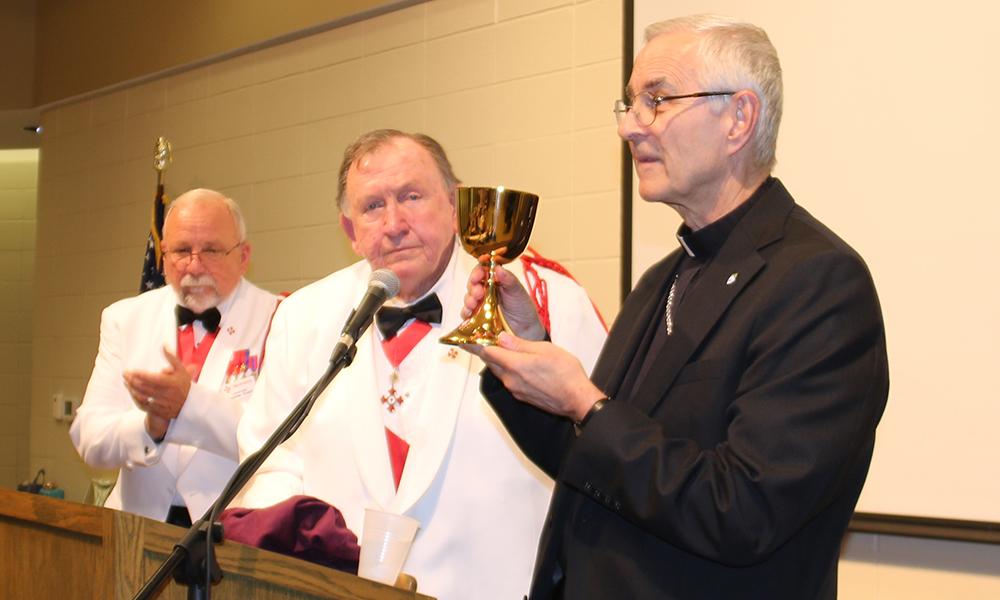 ---
Order of the Fleur De Lis Presents Memorial Chalice
The Order of the Fleur de Lis is an organization of Catholic men incorporated under the laws of the state of Louisiana as a not-for-profit organization. The order's domain is a five states region consisting of Alabama, Arkansas, Louisiana, Mississippi, and Tennessee.
The objectives of the order include supporting and defending the Holy Catholic Church and its teachings, promoting patriotism and good citizenship, encouraging public morality and unselfish service to God and country, assisting and publicizing the activities of other organizations which also promote the above, and memorializing and popularizing the memories and achievements of Catholic leaders in religion, the arts and sciences, philanthropy education, exploration and archeology, government and international relations, medicine and jurisprudence and other established professions.
On Saturday, Aug. 20, the order presented a memorial chalice to Bishop Steven J. Raica, Bishop of Birmingham. Bishop Raica joined the Order of the Fleur de Lis in September 2021. The order annually memorializes its deceased members for the prior year. In past years, the chalice was designated for the Archdiocese for Military Services; however, this year, the archdiocese did not have a need. This year's chalice memorialized the following Knight Commanders: Grand Chancellor of Honor Robert S. Peters, Jr. of Arkansas, Reverend Jack Nutter of Louisiana, Robert Rounsefell of Tennessee, George Wedge of Louisiana, William Gunter of Tennessee, and Ronnie Boudreaux of Louisiana.
The Order of the Fleur de Lis encourages and recognizes leadership in living the values and principles of our Catholic faith by presenting the Msgr. Joseph Susi Award of Honor to an individual who has excelled as a Catholic leader in any one of the following: religion, family values, youth, aging, politics, patriotism, the arts and sciences, education, philanthropy, public morality, management-labor, the media, medicine and jurisprudence. The 2022 winner was Sharon Ryan Rodi of Metairie, LA.
---
To read Bishop Raica's homily from the order's annual convention Mass, please click here.