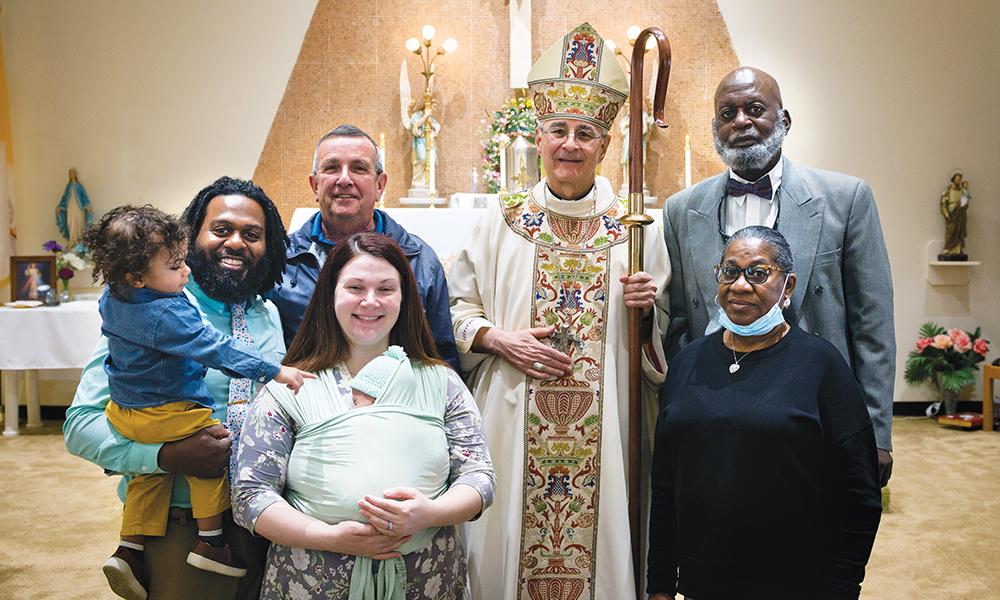 ---
'One of the Most Beautiful Mission Churches …'
St. Joachim Celebrates 60th Anniversary
In many circumstances, great things are born of modest beginnings. Historically, Catholics in Alabama have been a minority, especially in rural areas. Mass was usually held in family homes and was rather infrequent. One Catholic and Piedmont resident, Christine Adderhold, wanted to offer what she could to help fellow Catholics in the area. In 1960, she donated two acres of land with the hope that a church would soon be built.
Not long after Adderhold donated the land, Father Frank Giri, pastor of Sacred Heart in Anniston, approached Archbishop Thomas J. Toolen with the proposal of building a mission church in the little town not too far from Jacksonville. The archbishop approved, and Father Giri said the first Mass at St. Joachim on June 1, 1961. It was named in honor of the father of Mary, the Mother of God, at the request of the late Archbishop William O'Brien, former president of the Catholic Church Extension Society, who made a $10,000 gift.
On April 1, 1962, Archbishop Toolen dedicated the church and remarked that the church was "one of the most beautiful mission churches built in the diocese." Over the course of the church's history, 11 other priests have served the parish, including Fathers Frank Giri, Donald J. Grainger, Peter McDonald, Roland J.P.M. Inkel, Patrick J. Tierney, Timothy Burns, Kevin Cooke, William Lucas, Alan Mackey, James Macey, and James Handerhan.
The current pastor, Father Thomas Nattekkadan, welcomed Bishop Steven J. Raica for St. Joachim's 60th anniversary Mass on Jan. 30. The joy and excitement of the day were evident not only in the seemingly perpetual smile on the face of Father Nattekkadan, but in the demeanor of every parishioner present.
The celebration began with Holy Mass celebrated by Bishop Raica and concelebrated by Father Nattekkadan. Father Justin Ward, Vicar for Sacred Liturgy, acted as Master of Ceremonies, while Deacon A.B. King assisted. During his homily, the bishop said, "This church is a testament to the vibrancy of our Catholic faith here in northeastern Alabama."
Following the anniversary Mass, parishioners invited the bishop to join them for their weekly lunch gathering. The beautiful church building may be small in size, but what the church lacks in physical stature, it makes up for in heart, hospitality, and vibrant faith. Knowingly or unknowingly, the parishioners exemplify what Father Casimir Cichanowicz, S.S.E., said in his homily at the church's dedication six decades ago: a Catholic church "is a life to be lived. The life of the church is the life of Christ. Holiness is Christlike living."