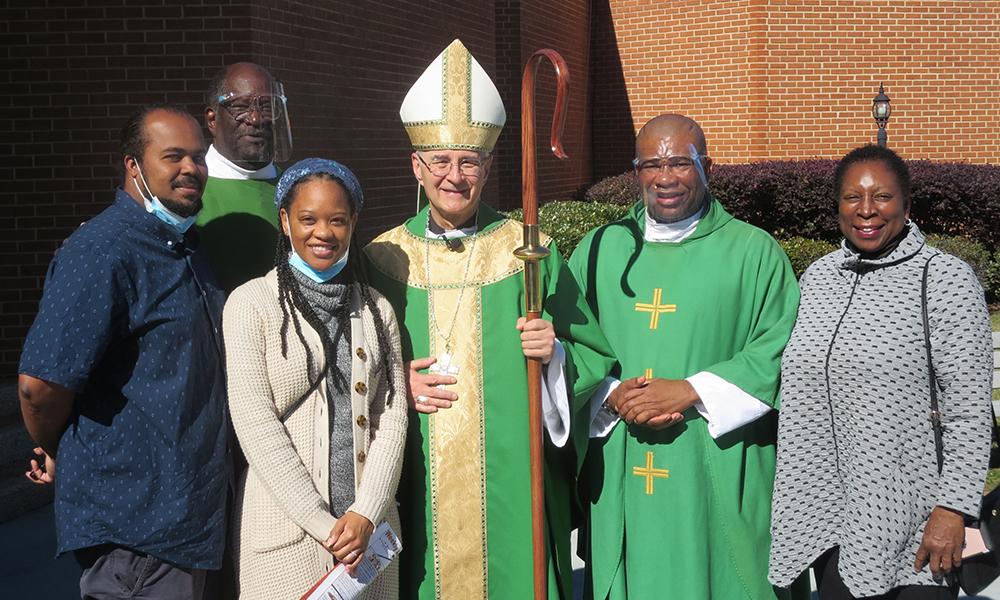 ---
More Than Just Two Cents
Bishop Raica Celebrates Mass at Our Lady of Fatima
On Nov. 7, Bishop Steven Raica celebrated a Unity Mass at Our Lady of Fatima in the historic Titusville neighborhood of Birmingham. The full text of bishop's homily follows herein.
My sisters and brothers in Christ –
Thank you, Father Ani, for the kind and thoughtful invitation to be here to celebrate Mass today. As we enter the month of November, several main themes emerge. We begin with a kind of a blow-out – all the saints and those saints in waiting. We conclude the month with glorious triumph of Christ the King and then the First Sunday of Advent – waiting with bated breath for the coming of Christ in all of glory and expectant waiting for the birth of Christ at Christmas. It's kind of a slide into these days when we think about our eternal destiny and goal, and at the same time, find time for family at Thanksgiving and our preparation for the birth of the Christ child again.
Our readings help us in an extraordinary way to look at what Christ is doing – oftentimes through people He observes or through people connected with Him, but whose names we don't know.
In fact, we might say that this weekend's readings illustrate, in a compelling way, the plight of widows. Perhaps we could call this Sunday: Widow or Widower Sunday! But today, it's the widow's mite that becomes her real might! Think of it, to be a widow in a society where everything depended upon your family - especially if she were the last survivor - would have been an enormous burden on any individual. Yet today, we have the example of two Jewish widows (first reading and Gospel) who give us Christians some insight into our responsibilities with regard to the practice of our faith and to our role in the world.
Let's take a look at the widow from the Gospel first. It is curious that, can we say here again, we don't know her name. There are a number of people in the Bible whose names we will never know - the shepherds, some of the disciples of Jesus who were part of the famous 72, the Samaritan woman at the well, the couple whose wedding Jesus attended at Cana – we don't know their names or how Jesus knew them, and so on. What is noted, above all, is her action! She comes to the temple – probably something she did every week or even every day as a sort of consolation -- and she drops some coins in the temple treasury. Moreover, her simple action caught the sight of the Lord who used what He observed to illustrate something more important to His disciples. Jesus noted the fact that she put in a couple copper coins, a relatively insignificant amount. What He said to them was that the amount was not important. What it represented was significant, indeed! It was a manifestation of her heart's desire that was more important. It was her desire to express her solidarity with the mission of the Temple. It was a giving "all she had" to something she believed in. It was a way she could demonstrate – this is worth it! She was totally invested.
It is not only what is put into the temple treasury that mattered but giving, as our Lord termed it, "All she had."
Every Christian recognizes that our participation in the world is not a passive one. In our communities, both civic and religious, we have a lot of well-intentioned people – but not as many who truly follow what they believe.
We have a message and a story to tell. We are convinced that our entire life is a gift. We could never give back to God totally what has been given to us in any conceivable commensurate way. Our giving back is a mere, measly token – even on our celebration of Thanksgiving.
---
Through this parable, it seems clear that Jesus is asking for something else: He's asking us for ourselves – our total selves. He wants to be with us, to walk with us, to show us the great gifts of creation, to say, "Do you see this creation all around you – the sky and stars above, the rivers and lakes, the trees in all their autumn radiance, beauty of what life can be."
---
[He wants us] to encounter Him and see Him reaching out to us, shouting through our deafness to get our attention! … After all, it is He Himself who answers what our hearts are longing for.
Each one of us is called in a unique way to share in God's life. We are called. Yes! Every Christian has a vocation! God has a plan for each one of us - whether we are married, single, young, or not so young anymore, sick or healthy, poor or wealthy - our lives have a meaning that goes well beyond our mere physical presence. I pray that those who are being called will respond generously and courageously to follow the path that Christ is setting out before them. Often, it is a gift of what we perceive to be our lives, giving all we have for the sake of the mission.
There is something in us that reminds us of all we lack and what we need and what we hunger and thirst for in our hearts. No matter how we try to satisfy this lack, it will never quite totally be enough. We recognize that our only hope is in Christ, ultimately, Whose presence among us answers our deepest needs and calling like finding the shoe size that finally fits – for each person it's different and only one size fits me. It is Christ Who calls us to something greater, something beyond. Without Christ, we cannot live! As the widow relied on her steadfast faith in God, so do we rely on Christ.
Perhaps the discovery of the widow in the Gospel was that she knew that somehow and someway she was never really alone. Putting in her two cents was one way of acknowledging the presence that walked with her in her own struggles in life and becomes a source of gratitude for what she had - or what little she had - knowing deep down that the gift of life was something she could never totally and completely repay God for. Through it, she knew that she would have a treasure that she could never have found in any other place – one that motivated her efforts to "love God and neighbor."
In a similar way, the widow in the first reading (the other widow this weekend) saw beyond her limitations of resources to see her charity redound back to her as an unexpected blessing!
These next two months are filled with opportunities to give of ourselves, our time, and our resources to demonstrate our love of God and neighbor – that we are truly brothers and sisters all. I think especially of Thanksgiving with family and neighbors, of Veterans' Day – to honor those known and unknown who have fought for the many freedoms we enjoy and take for granted - of the spirit of sharing as we head into our Christmas season that may be more challenging for some this year because of disruption in our international supply chains.
Finally, while it is not often acknowledged, those who serve as volunteers in an array of initiatives throughout the community help to put a human and, as Christians, a Christ-like face in our hospitals, aid facilities, airports, churches, charity and civil protection agencies. Thank you for your dedication and self-less contributions that are not always acknowledged and, at times, not always visible.
In the early Christian community up to the present day, this poor unnamed widow has inspired more work of charity than we can ever imagine. Given the analysis of the Lord, more than her two cents, what is important is the spirit in which we participate in those things that matter most to us. It is that which repays us with an inner sense of joy and gratitude that we have, in some small way, made a difference - and at times, a big difference, in someone's life.
May Our Lady of Fatima remind us of the love that God has for each of us who is concerned above all for our ultimate destiny – union with Him.