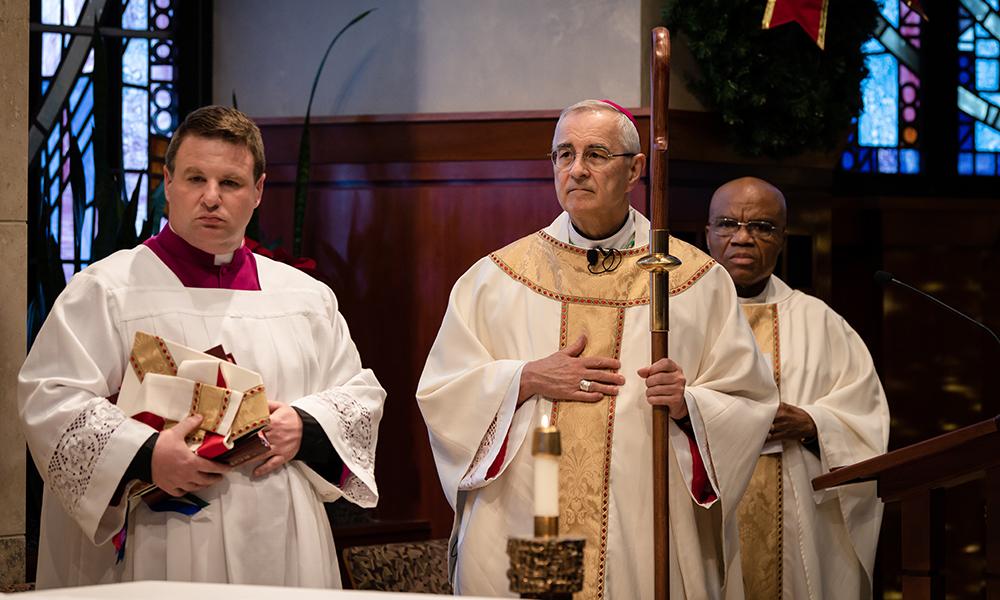 ---
Marking 125 Years
Ascension St. Vincent's Birmingham Opens Yearlong Anniversary Celebration With Mass
The chapel at Ascension St. Vincent's Birmingham is nestled off to the side of the main hospital, offering a quiet place to encounter the Lord in the Blessed Sacrament. On the morning of Jan. 4, the small, stained glass-filled chapel was full of worshippers. The occasion was the opening Mass of the hospital's yearlong 125th anniversary celebration. Bishop Steven Raica celebrated the early morning Mass with hospital chaplain Father Paul Asih concelebrating. 
Looking back at the hospital's inception, the bishop noted, "Through its professional expertise, it brought hope to a new growing city in the deep South." Over the course of the next 125 years, Bishop Raica affirmed that St. Vincent's "has played a significant role in the health and welfare of the citizens of this community." After reminding those present that the late Father James Coyle, the pastor of St. Paul's murdered in 1921, was brought to the hospital "for his final moments," the bishop concluded,
"At the 125th anniversary, we rejoice with your accomplishments. At the heart of what you do is the very healing of Christ. We can do nothing without Christ! That witness is focused on the care that you continue to offer as you achieve newer efficiencies of service. … May God bless and prosper your work!"
Ascension St. Vincent's Birmingham began with an 1897 letter from Bishop Edward P. Allen to Mother Mariana of the Daughters of Charity. At that point in Birmingham's history, the population stood around 100,000 residents; however, the city had no hospital. Mother Mariana was favorable to the idea and on Dec. 20, 1898 when the doors opened, four Daughters Charity, Sisters Benedicta Roach, Patricia Malloy, Antonia Hanrahan, and Placida Scott, became the first nursing staff.  
Over the next 125 years, the hospital would mark numerous milestones, eventually growing to include five hospitals and several healthcare facilities employing nearly 5,000 associates. Being dedicated to "improving the health and well-being" of those served, in 2022 alone the network provided more than $64.7 million in community benefit and care for those in poverty.
---
For more information on the yearlong celebration, please visit their website.
For Bishop Raica's complete homily, click here.