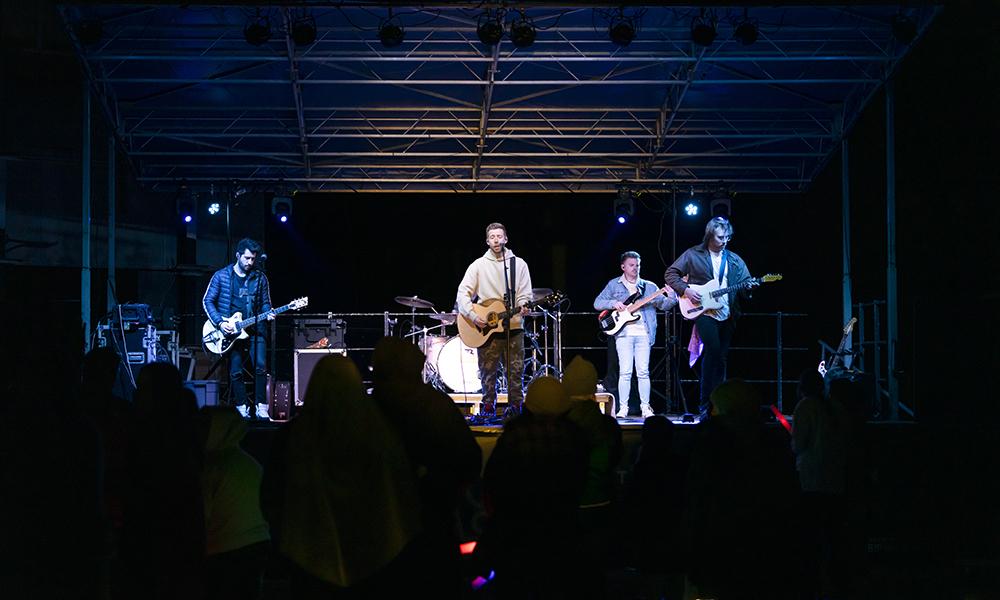 ---
Making Noise for the Lord
Diocese Holds First Ever Christ the King Music Festival
The first ever Christ the King Music Festival, or CTK Fest, was held on Saturday, Nov. 19, at John Carroll Catholic High School in Birmingham. The day provided a unique blend of praise and worship, fun and games, and opportunities to receive the sacraments. The weather was crisp, but clear. The environment was relaxed and peaceful. The music was phenomenal.
CTK Fest featured five national Christian music artists, including chart-topper Joel Vaughn. Connor Flanagan, a Catholic hip-hop artist, got the crowd fired up and on their feet for his entire set. Artists Dana Catherine and Adam Olmos brought a beautiful blend of original singles as well as traditional praise and worship songs.
Bishop Raica celebrated the Solemnity of Christ the King in a starlit Vigil Mass. In his homily, Bishop Raica echoed the words of Pope St. John Paul II and Pope Francis' declaration that young people should "make noise!" and live their "Christian faith boldly and without apologizing" because they have "an experience of Christ that must not remain hidden." He stated, "Christ is working through you to keep the Church young and vibrant." Following Mass, Father Justin Ward led those present in Eucharistic Adoration under the night sky.
CTK Fest brought youth from around the diocese for prayer and sacraments but gathered them in fellowship to play soccer, listen to music, and enjoy tasty food from various food trucks. Several priests were also present throughout the day to offer the sacrament of reconciliation.
Lollie Wilson, a middle school teen at Our Lady of Sorrows Parish, said, "It was so fun. It was a full day and I wish it was 24 hours. There was music and all the food trucks were amazing. And we got to do the soccer tournament! It was amazing!"
"I had so much fun at CTK praising Jesus with my friends," exclaimed Prince of Peace high school teen, Hayes Cation.
National speaker Michael Marchand from Project YM spoke about the persistence of Gideon and how the young Church can have a similar impact on their faith today because no action is too small to contribute to the building up of the Kingdom of God.
"CTK Fest is leaps ahead of what is happening elsewhere," stated Joel Vaughn, who has played at multiple first-time festivals this year and is best known for his single, "Friend."
CTK Fest was created in response to Pope Francis' call for the Church to celebrate youth on Christ the King Sunday. Regarding the feast, the Diocese of Birmingham has a history of honoring the day. Eucharistic processions were once held from the Cathedral to Rickwood field.
In more recent years, the diocese has offered an annual Eucharistic Youth Congress (EYC) at the Shrine of the Most Blessed Sacrament in Hanceville during the month of October. This year, to encourage participation in the Diocesan Family Festival, the EYC was canceled. As a result, the Office for Youth Ministry saw an opportunity to provide a new experience for youth. CTK Fest was designed to create a space for the young Church to gather and simply be together in fellowship in the presence of Christ.
With the excitement and momentum generated by the first CTK Fest, the Diocese of Birmingham is hopeful to continue this tradition on Oct. 28, 2023, at John Carroll Catholic High School.
---
For pictures and videos, see @ctk_fest on Instagram.
To read Bishop Raica's complete homily, click here.