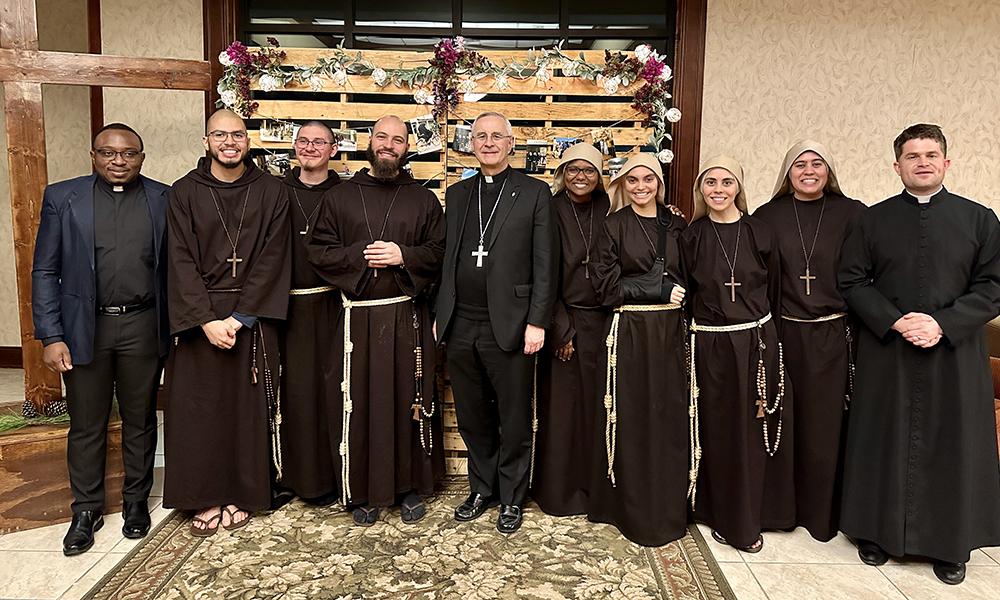 ---
Local Catholics Gather to Support the Poor of Jesus Christ
Two years ago, at an Arise Rush get together, Sister Clara of the Poor of Jesus Christ, was speaking to Laney Gagnon, a local Catholic, and mentioned they needed to raise funds for their visas in order to be able to stay in the United States. Gagnon shared the request with a few friends who all had been involved in helping the Friars and Sisters of the Poor of Jesus Christ (PJC) since their arrival in 2018.
After some brainstorming, the idea to host a fundraising banquet was suggested. The idea came to fruition, and the first fundraising banquet was held at Our Lady of the Valley Catholic Church in Birmingham in 2021. More than 260 people attended, and approximately $60,000 was raised. A very generous donor paid for the sisters' visas, and the money raised went to help the friars and sisters with daily and monthly expenses.
This year, the second banquet was held on Dec. 1 with approximately 180 people from parishes throughout Birmingham and beyond. Once again, the banquet was held at Our Lady of the Valley Church. The social hall was beautifully decorated by volunteers lead by Michele and Abb DiPiazza along with Patti Kyle. The theme incorporated the Advent season with the simplicity of the Poor of Jesus Christ mission. Bishop Raica opened the night with a beautiful prayer. Tre Luna prepared the delicious dinner, and the music was provided by Frederick Pollman.
The night also featured the very popular and successful raffle where local Catholics along with a member of Hunter Street Baptist Church donate some awesome prizes. $5,500 was raised through the raffle this year.
During the evening Sister Luz spoke on the history of the PJC, and Friar Leticio spoke on their mission which not only involves feeding, praying, and developing personal relationships with the poor, homeless, and addicted but also includes spiritual direction for Catholics, retreats, and days of reflection for church groups or parishes. Friar Leticio also shared a video that highlighted a few of the homeless to whom the PJC and volunteers minister. Kathy Moates gave a heartwarming talk on volunteering and how the ministry has impacted her life.
The final presentation was given by Vincent Lombardo, a local Catholic architect, who has been working on the plans for an expansion of the sisters' current house on the property of Blessed Sacrament Catholic Church. Presently, three sisters live in this home. They would like to expand the living/dining area, add a 2nd bathroom, have space for a chapel, and additional room where new sisters would come to be trained before they are sent out to various cities on mission. The plans for this expansion are still in the planning stage. As a result of this year's banquet, $30,000 was raised for the PJC. For more information about how to help the PJC, please call 205-578-6741.