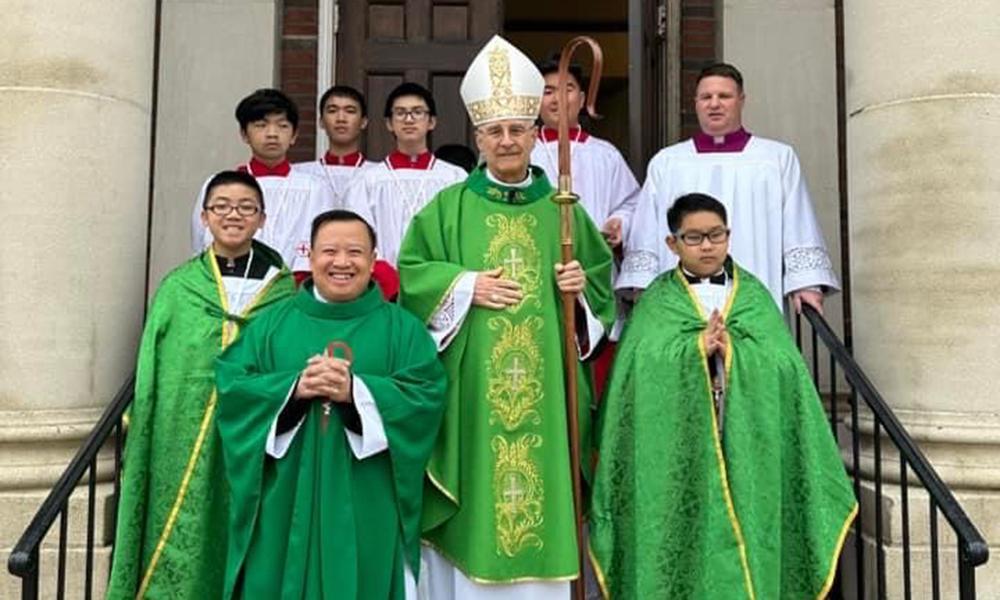 ---
'Let this radiant light of Christ shine forth here at Our Lady of La Vang'
Father Vu installed as pastor
On Jan. 22, Bishop Raica celebrated Mass at Our Lady of La Vang Parish in Birmingham. During the Mass, the bishop installed Father Douglas Vu as pastor. The complete text of the bishop's homily follows herein.
My brothers and sisters in Christ, how good it is to be here today and have the occasion to install formally Father Douglas Vu as pastor of this parish – Our Lady of La Vang! Thank you for your welcome! It taken me awhile to get here, and I'm glad to have the occasion to be with and pray with all of you today!
The rite of installation itself is rather simple and straight forward. But it is a reminder of the very special duties and responsibilities a pastor has to fulfill as a teacher or one who instructs, one who sanctifies or one who celebrates the sacraments for the spiritual edification of those he's charged to serve, and one who pastors or shepherds which we know as pastoral administration of this local community. All these elements are bound together and tied to the gifts that a particular priest brings. Father Vu has the right combination of gifts at this particular time to be a steadfast witness to Christ here at Our Lady of La Vang. I have been waiting for this opportunity to install you formally in these responsibilities.
I also thank Father Andrew for his dedication to priestly ministry here. He, too, has a pastoral heart that looks after all.
There is a unique line-up of events that make today's celebration even more meaningful – and any one of them would constitute a homily or teaching in and of itself. 
Pope Francis established this Sunday – the Third Sunday in Ordinary Time as "Word of God" Sunday. It focuses on the Scriptures / the Bible and its foundational role in our faith. Indeed, we hear from the Bible every Sunday and at every Mass / liturgy we attend. The Word of God, we could say, and it's true, is God's love letter to us. In it, we learn about God, His son Jesus Who is our Lord and Savior and is the Word-become-flesh, and the powerful role of the Holy Spirit in creating us anew. We also hear about the early Church and how they lived their lives founded on God's Word and the very experience of Christ. They tried hard to conform their hearts and minds to Christ. 
So too, Father Vu, as pastor you are to teach the truth of our faith, grounded on an encounter with Jesus Christ, for which the Church has an established and clear guarantee that one could find salvation only in Christ here in the midst of His community. Through an encounter with Him – through Word and Sacrament. Don't be sidetracked by those seeking to disrupt the unity that Christ prayed for! For those who do so are not of Christ as St. Paul reminded Timothy and Titus!
Today we hear echoes again from Advent and Christmas in the prophecy of the great prophet Isaiah: "The people who walked in darkness have seen a great light; upon those who dwelt in the land of gloom a light has shone." In the second reading, St. Paul warned the Corinthian community about not spreading gossip, especially to divide one from the mission of Christ. Rather, leave those divisions and divisive activities behind. "Be united in the same mind and in the same purpose," St. Paul urges. I implore all to be united in mission. Likewise, every parish has its unique aspects that radiates a unique brilliance and luster. All here belong to Christ through one faith, one baptism, one Lord, Jesus Christ and boldly professed!
The Gospel from St. Matthew draws on the words of Isaiah and speaks of that light that has arisen along with the call that Simon Peter and Andrew heard when they encountered Christ. "Come after Me," they heard, "and I will make you fishers of men." They joined James and John – from the Zebedee clan. I don't know what the father thought when his sons, suddenly and without warning, left the nets and the family business behind and began to follow Jesus. But, it is as though it were so urgent that anything less would not do. It became absolutely necessary to proclaim the Good News of the Kingdom, teaching and healing individuals from illness and disease. 
That's what the light of Christ does for us. When we proclaim Christ, we become light of the world. We don't have to be blasting out at a blinding 1000 watts of light or lumens or whatever they call the unit of light today. Even a small light can be enough to attract one so that one can find the way out of the darkness into the light of Christ. Whenever we baptize a child, a small baptismal candle is lit from the giant Easter candle accompanied by the prayer: "This light is entrusted to you to be kept burning brightly so that your child, enlightened by Christ, may walk always as a child of the light and, persevering in the faith, may run to meet the Lord when He comes with all the Saints in the heavenly court." 
So, Father Vu and my friends here today, in proclaiming the Word of God, may we come to know God's love for us. It is the magnificent and unforgettable story of salvation. It is our treasure! It is a message of hope and glad tidings of great joy. God didn't abandon us. He didn't send us a political party or statesman. He didn't send a committee or a guru. He sent us His Son, Jesus, as our Savior. He is the solid rock of the Church. Through His death and resurrection, and the early apostolic witness, He formed us into vibrant faith communities to exemplify a new way of living. While none of us is perfect, we must keep our eyes fixed on Christ! Even so, with the grace of God poured out upon us, we can live a new way, abandoning hopelessness and seeking to unite ourselves in a mission of love. As pastor, Father Vu, let this radiant light of Christ shine forth here at Our Lady of La Vang. May Jesus our Savior be praised in all things!