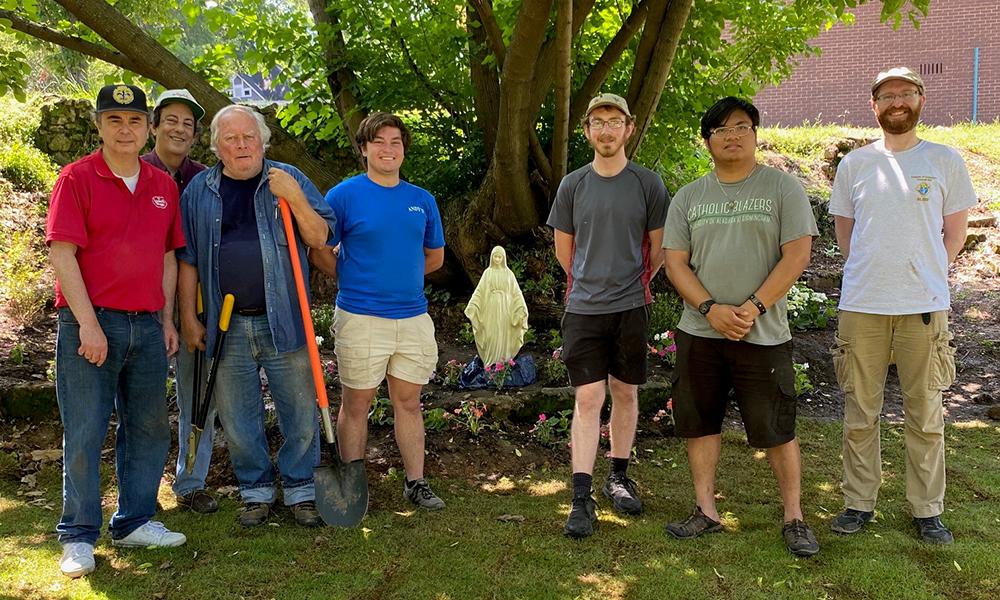 ---
Knights of Columbus and university students join forces
On Saturday, May 13, members of the Knights of Columbus Council 635 and Birmingham area Catholic university students held a joint workday towards the completion of a new Marian Garden located on the grounds of St. Stephen the Martyr Catholic Chapel. The garden's design and concept originated from the students with the guidance of Father Bryan W. Jerabek, who also serves as chaplain for the Birmingham area university students. The Marian Garden will occupy what once was an unused portion of land located on the east side of the St. Stephen property. The workday included site cleanup, planting of flowers/shrubs, and installing the statue of Mary.
Additionally, and in the early phase of the project, the Knights of Columbus Council 635 provided labor and equipment for the site preparation and made a financial contribution toward the garden's budget. A Council 635 member also played a key role in having the statue of Mary donated.   
Membership in the Knights of Columbus Council 635 is open to men 18 years of age or older who are practicing Catholics in union with the Holy See. If you are interested in joining the Knights of Columbus Council 635, please email council635gk@gmail.com.