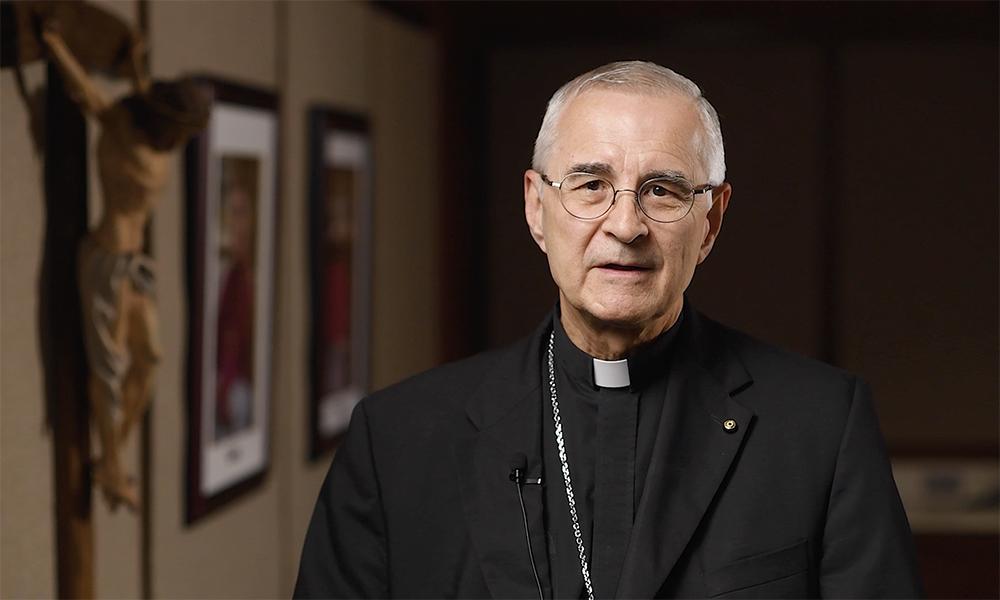 ---
'Keeping Our Eyes Fixed on Jesus'
On Sept. 7, Bishop Raica filmed the latest episode of his Grace & Peace video series. The complete text of the bishop's remarks follow herein.
My friends, "Grace and peace from God our Father and from Christ Jesus our Lord be with you!" (2 Tim 1:2)
It has been a couple months since I taped an episode of Grace and Peace. It's good to be back after a summer break! As our pastoral year gets underway, we pick up on various themes of the Eucharistic Revival, we are already beginning to have some pieces fall into place.
With the amazing Eucharistic Procession on Corpus Christi Sunday at the Cathedral last June, we have been hearing about an uptick in adoration and Mass participation around the diocese.
One of the great blessings I have had recently was to bless the Perpetual Adoration Chapel at Holy Spirit Parish in Huntsville last Sunday afternoon. In my own mind, I had doubts about how many would attend on a Sunday of a holiday weekend. But you know what, the attraction to have a beautiful place where Christ can be honored and adored brought out a sizeable crowd of parishioners. This chapel will be a focal point of blessings for many throughout the Huntsville area. Keeping our eyes fixed on Christ is what keeps our priorities right, which leads me to my second thought.
A diocese is not only divided into parishes but also deaneries, or groupings of parishes usually in a geographical region. Meeting with the priests and deacons at deanery gatherings, I am able to listen to their concerns and have an opportunity to share what is on my mind as well. As we embark on this path toward the Eucharistic Revival, I suggested that we take to heart the words found in Hebrews in the New Testament: "Keep our eyes fixed on Jesus!" In the Eucharistic chapels and in our parishes, we have a chance to do just that. Stopping by for a quick visit or spending an hour with our Lord will help us keep our eyes focused on the One Who gives us life and purpose. Being in His presence, we have the opportunity to listen carefully in our hearts what our mission is.
I commend to you to this venerable spiritual practice as a way to deepen your relationship with our Lord, especially during this time of Eucharistic Revival. I anticipate we will see abundant blessings and amazing things happening because we have "kept our eyes fixed on Jesus." May God bless you!