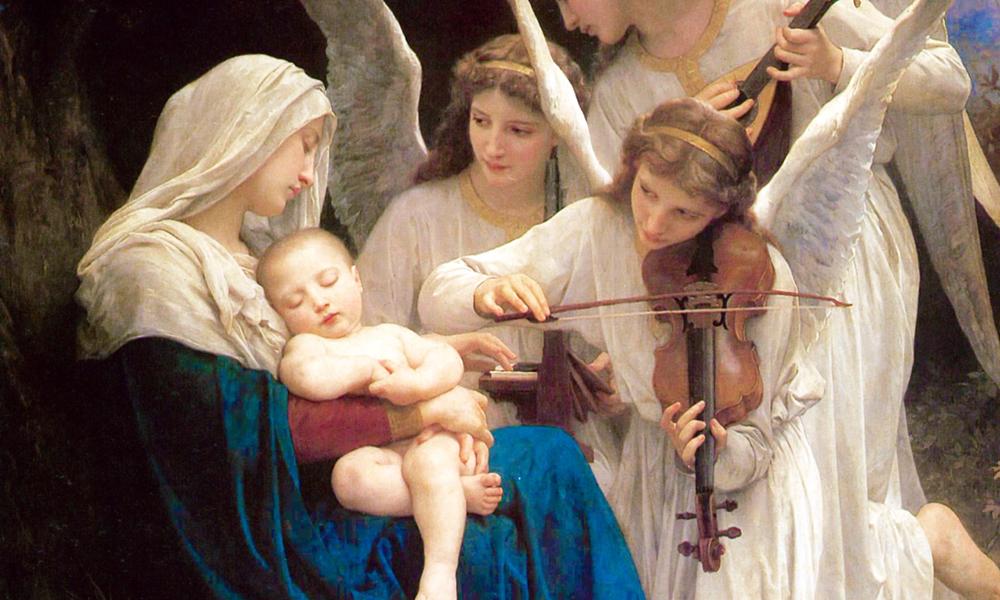 ---
'Grow in Faith, Hope, and Love'
Bishop Raica Marks Beginning of 2023
On Jan. 1, Bishop Raica celebrated Mass at the Cathedral of St. Paul, marking the Solemnity of Mary, Mother of God and the first day of 2023. The complete text of his homily follows herein.
My brothers and sisters in Christ, we gather as a Christian community of believers to express our gratitude for this previous year and welcome in the New Year as another opportunity for God's grace and favor to work among us. What a blessing it is to gather around the table of God's Word and the table of the Eucharist to give Almighty God the only thing we can in return – the continued sacrifice of Christ made present so that the saving power of Christ can touch us and heal us even today!
In particular, we are saddened today by the passing of Pope Emeritus Benedict XVI. We join everyone around the world in praying for the repose of his soul. As he returns to the Father's house, we remain grateful for his teaching and vibrant witness to the love of Christ he leaves as a lasting legacy. Various events have been planned to commemorate him and pray for him this week. A Mass of remembrance will be held here at the Cathedral on Tuesday, Jan. 3, at 7 p.m. I hope you can join us as we commend Him to the loving and merciful arms of our Lord. May he rest in peace!
On behalf of Father Bryan, Father Adams, and myself, I extend to each of you a very Happy New Year! It sure seems to come faster and faster every passing year! I pray that you had a moment of great appreciation of family and friends during this Christmas season. But wait, that great moment of celebration is not done yet! Christmas is not the end – it is a beginning, too! It continues through Epiphany Sunday and the Baptism of the Lord – one more Sunday this year!
Here we are, once again. It's as if we are starting over again. God seems to have a habit of starting over with His people who know Him and can't quite get the relationship right. From Abraham to Noah, to the prophets, and to the birth of Christ, it's like there is always another opportunity to begin again. Like the dawn of a new day, it is a moment of great anticipation, of great hope. Today has to be better than yesterday. Tomorrow has to be better than today. In spite of the realities and setbacks we face, we always begin with hope. A new beginning after all inspires hope. It is a moment of optimism. We should do no less.
On this feast day of Mary, the Mother of God, and, at the same time, the World Day of Peace, many Christian places sing what is called a Te Deum – "We praise and thank You, Lord." It is a moment of Thanksgiving for the graces and blessings received with the anticipation that our Lord will continue to guide and direct us going forward. The last day of the year is the end of the year of grace and the Jan. 1 is always the beginning of a new year of grace – a new chapter in our life.
Today, may we also think of the new life that Our Lady brought to us by her simple and unconditioned "yes" to the invitation of the Archangel Gabriel: "You will bear a son and you shall name him Jesus" – a name which means, "God saves." Yes, Mary is the Mother of God. This feast is identified as the oldest Christian Marian feasts in which, through her courageous "yes," the first step was taken toward the possibility of our salvation in the plan of God.
Let us also look at ourselves. What has occurred this past year? How did we cooperate with the Lord's grace for us? In what ways have we put up obstacles and barriers to the life the Lord has envisioned for us? We have a great opportunity again to allow our desire to become what the Lord wants for each of us. May we not be afraid of what lies ahead: the joys and challenges and indeed the many unknowns that we face as individuals, as a Church, as a society.
Every year the Holy Father addresses his collaborators and co-workers. One provocative thing our Holy Father spoke about may give us a new understanding. In his talk a couple years ago, he mentioned that in the past we always thought of our western society as fundamentally a Christian society in which we were challenged to evangelize the other parts of the world which were not Christian. We can no longer make that assumption today. The Western civilization can no longer consider itself a Christian society or a Christianized culture. Evangelization must include ourselves as well. It is in this sense that he finds it necessary to foster ongoing dialogue and conversation with everyone. Thus, the Synodal path we have undertaken this past year demonstrates his abiding conviction that we have to reach out. It also means that we have to be sure of our own faith lest we become discouraged, bored, or see it as useless among the many factors that tug at us.
We might say it this way: It was the "power of one" that began to change everything. The "yes" of Mary to God's invitation to give birth to His Son began the ball rolling. It was the call of the disciples – one by one – who began to make a difference in their own lives and eventually to the world. Like a leaven in the dough, slowly it begins to change society from within. People began living a new way inspired by the Gospel. It was the intrepid witness of a Mother Teresa, a Father Coyle, a Mother Cabrini, or a Mother Angelica that began to have an irreversible impact. More than those famous figures, we have a moment of decision for ourselves – to follow the way of Christ or to abandon it for this coming year. There sure are moments when all the inconsistencies and wrongs have been pointed out to people of faith, but there is no other place or person to turn to that offers more for an individual to become truly free, truly him or herself, truly fulfilled and at inner peace or hope-filled than one who belongs to the only One Who can save and lift us up. We know His name: Jesus Christ – born of Mary!
Today, at the beginning of this year, we offer this prayer to grow in faith, hope and love –  to be ready to witness to our deep and abiding faith and to be ready to love above all – even when we've been hurt or wronged. No one should reduce another person to the least common denominator of life. Rather, let us be raised up to see that our life is beautiful, it has value, and it has an inherent dignity that no one can take away, unless we allow them to.
So, New Year's is a moment to do another review of life and renew in our minds, hearts, and souls, the extraordinary grace that God has given us to know Him, love Him and serve Him so that we may express our vocation and life in a fulness of life that defies explanation.
During this year, let us pray for each other and support one another. May we experience the extraordinary presence of God in surprising ways this New Year and give thanks to God for the working of His grace each and every day.
Some who are on the fence grapple with the question: Is it possible to live this new way? The many saints in our tradition tell us, "Yes, it is!" It is possible to live this life – and to do so without hesitation or regret. In this year 2023, may we see with the vision that God has given us something wonderful and great. Like Mary, the Mother God, we also respond, unhesitatingly, with our "yes" and see the wonders He has done for us. May God bless all of you in this New Year!