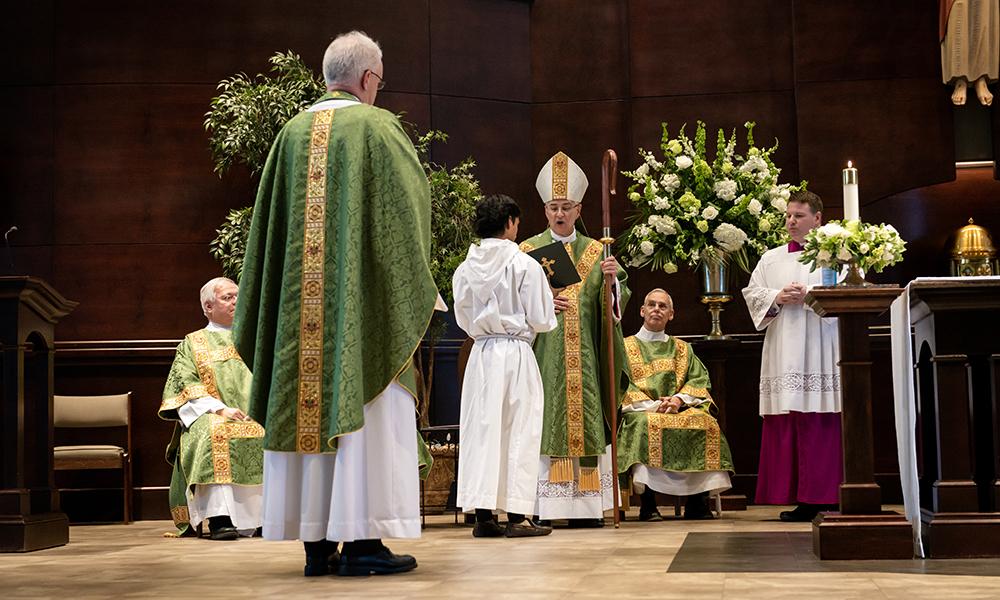 ---
Father Chalmers installed as pastor of Prince of Peace
Father Jon Chalmers was installed as pastor of Prince of Peace Catholic Parish by Bishop Steven J. Raica on Feb. 5, during the church's 11 a.m. Mass. Pastor Emeritus Father John Fallon concelebrated the Mass along with Father Jesus Alfredo Quezada, associate pastor, and Father Ray Dunmyer, priest in residence. Prince of Peace Deacons Rick DiGiorgio and Gary Hoover were joined by Deacon Neal Kay, a friend of Father Chalmers. Father Justin Ward, the diocese's vicar for sacred liturgy, served as the episcopal master of ceremonies. Altar servers were parishioners Thomas Chalmers, Kevin Sarabia, and Bradley Murai along with Franz Mercado from the Cathedral of Saint Paul. Music for the Mass was provided by the Prince of Peace choir led by Cheri Poole, music and liturgy director. The Knights of Columbus Assembly 2057 served as honor guard.  
Father Chalmers was named pastor of Prince of Peace in July 2022, and the Mass of Installation served to demonstrate and enhance the communion between the parish and the diocese.
Following Mass, the church's gathering space was dedicated to Father Fallon by Bishop Raica. A plaque was unveiled bearing Father Fallon's image, the Prayer of St. Francis, and the church's well-known "All Are Welcome" motto. It hangs prominently on the wall in the gathering space. The event ended with a lunch reception in Deasy Hall.